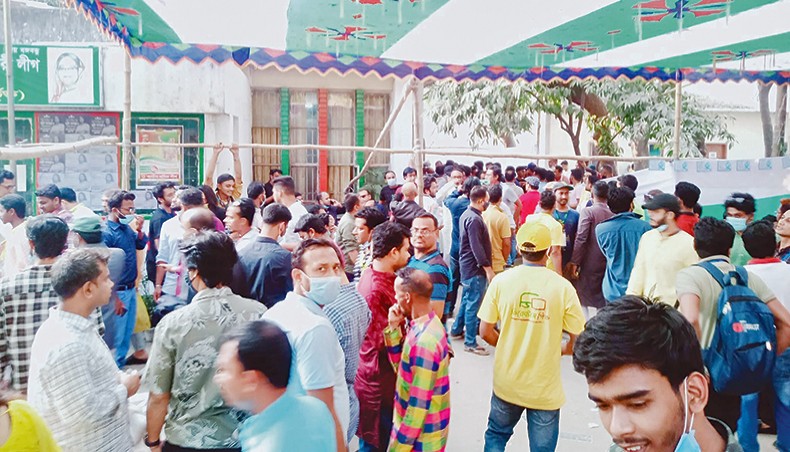 The election of Directors' Guild was held on Friday amid festivity and enthusiasm at the Bangladesh Film Development Corporation in Dhaka.
Three-fifty nine out of 396 members cast their vote in the election. Members cast their votes from 9:00am to 5:00pm with a break between 1:00pm and 2:00pm for Jumma prayers and lunch.
Seasoned directors Ananta Hira, Dipu Hazra and Salauddin Lavlu contested for the post of president while Pranesh Chandra Chowdhury, Faridul Hasan, Masum Aziz, Rafiqullah Salim and Shihab Sahin contested for the posts of vice-presidents. Mostafa Kamal Raj and SM Kamruzzaman Sagor contested for the post of general secretary.
Salauddin Lavlu, a president candidate and also the incumbent president, said, 'The election was held amid festivity. The members cast their votes amid festivity as there were no untoward incidents during the election. I am very happy about the election environment we were able to maintain.'
Another president candidate Ananta Hira said, 'I am very happy about the election environment. If I am elected, I will try to implement the election promises I made in my manifesto. I will work hard for the members' welfare.'
Chayanika Chowdhury, Firoza Khan, Rakibul Hasan Chowdhury, Tuhin Hossain, Ferari Amit, SM Masud Karim, Maniruzaman Nahid, Shahidunnabi, Mostafa Monon, SM Shahidul Islam, Anisul Haque, Sanjay Barua, Golam Moktadir, Mukti Mahmud and others also contested for different posts.
Besides, Sazzad Hossain Sony has been elected finance secretary and Abu Hayat Mahmud, Imraul Huda Rafat, Anisuzzaman Anis, Mahmudunnabi, Tariq Muhammad Hasan, Mostafizur Rahman Suman and Hafizur Rahman Suruj have been elected executive committee members uncontested.
Want stories like this in your inbox?
Sign up to exclusive daily email