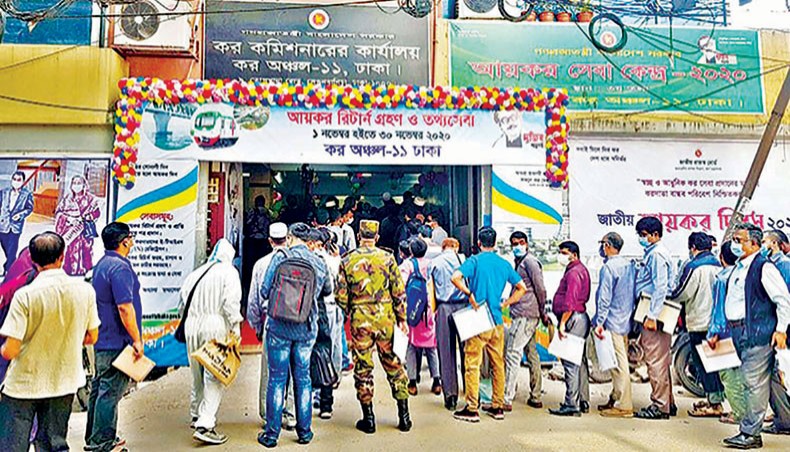 The shortfall in revenue collection by the National Board of Revenue continued to widen in every month of the current fiscal year of 2020-2021 due to fallouts of the COVID-19 outbreak and an ambitious collection target set by the government.
The deficit stood at Tk 36,842 crore in the July-January period of FY21, increasing from that of Tk 30,791 core in the July-December period of the same fiscal year.
Tax authorities managed to collect Tk 1,32,166 crore in taxes in the seven months of FY21 against the target of Tk 1,69,008 crore set for the period.
Of the collection, the contribution of income tax stood at Tk 40,951 crore, value-added tax Tk 51,422 crore and customs duty Tk 39,793 crore.
Tax collection, however, grew by 4.55 per cent in the period over the same period of the previous fiscal year.
Average revenue collection growth in the last five years was 10.20 per cent.
The government set an ambitious Tk 3.30 lakh crore revenue collection target for the current FY21 with 45 per cent growth over the actual collection in FY20.
According to the provisional data of the NBR, all three wings — income tax, VAT and customs — of the revenue board failed to achieve their respective collection targets in the July-January period.
Income tax, customs and VAT wings managed to collect 83.49 per cent, 72.51 per cent and 79.01 per cent of their respective targets in the period.
All three wings, however, registered growth in collection in the period.
Customs duty collection grew by 7.10 per cent, income tax by 5.06 per cent and VAT collection grew by 2.26 per cent in July-January of FY21.
Want stories like this in your inbox?
Sign up to exclusive daily email