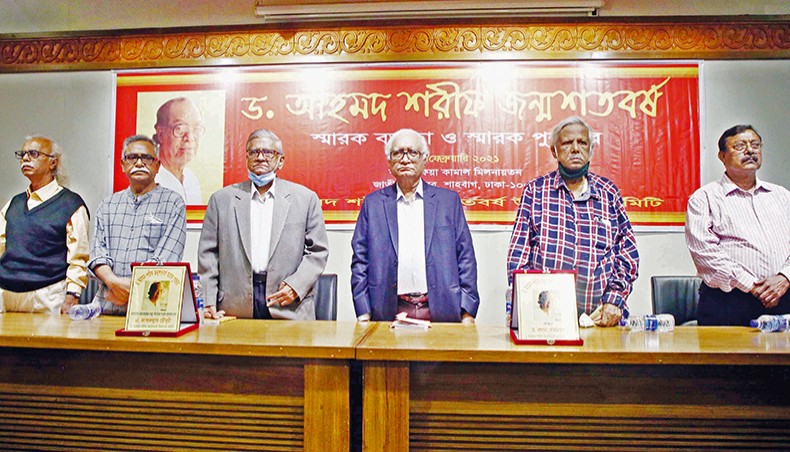 A radical change in society has become essential for the establishment of a state that will work earnestly to reduce discriminations among the rich and the poor, observed politicians, academics and professionals in Dhaka on Wednesday.
The country is now facing adverse situations in both political and social spheres in absence of a proper democratic process, they added.
Dhaka University professor emeritus Serajul Islam Choudhury said that only socialism can eliminate such disparities and ensure a democratic system.
'Professor Ahmed Sharif worked relentlessly both in academic and political arenas for such a society,' he added while addressing Dr Ahmed Sharif Memorial Lecture.
Dr Ahmed Sharif Birth Centenary Celebration Committee organised the lecture and hand over Ahmed Sharif Memorial Award at a programme at Poet Sufia Kamal Auditorium at the National Museum at Shahbagh.
Professor Serajul Islam Choudhury presided over the programme where Prathama Roy Mandal, who is a retired professor of Vidyasagar College for Women in West Bengal and well-recognised for her extensive research on Ahmed Sharif, delivered the memorial lecture titled 'the philosophy of thought in Ahmed Sharif's creative writings' through videoconferencing.
Dr Ahmed Sharif Birth Centenary Celebration Committee also handed over Ahmed Sharif Memorial Award to Gonoshasthaya Kendra founder Zafrullah Chowdhury for his lifelong contribution to the welfare of the people.
Zafrullah said that the award had reminded him that he had many unfinished works to complete for society and its people.
'I feel really honoured and this prize will encourage me for doing more for the welfare of the people,' he added.
'Now the country faces an autocratic rule and the people should take to the streets for the restoration of democratic rule,' Zafrullah Chowdhury added.
Professor Prathama Roy Mandal in her lecture said that Professor Ahmed Sharif resorted to not only political literatures, but academic writings to spread his thoughts, values and ideas that he achieved during his journey from the concept of humanity to a materialistic world view.
She also said that Ahmed Sharif longed for an intellectual generation that would not accept any idea without questions, without any doubt.
Ahmed Sharif was a devoted teacher and researcher who wanted to bring changes in the society without prejudices.
Jahangirnagar University professor Anu Muhammad said that the university teachers of the country had failed to oppose misrule in the country.
Convener of the committee, politician and writer Badruddin Umar sent a written speech that was read at the programme, which was addressed, among others, by the committee secretary Abul Kashem Fazlul Haq and Ahmed Sharif' son Nehal Karim, a professor of Dhaka University.
Committee member and poet Hasan Fakri read out a poem on Sharif and cultural organisation Bibartan Sanskritik Kendra rendered a mass song at the programme.
Born at Patiya in Chattogram on February 13, 1921, Ahmed Sharif grew up to be a renowned and fearless public intellectual, philosopher, critic, writer and scholar of medieval Bengali literature.
The Ekushey Padak-winning writer Ahmed Sharif died in Dhaka on February 24, 1999.
Want stories like this in your inbox?
Sign up to exclusive daily email
More Stories from Politics