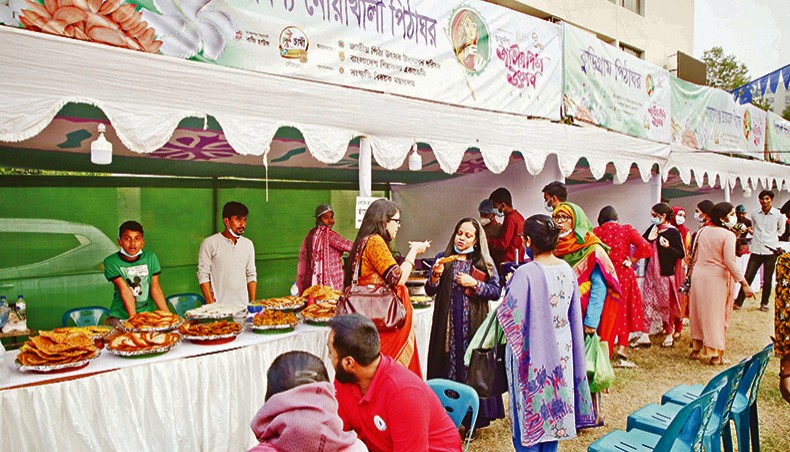 The 14th Jatiya Pitha Utsab began on Bangladesh Shilpakala Academy premises on Tuesday.
The festival, which has been jointly organised by Jatiya Pitha Utsab Udjapan Parishad and Bangladesh Shilpakala Academy, is featuring over a hundred different types of traditional pithas (cakes) at over 50 stalls.
State minister for cultural affairs KM Khalid inaugurated the festival as chief guest. The inaugural ceremony was presided over by director general of Bangladesh Shilpakala Academy and convenor of the festival Liaquat Ali Lucky.
Thespian and Awami League advisory council member Ataur Rahman and eminent dance artiste Amanul Haque were present as special guests at the event. Besides, Jatiya Pitha Utsab Udjapan Parishad president and freedom fighter M Hamid delivered the keynote speech and member secretary of Jatiya Pitha Utsab Udjapan Parishad Khandakar Sah Alom delivered the welcome speech.
'Pitha festivals can play an important role in promoting traditional pithas among the younger generations. I hope the organisers will continue arranging the festival in future,' said KM Khalid.
'Pithas remind us of our roots and tradition. Such festivals can help the younger generations to familiarise themselves with our traditional dishes. I wish the event all the best,' said Ataur Rahman.
'I am happy because we are inaugurating the 14th edition of the festival today. This year's festival has been arranged following health directives. I invite all to visit the event,' said M Hamid.
Following the inaugural ceremony, artistes entertained the audience presenting songs, recitation and dance recitals.
Dance artistes of Bangladesh Shilpakala Academy staged a colourful group dance recital synchronised with traditional songs and renowned recitation artistes Rezina Wali Lina and Gholam Sorower recited poems at the programme.
Singers namely Ruksana Akter Rupsa, Arup Bishwas, Baul Garib Moktar, Samir Baul, Neha Sultana Mitu, Pushpita and others rendered popular songs to the delight of the audience.
The festival drew a large crowd on the opening day. People from all walks of life thronged the venue to enjoy delicious pithas.
The festival is featuring various types of pithas namely Patisapta, Bhapa, Pakan, Chitai, Malpoya, Malai, Pata, Rosh Phul, Bhajapuri, Bou, Kola, Rosh Golap, Ilish Pitha, Mach Pitha, Jhinuk Pitha,
Hridoy Haran, Jamai Pagal and others along with a number of experimental dishes.
'I am visiting the festival with my son and daughters. I am collecting recipes of pithas namely Chicken Poya, Bhajapuri, Ilish Pitha and others. I want to prepare these experimental pithas at home,' Sakila Akter, a visitor at the festival, told New Age.
Pitha makers from across the country are participating in the festival.
Monpura Barishal Pitha Stall is offering more than 20 types of pithas that are unique to Barishal division.
'We are offering different traditional pithas along with experimental dishes. We mixed new ingredients with traditional pithas and tried different baking methods to create the new dishes,' Razib Ahmed, sales representative at Monpura Barishal Pitha Stall, told New Age,
Farhana Akter, owner of Narsingdi Pitha Stall, said, 'We are displaying more than 60 types of traditional pithas. Besides, we are offering dishes like Kushum Koli, Jhalpoya and others. The prices of pithas start from Tk 20. I invite all to visit our stall.'
Tamanna Aktar, sales representative at Kurigram Pitha Stall, said, 'We have been participating in the festival for the past four years. In 2020, we bagged the prize of best pitha stall. This year, we have introduced a number of new pithas like Ilish pitha, Sahi Bhapa Pitha and others.'
Besides, Rajshahi Pitha Stall, Ajura Gazipur Pitha Stall, Bhola Pitha Stall, Labonno Noakhali Pitha Stall, Bandarban Rngiri Pitha Stall, Sajia Dhaka Pitha Stall, Kurigram
Pitha Stall, Narsingdi Pitha Stall, Gopalganj Pitha Stall and others are participating in 14th Jatiya Pitha Utsab.
The festival will remain open for all from 3:00pm to 9:00pm till March 4.
Want stories like this in your inbox?
Sign up to exclusive daily email