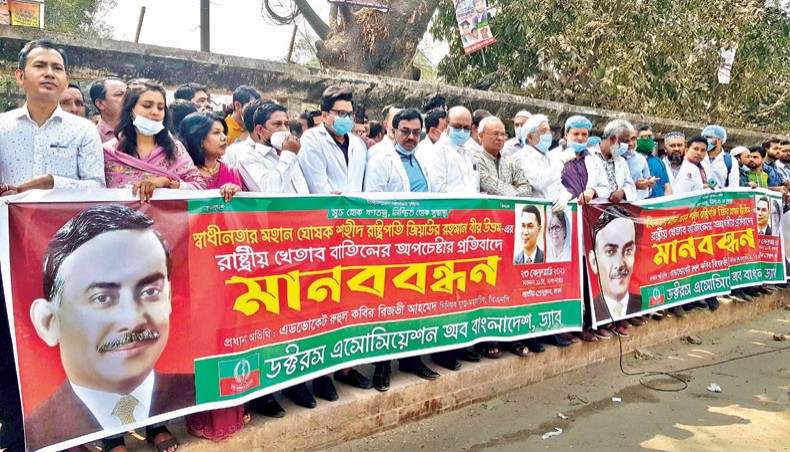 Bangladesh Nationalist Party senior joint secretary general Ruhul Kabir Rizvi on Tuesday complained that the government had been enlisting fake freedom fighters.
Speaking at a human chain formed by the Doctors' Association of Bangladesh in front of the National Press Club in Dhaka, Rizvi said that the Awami League leaders did not participate in the War of Independence and they had no experience how the freedom fighters had fought inside the country against Pakistani occupation army and their collaborators.
'Now they dare to cancel the gallantry awards of real freedom fighters,' Rizvi said.
BNP leader and freedom fighter Haiz Uddin Ahmed said that about 80,000 freedom fighters took part in the war but the Awami League government had enlisted about 2.5 lakh freedom fighters.
The Doctors' Association of Bangladesh formed the human chain protesting at the government initiative to revoke the Bir Uttam award of freedom fighter Ziaur Rahman.
Rizvi said that BNP founder and former president Ziaur Rahman was a valiant freedom fighter and the people, who were trying to revoke the gallantry award bestowed upon him, must face trials in the people's court.
Presided over by DAB president Harun-al-Rashid, secretary general Abdus Salam, and BNP health secretary Rafiqul Islam, among others, spoke at the programme.
Want stories like this in your inbox?
Sign up to exclusive daily email
More Stories from Politics