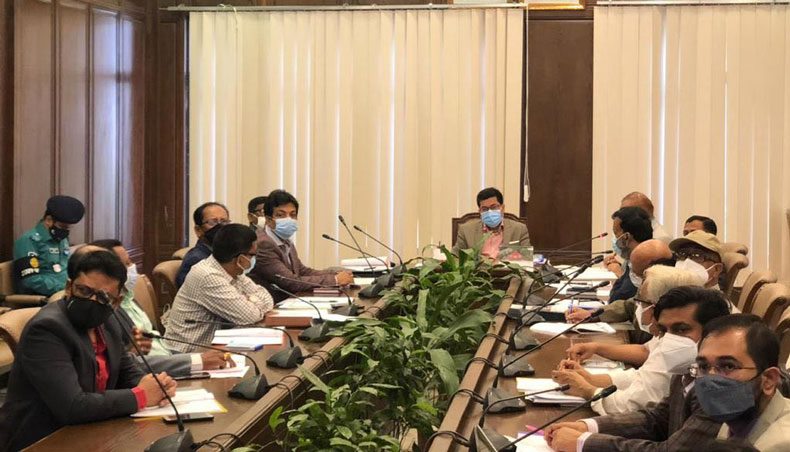 A pilot project to run all buses on the Kanchpur Bridge-Motijheel-Ghatarchar route in the capital under one company is unlikely to begin as per the schedule in April.
Dhaka South City Corporation mayor Sheikh Fazle Noor Taposh on Tuesday at a meeting said that they were working to complete the procedural works of the project by April.
'It will take more time to repair the buses currently running on the route to run under the pilot project,' he told reporters after the 16th meeting of the Bus Route Rationalisation Coordination Committee at the DSCC Nagar Bhaban.
He said that they were hoping that they would be able to launch the pilot project within this year.
Taposh also said that their path of the journey was not smooth and it was narrow and had many problems.
On December 8, 2020, the DSCC mayor at the 14th committee meeting said that the franchisee system would be introduced on a pilot basis on Motijheel-Ghatarchar route in April 2021 and before the next committee meeting scheduled for January 19, 2021, bus owners would sign a joint venture agreement to form a company.
The company has not yet been formed.
In the 15th committee meeting, the pilot route was extended to Kanchpur from Motijheel following a request of transport owners.
Taposh at the meeting on Tuesday said that the introduction of the project was also related to getting Tk 100 crore in loans from the Bangladesh Bank for bus owners with easy conditions.
On the pilot route, a total of 155 buses would run under one company and within seven days a draft of the joint venture agreement for the proposed company would be prepared, he continued.
Bangladesh Road Transport Authority chairman Nur Mohammad Mazumder after the meeting told New Age that at present, 122 buses were running on the route under Rajanigandha Paribahan and 33 buses were running under Malancha Paribahan.
The DSCC mayor also said that within one month the authorities concerned would start the tender process and construction works for bus bays and sheds on the proposed route.
The BRTA has already sent a proposal to the road transport and bridges ministry to set the fare for the pilot route at Tk 2.20 per kilometre, he mentioned.
Currently, the fare rate is Tk 1.70 per kilometre for 52-seat buses and Tk 1.60 for 36-seat buses in Dhaka and Chattogram metropolitan cities.
Replying to a question, the mayor said that the proposed fare rate was higher for the pilot route as the bus services would be better than the existing services.
The meeting was also attended by the committee members, including Bangladesh Road Transport Corporation chairman M Tajul Islam, Dhaka Metropolitan Police commissioner Md Shafiqul Islam, Dhaka Transport Coordination Authority executive director Khandakar Rakibur Rahman and Bangladesh Road Transport Owners Association secretary general Khandakar Enayet Ullah.
Want stories like this in your inbox?
Sign up to exclusive daily email
More Stories from Country