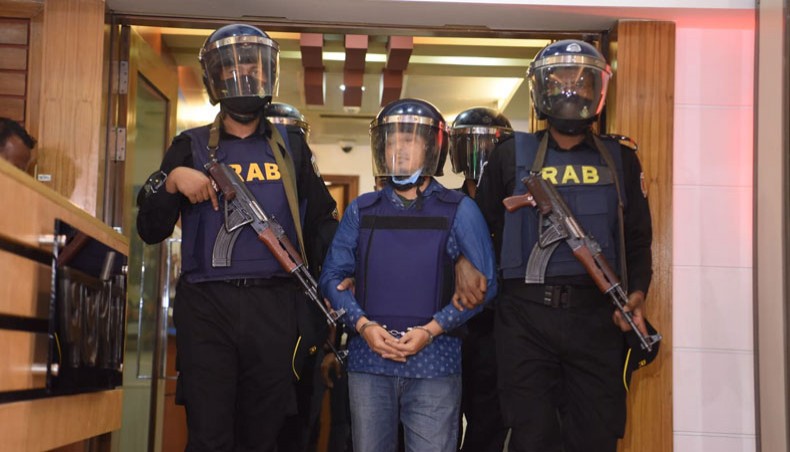 A fugitive convict in the August 21 grenade attack was arrested on Tuesday.
Rapid Action Battalion arrested Mohammad Iqbal more than two years after he was handed life time imprisonment by court in 2018 for attack on a rally of Awami League in front of its central office in Dhaka in 2004.
Iqbal was fugitive in Malaysia and returned to Bangladesh in 2020 after being identified there as illegal immigrant, said RAB director general Chowdhury Abdullah Al-Mamun in a briefing on Tuesday.
Iqbal was arrested from Diabari area of the capital early Tuesday, said the DG.
Iqbal is from Jhenaidah and was involved in Chhatra Dal during academic life.
He had come into touch with Mufti Hannan, terrorist and the chief of Harkat-ul-Jihad al-Islami branch in Bangladesh, in 2003 and he directly participated in the grenade attack, said Al-Mamun in the briefing.
He had himself thrown bomb to the stage where Sheikh Hasina and other Awami League leader were, said the RAB officer.
Iqbal fled Bangladesh in 2008 to escape arrest.
Twenty-four people, including late president Zillur Rahman's wife Ivy Rahman, were killed and over 200 were injured in the grenade attack on the rally of the then main opposition Awami League on Bangabandhu Avenue on August 21, 2004 during the tenure of Bangladesh Nationalist Party-led alliance government.
Awami League president Sheikh Hasina narrowly escaped the attack but the explosions caused her hearing damage.
Directorate General of National Security Intelligence provided the intelligence information and RAB intelligence team carried out the drive.
On October 10, 2018, the Dhaka Speedy Trial Tribunal-1 sentenced former state minister for home Lutfozzaman Babar, former deputy minister Abdus Salam Pintu, and 17 others to death while acting BNP chairman Tarique Rahman and 18 others to life term jail, and the rest 11 accused to varying jail terms in the grenade attack cases.
Want stories like this in your inbox?
Sign up to exclusive daily email
More Stories from Country