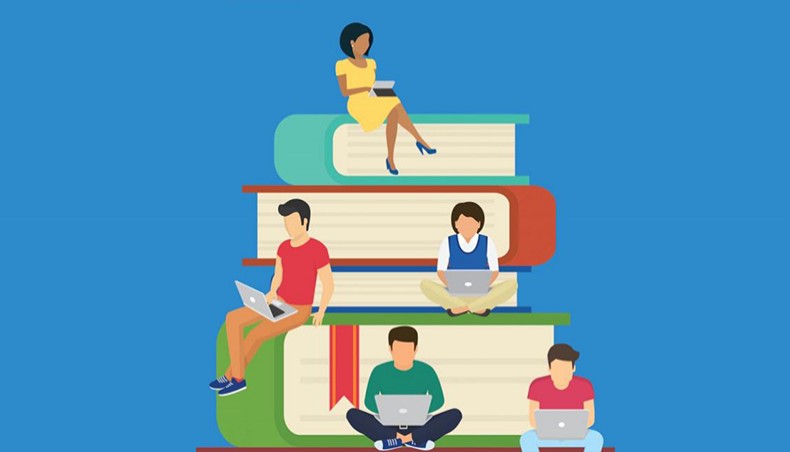 For the digital natives, learning is largely technologically mediate. Students today rely on internet based resources for their research and reference. Md Mashiur Rahaman writes about the changes in the way of learning
THE pioneer of English prosaic writing Francis Bacon started his much-acclaimed essay titled 'Of Studies' by the following sentence, 'Studies serve for delight, for ornament, and for ability.' By the term 'study', Bacon meant studying books, as there was no scope for multimedia at that time. However, in the contemporary sense, the connotation of the word 'study' largely includes the resources found on the internet and other multimedia sources, such as records compiled in a CD or a pen-drive. Then, in the age of multimedia, especially after the end of the second decade of the twenty-first century, when books have lost the status as a sacred source of knowledge, what do 'studies serve' to humans?
When asked to the people who are involved in intellectual professions and are keen on knowledge, what do they say? We tried to conduct an online survey and interviewed some of them. For getting a definitive picture in respect to our queries, the data is still very inadequate, but the participants of the survey and the interviews have provided very significant insights that would help us to go further with the research.
Most of the participants of the surveys and the interviews have said that though they still need books for knowledge and information, but books are not the only reliable source of knowledge and information for them. Some of them also said that they no longer use printed books for knowledge or information.
For information, they rely mainly on Google search, Wikipedia articles, and other sources from the internet. Finding the meaning, pronunciation, etymology, frequency, and dimensions of usage of an English word has become easy as Google provides all these for any word that has entered into dictionaries. Many of the recognised Bangla dictionaries are also available on the internet. Many books are also available online in various versions. There are several large online databases from where research articles and journals are accessible, in exchange for a certain amount of subscription fees or institutional permission. And most intriguingly, there are platforms from where anyone can do a course from renowned universities around the world for little or no cost.
For knowledge and insight, the opinion is not similar. One interviewee who is a PhD student in the faculty of arts and humanities at a public university said, 'I mainly rely on books for knowledge and insights. It is true that sometimes I go to the internet for some information. Sometimes it also happens that I read some articles or online encyclopaedia entries on various topics, but I always feel the urgency to check the information collected from the online resources by their original references.'
Another employee of a private university who has recently completed her master's degree, opined, 'I am not against online learning. But I think the people and the students are not prepared and trained for learning effectively by using online resources. And there is always a concern for the appropriateness of the online resources, as most of the time they are not age-specific or culture-specific that can open the door for severe misinterpretations.'
Another interviewee, who is a poet with a published collection of poems has said, 'I am comfortable with reading online. I have no problems with reading PDFs. In recent times, I have studied snakes and Indian mythology, and all the things I have learned about snakes and Indian mythology are from the internet. I know that some of the information found in the open online encyclopaedia is not reliable as anyone can edit them, but I think it is also possible to crosscheck a piece of information using the internet.'
Among other things, the interviewees and the participants of the surveys unanimously showed concerns about three factors: concentration, consistency, and health. They said that if someone is not highly motivated to learn something, and someone does not know what to know, it is hard to maintain concentration when reading online. The feeling that everything is available on the internet and we can access anything at any time makes us procrastinate. Maintaining consistency with online contents is also a hard task to do. As it is very easy to scroll down or skip and go to another. There are other detractions for studying on the internet like the advertisements on the websites. Most of the participants of the survey have said that they spend more than 10 hours on the internet per day which is posing a serious physical and psychological health concern. Consistently using headphone and looking at the screen have adverse effects on the ears and the eyes.
The interviewee who is a private university employee said, 'I feel very sad when I see that the youngsters do not like the idea of book. If someone dislikes the idea of book how can the person be able to get involved in knowledge acquiring process and gaining insight?' She also shared one of her experience, 'When I was preparing for my master's thesis, I have downloaded loads of books from the internet thinking that I will study them. But the thought that I will be able to study them at any time as all of them are easily accessible has made me unable to read them.'
The interviewee who is a PhD student said, 'It is true that knowledge has become more easily accessible by the people, but do people know that? Does any genuine interest of knowledge have grown among them? All the things we have seen throughout the history as the problems of humankind like war and hatred still exist with all their perversity.' He also thinks that the authenticity of online resources is political. He said, 'You will find many articles on Wikipedia that are restricted and well referenced. Most of the time, these articles are about the people who are important in the dominant discourses. But no one is bothering about creating articles with similar standards for the people and ideas that are probably marginalised.'
The poet interviewee, who has read more than 15 books in the last year, does not recommend any book or topic to anyone. He thinks that by making recommendation we limit the scope of an individual to explore the world of knowledge independently. One of the survey participants also opined, 'I do not have a constant medium of learning. It shifts between reading, watching things, listening to podcasts or audiobooks et cetera. I find that keeping my options open helps me to absorb more constantly instead of depending on a specific medium.'
This inconsistency of topics and mediums is becoming a more and more common phenomenon among the learners, though most of them seem either content or unconscious about this phenomenon. It is also evident that learning new things has become a daily activity for most of the young learners, as they follow diverse Facebook pages, YouTube channels or other social media pages that specialise in something that is aligned with their interest. The problem is many of the contents that are encountered by the learners are being forgotten, as they do not feel the urgency of implementing the knowledge in real life. The suggestions that are given by two of our interviewees are important in this regard: providing training to learn how to learn in this complex era and working to make things authentic and appropriate on the internet are necessary.
Md Mashiur Rahaman is a student of English at the University of Liberal Arts Bangladesh.
Want stories like this in your inbox?
Sign up to exclusive daily email