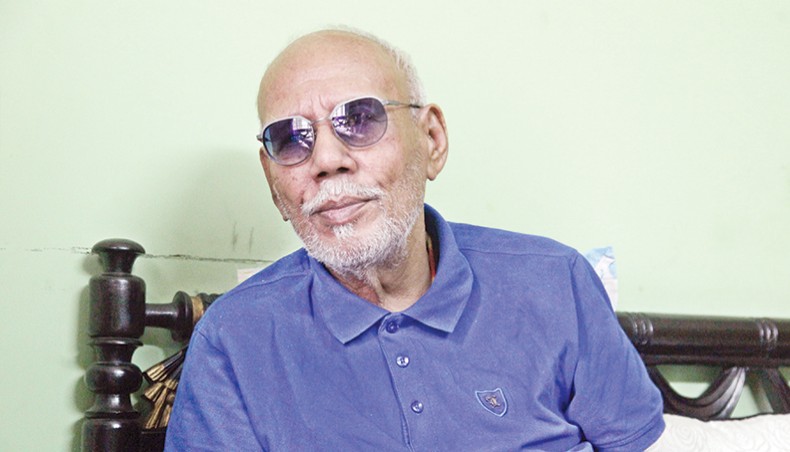 Veteran film, television actor and screenplay writer Abu Taher Mohammad Shamsuzzaman, popularly known as ATM Shamsuzzaman, passed away on Saturday morning at his residence at Sutrapur in old Dhaka at the age of 80.
Peers and colleagues have expressed profound shock at the death of ATM Shamsuzzaman, who made outstanding contribution to the country's film industry during his career which spanned over five decades.
ATM Shamsuzzaman received Ekushey Padak in 2015 and National Film Award on six occasions for his acting in films namely Dayee Ke, Madam Phuli, Churiwala, Mon Bosena Porar Table-e and others.
Renowned actresses Dilara Zaman and Farida Akhtar Babita, Bangladesh Film Directors' Association president Mushfiqur Rahman Gulzar and popular actor Ferdous Ahmed shared their memories of ATM Shamsuzzaman and expressed deep shock at the death of the legendary actor.
'ATM Shamsuzzaman was a close friend of mine. He was one year senior to me. He was a kind hearted person who liked to inspire others. He won the hearts of the people with his acting. We acted together in a number of teleplays since 2004. I am portraying his widow in SA Haque Olike-directed on-going drama series named Jaygir Master, which is being aired on Banglavision. It is hard to believe that he is no longer among us. May his departed soul rest in peace,' said Dilara Zaman.
Farida Akhtar Babita said, 'When I heard the news of his death in the morning, I called his wife and daughter right away. ATM bhai was well-loved by all in the film industry. We acted together in many films. I knew him since my teenage days. He often visited our house when we were living in Gendaria. He used to write scripts at that time.'
'He was a multitalented person. He was not self-centred and always gave feedback to junior artistes. We worked together in many hit films namely Nayanmoni, Golapi Ekhon Train-e, Lathial, Madam Phuli and others. May his departed soul rest in peace,' added Babita.
'It is a matter of great sorrow that I could not pay my last respects to him as I am currently outside Dhaka. I first performed along with ATM Shamsuzzaman in front of camera during the shooting for the film Prithibi Amare Chay Na at No. 7 building of Bangladesh Film Development Corporation. Following which, we became friends and worked in a number of films together in Dhaka and Kolkata, India,' said Ferdous Ahmed.
'He loved to gossip with his co-artistes. He will live on through his works,' Ferdous added.
Mushfiqur Rahman Gulzar said, 'He was a good human being. He was not only a good actor but also a skilled screenplay writer. He enriched the country's film industry during his career. I do not know when another actor like ATM Shamsuzzaman will emerge in our industry. He will remain alive in the hearts of film lovers.'
Want stories like this in your inbox?
Sign up to exclusive daily email