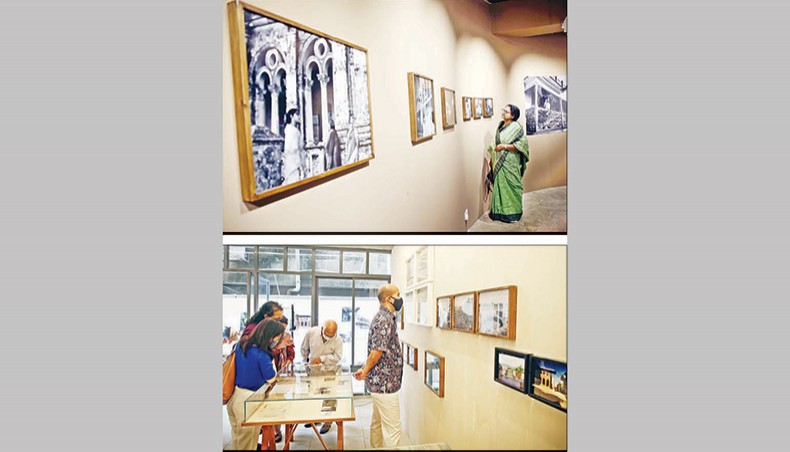 Chobi Mela 'Shunya', the special edition of the international photography festival, is paying tribute to the country's first female photographer Sayeeda Khanam and eminent architect Bashirul Huq through two individual exhibitions. Both the maestros passed away in 2020 during the COVID-19 outbreak.
The exhibitions are under way at the on-going Chobi Mela Shunya at DrikPath Bhaban in the capital's Panthapath area. DirkPath Bhaban is the last building designed by Basirul Huq.
The eleventh edition's festival director Tanzim Wahab said, 'We want to portray the multidimensional personality of the photographer Sayeeda Khanam. She had a good relationship with filmmakers, poets and writers. The exhibition also shows some close photographs of the legendary Indian filmmaker Satyajit Ray, which she took while capturing the filmmaker's various moments, including during shooting, reading and leisure.'
'We focused on her works done on women as she clicked photographs of various movements that saw the participation of women. She also captured photographs of her relatives, friends, near and dear ones and a majority of her subjects were women,' Tanzim added.
'We not only tried to portray Sayeeda Khanam as a photographer but also as a writer, activist and a poet,' he said.
'DrikPath building is the last project of architect Bashirul Huq. He had negotiated international modern architecture while to give it a local flavour he introduced local materials. For example, he had made cyclone shelter and community high rise buildings. He had also done research on rural architecture, local climate and landscapes, he used the knowledge in his architectural projects,' said Tanzim.
'We divided Bashirul Huq's exhibition in three parts. In the first part, we showcased the educational institutions while in the second part his homes at Indira Road in Dhaka and in Bhatshala of Brahmanbaria and in the third part his drawings of projects are our focus,' Tanzim added.
The exhibition dedicated to Sayeeda Khanam titled 'The Rebel With A Smile' features over 100 photographs taken by her.
All the photographs displayed at the exhibition are black and white which helps the viewers develop an understanding of the black and white photography of her time. The project also provides a glimpse of the lives of women before the '70s.
In one of the photographs, the national poet Kazi Nazrul Islam is seen reading a letter. Another photograph shows the legendary Indian filmmaker Satyajit Ray standing at a door while the background shows a shelf filled with books.
Another photo shows the late Indian veteran actor Soumitra Chatterjee standing under the scorching sun while the background shows a man and a woman walking.
Born on December 29, 1937, Sayeeda Khanam was a self-taught photographer. She never received any institutional training on photography. She is the first female photographer of the country. She also published few books, including an autobiography.
She began her career as a photojournalist in the periodical Begum in 1956 and had the opportunity of working as a photographer with Satyajit Ray, Queen Elizabeth, Neil Armstrong, Buzz Aldrin, Mother Teresa, Indira Gandhi and Bangladesh's founding president Sheikh Mujibur Rahman.
In 1960, she received an award in All Pakistan Photo Contest and in 1985 she was honoured with UNESCO Award for photography.
She was awarded Ekushey Padak in 2019.
The exhibition focused on architect Bashirul Huq features two paintings, two architectural models — one of the architect's family home and the PRISM Community Development Centre and Cyclone Shelter. There are some project details and photographs of the Chhayanaut building, East West University building and 16 sketches of architecture projects.
Born on June 24, 1942, in Brahmanbaria, Bashirul Huq earned his bachelor's degree in architecture from National College of Arts, Lahore, Pakistan in 1964 and his master's in architecture from the University Mexico in 1975.
During his illustrious career spanning four decades he designed more than 300 buildings, and is known for his ecologically sensitive architectural designs.
Want stories like this in your inbox?
Sign up to exclusive daily email
More Stories from Literature