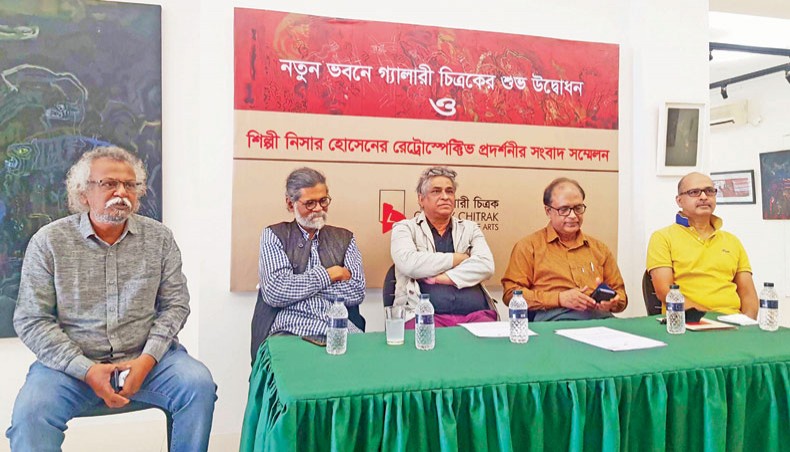 Renowned artist and dean of fine arts faculty of Dhaka University Professor Nisar Hossain's retrospective will begin today at Gallery Chitrak in Dhanmondi.
The exhibition will lift the curtain on the new venue of Gallery Chitrak. It will feature 80 artworks, which have been created in the past 25 years.
The announcement was made at a press conference held at the gallery on Thursday. Professor Nisar Hossain, noted art and film critic Moinuddin Khaled, Gallery Chitrak's executive director artist Moniruzzaman, chairman of Bangla department of the University of Dhaka Syed Azizul Haque and others spoke at the event.
'Gallery Chitrak started its journey in 2000 at a one-storey building in Dhanmondi and later it was shifted to Green Road. We returned to our old address in Dhanmondi after a multi-storey building was constructed on the land which belonged to Shilpaguru Shafiuddin Ahmed. A museum is being established in memory of Shafiuddin Ahmed at the building. I hope that art lovers will enjoy visiting our new venue,' said Moniruzzaman.
'We were scheduled to inaugurate the gallery in December, 2020 but we had to postpone everything due to the COVID-19 outbreak. An acclaimed Japan-based Bangladeshi artist told me to inaugurate the gallery with Nisar Hossain's exhibition. We are glad that our new venue's journey will begin with the solo exhibition of artist Nisar Hossain on Friday. He will celebrate his 60th birthday on Saturday. The exhibition will feature 80 artworks created by Nisar Hossain during the past 25 years,' added Moniruzzaman.
Moinuddin Khaled said, 'The artworks will be chosen by those who are deep thinkers. In our country, most of the art collectors are intellectually handicapped. I think that they will not buy these works. As an art critic, I believe that these works will be considered as timeless creations after few years.'
'I held my first solo exhibition in 2001. I usually showcase my works in various group exhibitions. If anyone becomes angry, he or she breaks stuff to release anger. I create paintings as they give me relief from my pain and sorrows,' said Nisar Hossain.
The exhibition will remain open till March 19.
Want stories like this in your inbox?
Sign up to exclusive daily email
More Stories from Exhibition