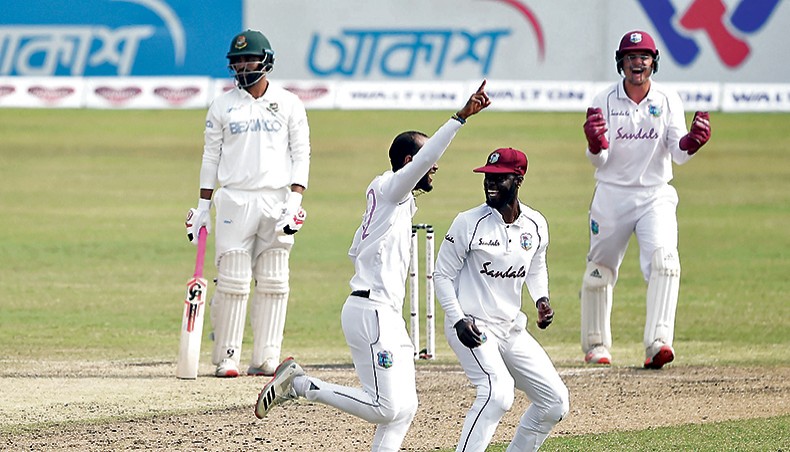 Former Bangladesh national team captains Raqibul Hasan and Khaled Mashud on Monday demanded changes in cricket policy to break the vicious circle of defeat in Test after the recent debacle against the West Indies.
Bangladesh lost the two-Test series against an understrength West Indies side 0-2, triggering a wave of criticism.
The Caribbeans came from behind to race to a three-wicket win in the first Test in Chattogram before eking out a 17-run win in the second Test in Dhaka on Sunday.
Raqibul, a pioneer in the country's cricket, believed that there have to be some big changes in planning, preparation and selection policy to be successful in the biggest format of the game.
'What we saw in the Test series was a failure of organisational management. Selectors, cricketers, coaching staff all are employees to Bangladesh Cricket Board and they could not perform their roles,' Raqibul told New Age.
'When a team wins, everyone comes to take the credit but after failure, none takes the responsibility. I blame the players only, neither the captain Mominul [Haque]. It was a collective failure.'
The former captain said that Bangladesh were underprepared and there was lack of planning evident throughout the series, along with some poor decision-making.
'Despite having a specialist Test opener [Saif Hasan] in the squad, when you bring someone [Soumya] out of the fold, who had been preparing for white-ball cricket, it gives a wrong message to others.
'There were four left-handed batsmen on the top, we could put someone right-handed up in the order to force the opposition to change the field setting and that might have left bowler struggling to adjust his line and length.'
He criticised the selectors for playing only one pacer in both the Test matches.
'Test cricket has been played for more than 100 years. There is a set formula of a team featuring six batsmen, one wicketkeeper, who could be the seventh batter, and four bowlers. What we saw, Liton was batting at seven though he was an opener in other formats,' he said.
'Mushfiq is there, then again some other guys and only one pacer. The entire team selection was wrong.'
Raqibul added the coach and selectors must be held accountable for the disaster.
'I don't know what the coach does. If there are many people around him like batting coach, bowling coach, spin bowling coach, the analyst then what is his job? The coach of a national team does not teach how to play Test cricket, his job is to fine-tune the players and make strategies. He [Russell Domingo] was an absolute failure in this case.'
'There is no way a selector can work for 10 long years! Change is needed there because it will bring new blood, new ideas. Those who failed must go. This is a profession and in every profession, there is an evaluation system.' he added.
Mashud, who captained Bangladesh in the 2003 World Cup and is now involved in coaching, believed that the problem was not with the persons but the policies.
'If you bring Brian Lara as a coach to this team, they will perform the same. If you bring some other three people as selectors, they will do the same. Because the policy is wrong,' said the former wicketkeeper-batsman.
'There is no short-cut to get success in Test cricket but unfortunately, our policymakers are taking that route. A lot of money is being spent for no reason.'
Mashud believed that there is not an adequate number of quality players in the pipeline for the selectors to choose.
'If you see, there are hardly 15-16 players who are playing. Someone is missing out after one or two series, and then he is recalled as someone else is not performing,' he said.
'The facilities what Tamim [Iqbal] and Shakib [Al Hasan] are getting in Dhaka, even one fifth is not available to the players like Jahirul Islam Omi or Rakibul Hasan, who were dropped earlier. So there is only competition among those who are in that pool, no competition from outside.'
Mashud, who scored a Test hundred against West Indies in Saint Lucia in 2004, feels that the preparation was not up to the mark for the Test series.
'We underestimated them, thought that we could win easily as most of their leading players were not coming. We lacked preparation. Why we did not play two four-day matches ahead of the Test series? If Dhaka and Chattogram fields were occupied, why did we not play in Bogura then?
'All members of the Test team were taken inside a bio-bubble. They stayed in the hotel and had some practice and that was all. If the bio-bubble was so important, then why they brought Soumya from outside? The players lacked match preparation, it was very clear,' said Mashud.
To break the chain, Mashud said that long-term planning is needed.
'Earlier, technology was not so advanced. But now the development rate is very high and we are falling behind the others. Long term planning is needed. Cricket is an industry, many players are involved here. If the domestic cricket structure is not solidified and well organised, we will not develop in Test cricket.
'Maybe we will win some, like the way we won by making favourable wickets. But to get success in the long run, we need good quality cricketers who can only come from good competitive domestic cricket.'
Want stories like this in your inbox?
Sign up to exclusive daily email
More Stories from Cricket