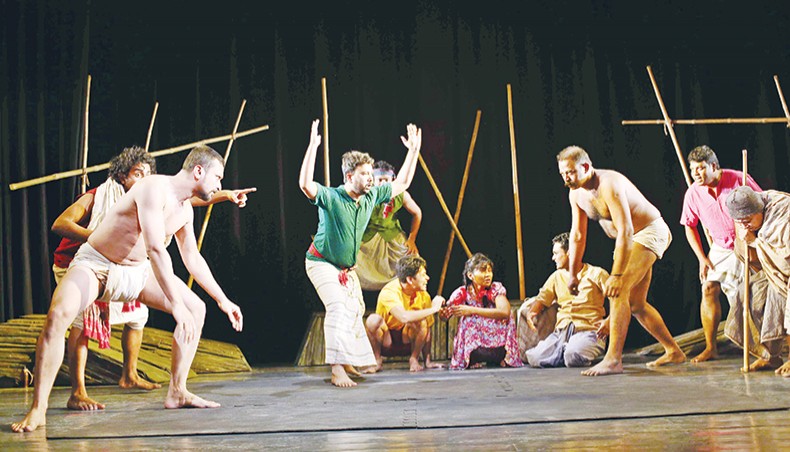 Theatre troupe Anuswar has portrayed the impact of the partition of India in 1947 and the riots that followed in its production Tinkari, which was premiered at Nilima Ibrahim Auditorium of Bangladesh Mahila Samity on Friday.
Tinkari, the fourth production of the troupe, has been written by Mahbub Alam and directed by Saif Sumon.
It revolves around people living in a village named Dighalkandi of Bogura, East Bengal, British India and shows how the villagers were impacted by the partition in 1947.
As the play begins, the audience gets a glimpse into the life in Uttarpara and Dakshinpara of Dighalkandi village where a large number of Hindus and Muslims live harmoniously together.
Dighalkandi is surrounded by neighbouring villages namely Sukhanpukur, Lohagara, Katlahar, Sonatola and others. People from all walks of life regardless of their faith gather in large numbers and celebrate Pahela Baishakh together. Hindus and Muslims also attend sports events, village fairs and more side by side.
Things were going fine until the partition of India in 1947 turns life upside down. Vested quarters begin spreading religious hatred and succeed in destroying the harmonious relationship between the Hindus and Muslims, who turn against each other disregarding friendships that were fostered over generations and the story moves forward.
SR Sampad, Sakil Siddharatha, Mohammad Bari, Prashanto Haldar, Ranjan Dey, Majedul Mithu, Akib Babu, Abir Sayem, Arifur Rahman, Hojaifa Ali, Ashikur Rahman, Dalia Ferdousi, Sarkar Zaman, Mahfuz Sumon, Farida Lima, Sadia Shuchi and Parvin Paru acted in the play.
'Violence inspired by religious intolerance is taking place across the globe. Myanmar is deporting Rohingyas due to their religion. The play gives the audience a glimpse into impact of religious violence on people's lives and aims at raising awareness against religious bigotry,' Mahbub Alam told New Age.
The play was staged following health directives.
'This was my first time watching a live theatre production. The playwright has eloquently depicted how the harmony between the Hindus and Muslim was destroyed in 1947 and the impact the partition of India on people's lives. I have enjoyed the play. The artistes deserve Kudos for their performance,' Sumon Bishwas, an audience, told New Age.
Want stories like this in your inbox?
Sign up to exclusive daily email
More Stories from Theatre