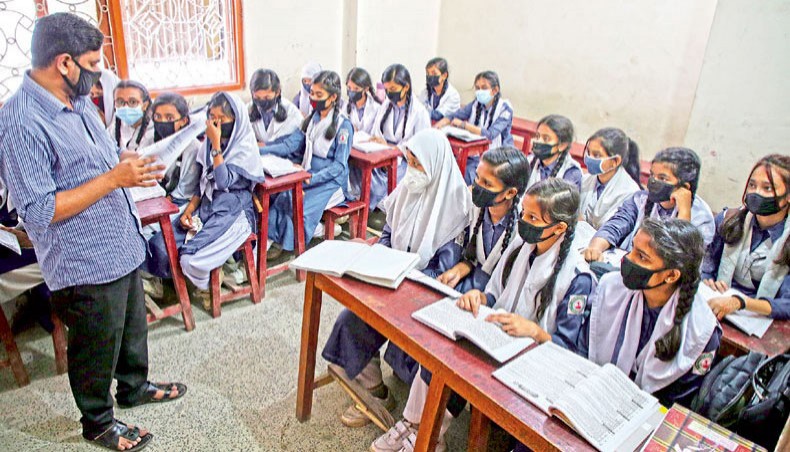 Md Shamshul Arafin talks about how ready we are to open the educational institutes after almost a year of shut down following the COVID-19 situation
The birds were flying with full freedom but suddenly all of them were caged, while in fear of death, they remained at home within the four walls. One day they were set free after a year-long. Alas! They have forgotten to fly!
Most of the readers, I hope, can relate this story with the present situation of our country concerning the government's pending decision of opening the educational institutions after a year-long closure due to the COVID-19 pandemic. The shutdown of the educational institutions began on March 17, 2020, and extended up to February 14, 2021. Afterwards, distance-learning or popularly known as online learning started from the mid of April 2020 and it is continuing to keep the young learners in the path of education. Even if the government set an opening date for schools and colleges like it was, normal days before the pandemic, really how much prepared we are, the teachers, students, and parents also? It should be noted that the transition from home-based online learning to classroom-based offline learning will not be easy both for the teachers and students. Without prior preparations and strategies, returning to offline education institutions can be a mess, and it may waste a lot of valuable time again to adjust to the new offline based situation as we used to do before the pandemic.
Each time students and parents expected the opening date, but the closure period extended again and again. At present, millions of school-going and college-going students as well as university students; along with their parents all over Bangladesh are anxiously awaiting the government's next decision about opening these institutions. Moreover, our government can hardly take any risk regarding the spread of COVID-19. Many people have become restless due to the closure, but the government cannot take any risk with the life of the students and other citizens of the country. Students first can get affected, and eventually, there is a high chance of affecting other family members as well. Students are the future of our country. Therefore, until the infected rate is minimised to the lowest of numbers; the government cannot allow the educational institutions to run their teaching program smoothly.
Due to the pandemic, students had to adapt to online learning criteria to continue their education. Student's online adaptation process had started suddenly and at present most of the divisional and metropolitan areas students have almost the full grip of online-based education, especially in Dhaka, students are quite capable to maintain online classes from playgroup to class XII. As the pandemic fear constrained them to remain at home; without any alternative of recreational activities, students were prone to be addicted to the internet, mobile phone, online and offline based gaming.
Now, to make a successful comeback to offline classroom-based education will become a challenge both for the students and the teachers. First of all, the fear of death because COVID-19 should be removed from the students' imagination. They should be encouraged to participate in the classroom, have a discussion with their classmates, and be motivated to play in the playground without fear. The year 2020, a troublesome year, is full of tension and death news that invaded the people's consciousness. So, without removing the fear of this unseen enemy, the life of students will not get back to normal days. As a result, their education acquiring process will not be prosperous enough as it was before the pandemic. So, there should be proper strategies and guidelines to resume the normal offline classroom-based education program. In this regard, our educational experts, scholars, and intellectual society should come forward to assist the government to ensure a safe and rewarding return to offline learning.
Though the positive outcome of home-based online education here in Bangladesh has become a debatable issue. We have to accept the reality that online teaching and learning remain a bit effective in the metropolitan and city areas only. Whereas, in the rural areas the success of online learning is very alarming. Moreover, the COVID-19 pandemic has affected our traditional educational system for a year long. Many teachers had to learn newer methods and techniques to take online classes. At the same time, remaining at home, the school going students as well as college-going students tried their level best to continue their study smoothly and adjust to the new online-based teaching. With the help of the internet, students have become familiar with Zoom meetings, Google Meet, Facebook live class facilities, YouTube channel live streaming, Google classroom, and so on.
However, when the students will return to the classroom-based offline learning process again, their consciousness and expectations may not meet reality. As online is such an addictive platform that keeps the users loyal to it, teachers should be cautious about the addictive fact. Teachers should provide continuous support, motivate them to start their education with full enthusiasm. On the other hand, as the educational institutions remained closed for an extended period, dust and dirt may invade the beauty of the campus. So, it is a cordial urge to the authority of educational institutions to clean, decorate and beautify the institutions as possible so that when the students may return to their campus's corridors, they should feel happy, energetic, and most importantly fall in love with the campus all over again.
So, when the school will open soon how they are going to react? Will they remain normal just like before the COVID-19 pandemic period? There may be behavioural changes from the students' side as well as from the teachers'. The time we have lost due to COVID-19 cannot be returned, but the time ahead of us should be properly utilised to keep the momentum of students all over Bangladesh. Student's transition from online to offline should be carefully monitored and there will be needed proper guidance and support from their peers are highly needed to bring back their interests in learning.
Besides, teachers should be psychologically prepared for the upcoming days during their return to whiteboards and markers instead of Microsoft Word files and PowerPoint presentations. Many students who have become used to watch videos and Microsoft PowerPoint slides will not take offline lecture-based classes happily. Students might feel classes are boring and less interesting.
Lastly, we hope that the governing body of the educational institution along with the teachers may come with a proper understanding to implement modern technology-based education where classroom lectures will go hand in hand with supplementary videos, slides, and documents. After a lot of struggle our young learners have become familiar with this modern learning tools and platforms, it would be unwise to let go of these acquired blessings. It is high time we utilised the blessings of modern learning technologies otherwise we shall never understand how diverse a classroom learning and teaching can be. Our march forward in online learning that has been started during the COVID-19 pandemic shall continue even in the present days. In fine, we need to resume the offline classroom this time not haphazardly, must be with proper planning to improve the educational facilities in our country.
Md Shamshul Arafin graduated from University of Liberal Arts Bangladesh.
Want stories like this in your inbox?
Sign up to exclusive daily email
More Stories from Mindspeak