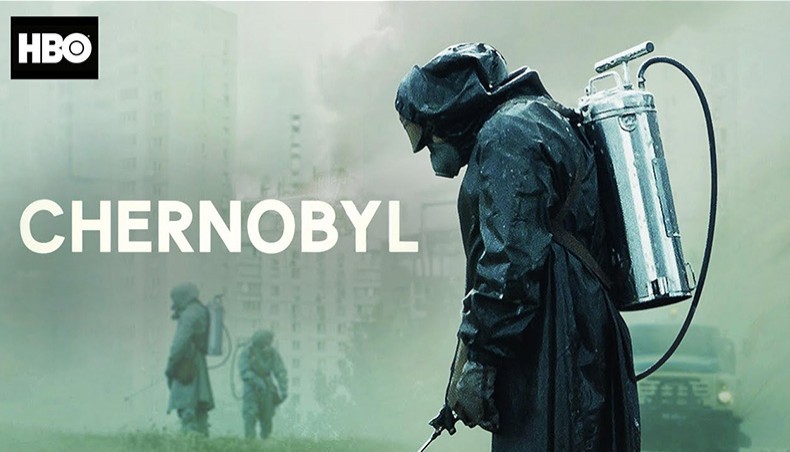 Chernobyl is a television miniseries, released in 2019, produced by HBO that is based on the Chernobyl disaster of 1986. Arafat-Al-Yeasin reviews the series
HBO's miniseries Chernobyl is not just a retelling of a past event or a history lesson about a failed political regime. With a gripping and immersive storyline, this series is very much about the present, about the potential dangers that are increasingly permeating our society, affecting our culture, our politics, and our spirit.
In April 1986, a devastating accident at the nuclear power plant in Chernobyl awakened the world to an unprecedented danger that briefly threatened the existence of an entire continent. The series dramatizes the story effectively and accurately communicates the struggle and consequences of dealing with this disaster, one that was all the more terrifying because it was not caused by forces of nature, it was a man-made blunder.
From the pilot episode, Chernobyl demonstrates a disruptive consequence of modern danger that involves our formal institutions. Due to the complex and often highly technical character of catastrophes like Chernobyl, the society and politics rely heavily on experts and scientists to analyse and communicate the exact nature of the danger.
In modern society, however, these institutions face even greater challenges as modern risks often exceed the capacities of both science and politics to analyse and manage them. This also complicates the work of governments and political institutions that generally ask for the exact opposite.
The series gradually reveals that there are inherent differences between science and politics; one searches for truth, the other for power; one is interested in causes, the other in solutions; one strives for thoroughness; the other for efficiency; the quality of one measure based on validity, the other on public acceptance. So when politicians started to make decisions regarding a great disaster like Chernobyl, without any prior knowledge and experience, then there's bad news.
This series also showed that the work of politicians is not often easy when it comes to an incident like Chernobyl. Because the catastrophe like this often exceeds national borders, meaning that managing them also becomes a diplomatic problem complicated by all kinds of politically sensitive relations.
So, when a catastrophe like Chernobyl happens, to the general public, this not only awakens the realisation that political institutions were grossly unprepared, it also reveals their incapacity to effectively handle the aftermath, which at this point is inevitably defined by reckless responses.
The most significant consequence of all this for both the world of science and of politics is a growing loss of legitimacy as people are losing faith in the very institutions that are supposed to provide them with certainty and security. In their efforts to reclaim this lost legitimacy, the most important question that appears to need answering is the question of accountability. In the story of Chernobyl, it does not matter who the heroes are. All we want to know is: who is to blame?
The easiest way out of this is to blame individual scapegoats and ensure the public that it will not happen again. But these overly symbolic punitive measures do not address the structural flaws in the system and law, and will more likely make these institutions look even worse in the eyes of the countless people that just experienced mass evacuation, sickness and death.
Issues like climate change, genetic modification, oil spills, pollution, chemical hazards, habitat destruction, loss of biodiversity, the extinction of species, are all showing signs of at least some of the characteristics of dangers we face in the modern time.
It is especially an important difference in a time where we anticipate new kinds of catastrophes beyond our means of control. It means that while some of the risks might pose serious threats, others might not be so dangerous at all, and yet again, some might be still impactful in unexpected ways that are as of yet completely unimaginable. What matters is that we have invited a fundamental sense of uncertainty into the complex, yet necessary elements of our modern society that is undoubtedly affecting its foundations, and raising essential questions as to who decides what risks are acceptable? Who is responsible when things go wrong? Because when everyone is cause and effect, when everyone is responsible, no one is. Of course, no one can blame me for this.
So, in the final episode of the series, when Legasov speaks of the cost of lies, I think we can extend its meaning beyond Chernobyl and nuclear catastrophes — a loss of a basic feeling of security, a feeling of truth. In more simple terms; it reveals how we are increasingly surrendered to a reality that we do not understand, how we have become, forced to provide answers to questions we did not even know existed, and compelled to find new ways to cope with uncertainty, because as we have seen, while the truth may remain elusive, its consequences certainly will not. The real danger is that if we hear enough lies, then we no longer recognise the truth at all.
Finding the whole truth is always impossible. But being a massive success and garnered by both audiences and critics, Chernobyl is a testament to the power of great storytelling, a reminder of just how effectively this art form can move us. As a series, Chernobyl finds its profoundness through illustrating imagery of science, bravery and sacrifices of thousands of people.
The series repeatedly shows us the vulnerable position of our risky dreams. While our country is on the way to build its first nuclear power plant in Rooppur, this five-episode historical drama can be a source for us to think how much danger now we have to face. How many lives will be endangered if something goes wrong?
Arafat-Al-Yeasin is a student of the University of Dhaka.
Want stories like this in your inbox?
Sign up to exclusive daily email
More Stories from Art Culture