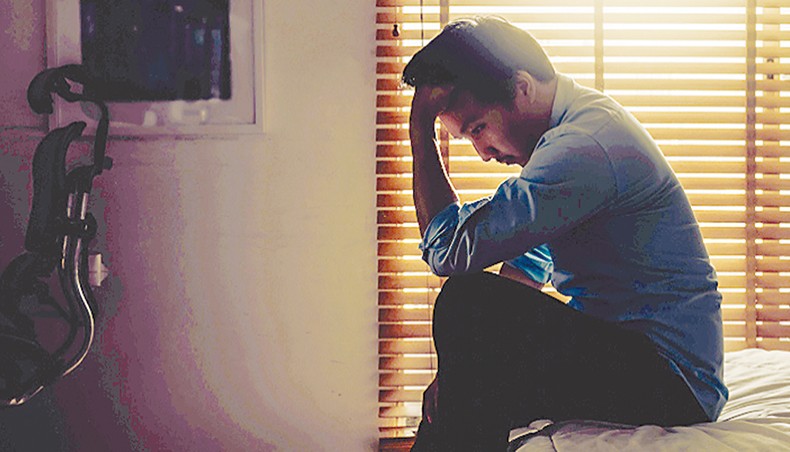 THE issue of mental health has always been a taboo and mostly ignored in Bangladesh, particularly among men. For most of them, struggling with a mental health issue means suffering in silence. Societal expectations and traditional gender roles play a pivotal role in determining why men are more likely to keep silent on their mental health problems. The existing stigmas around acknowledging it, as well as problematic ideas of masculinity often discourage men from mental help seeking.
We often discuss how gender stereotypes about women can be damaging to them. Unfortunately, we barely try to understand how gender stereotypes and expectations about men can be equally damaging to their well-being. Men are often expected to be the breadwinners, to be strong, dominant and in control, making it harder for them to reach out for help and open up.
Men suffer in silence
OUR society is organised in such a rigid way that a male can suffer because of his gender identity too. We deny male emotionality, vulnerability and victimhood. They are socially constructed to be stoic and strong, not to consider own feelings or state of well-being, and even their self-care. Therefore, men feel extremely uncomfortable to express their problems.
Previous studies suggest that men who can't speak openly about their emotions are less able to recognise their symptoms of mental health problems, and less likely to reach out for support. Nearly 17 per cent of adults in Bangladesh are suffering from mental health problems, with about 16.8 per cent are men and among them 92.3 per cent do not seek medical attention, according to the National Mental Health Survey, Bangladesh 2018–19.
Our society reinforces the worst kinds of masculinity and injects some extremely harmful messages into our minds from childhood. For example, 'boys shouldn't cry or be afraid of anything', 'they can't show weaknesses', or 'men don't share their problems with anyone', etc.
Ideas like these are part of what is now termed as 'toxic masculinity', known as a set of cultural expectations of men's behaviour and emotions that are damaging to both men and society at large. Men, from all walks of life, become victims of toxic masculinity that in turn contributes to a deterioration of their physical and mental health.
Men find it challenging to talk about mental health issues because of the misguided advice they receive throughout the entire socialisation and upbringing process. At times, it becomes too difficult for them to live up to the common tags like 'masculine', 'tough guy' or 'reticent'. Men start believing they can deal with mental health problems on their own as talking about it seems to be embarrassing, and a sign of weakness.
Masculinity norms, especially self-reliance, can be really incompatible with communicative and interactive health literacy. Men with mental health problems experience considerable shame and stigma and thus feel like they are not able to openly discuss their problems with healthcare providers.
Traditional concepts of masculinity involve strength, control, dominance, and stoicism creating barriers for men to express their emotions and seek mental health treatment. Consequently, many of them suffer from a sense of isolation and exclusion that can have disastrous effects such as suicidal tendency, a leading cause of death for men.
According to the Bangladesh Society for the Enforcement of Human Rights, male suicide rate has escalated from 126 in 2015 to 194 in 2017 with a total of 696 male suicides in 2014–2017. One of the leading reasons behind these rising number is men's underlying mental health conditions.
Men are less likely to access treatment than women, less likely to talk about their mental health issues with family or friends, and more likely to use harmful coping methods in response to stress and depression. They usually opt for alternative ways like anger, aggression, violence, self-harm, alcohol and tobacco or drug abuse.
Left untreated, mental illness can be damaging to a man's personal and professional relationships. It can result in a state of affairs as bad for the women and children who share their lives, as for the men in society.
How to help them
FIRST of all, men's mental health should be recognised as a social issue rather than just a health concern. Society needs to be more empathetic towards men and their problems.
Bringing major reforms in our education system is essentially required. We need to raise awareness at family level so that it treats children of all genders equally.
Clearing the myths around toxic masculinity is another requisite. If society is to help men and, thereby, help itself, the existing attitudes towards men and masculinity need to be changed.
We need to redefine what manhood means. Media should stop promoting ultra-toxic manhood which will play an important role in helping society to rethink masculinity.
We need social changes to help men by breaking the silence surrounding mental health issues. Since childhood, they need role models whom they can look up to as paragons of positive masculinity. It should be shown to every man that it's possible to go beyond expectations, to share own emotions and to be vulnerable.
Gender-transformative health promotion can be handy in changing the culture around men's socially constructed and influenced behaviour. This would develop more equitable norms, gender roles and relationships and would redefine manhood.
Friends and family can play a leading role by providing necessary support and affirmation during help-seeking process. It is important for men to realise that there is no shame or embarrassment in accessing professional support to regain their health and live a happier, fuller life.
Raising awareness through involving communities to motivate men talk about their problems can help to reduce mental health stigmas.
In the wake of the COVID-19 pandemic, unmuting men's mental health silence is now more imperative than ever before.
Tasnim Nowshin Fariha is a student of women and gender studies, University of Dhaka.
Want stories like this in your inbox?
Sign up to exclusive daily email
More Stories from Opinion