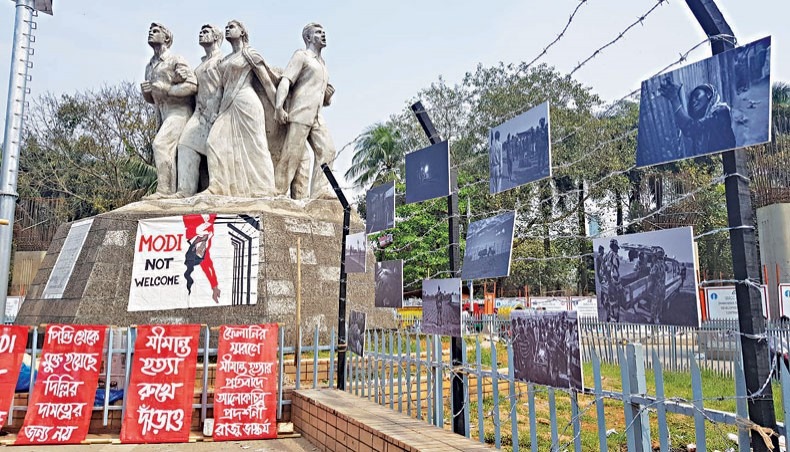 Indian authorities should investigate alleged abuses by the Border Security Force along the Bangladesh border in the past one decade and prosecute people involved in such acts, Human Rights Watch said on Tuesday.
Following the publication of a Human Rights Watch report, 'Trigger Happy,' 10 years ago, the Indian government announced that it would order the BSF to use restraint and rubber bullets, instead of more lethal ammunition, against irregular border-crossers, the New York-based rights group said.
Indian and Bangladeshi non-governmental organisations have reported that the BSF is continuing to commit abuses, including extrajudicial killings, torture and ill-treatment, of both Indian and Bangladeshi border residents.
'Indian government orders to border forces to exercise restraint and limit the use of live ammunition have not prevented new killings, torture, and other serious abuses,' said Meenakshi Ganguly, South Asia director at Human Rights Watch.
'The [Indian] government's failure to hold security personnel accountable has led to further abuses and the harassment of very poor and vulnerable populations,' she added.
The Indian government issued public orders to exercise restraint and end unlawful killings, and made assurances to Bangladesh, including during talks in December 2020.
However, the Bangladeshi group Odhikar alleged that the border forces have killed at least 334 Bangladeshis since 2011 and committed other instances of severe abuse, including 51 killings in 2020, said the HRW report.
Banglar Manabadhikar Suraksha Mancha, an Indian organisation that has investigated at least 105 alleged killings by the BSF in border areas in West Bengal state since 2011, said that the actual number of killings was most likely higher, said the report.
The HRW said that MASUM also reported that BSF soldiers had arbitrarily detained and tortured suspects and harassed and threatened Indian residents in border areas.
MASUM, with reference to media reports, said that on April 19, 2020, a BSF soldier killed a 16-year-old Bangladeshi boy, Shimon Roy, in Thakurgaon in Bangladesh, according to the HRW report.
His father, a schoolteacher, said that he and his son were building a fence around their jute field when a BSF soldier entered Bangladesh territory and told them to leave the place.
When they protested, saying that they were on their land, the soldier allegedly shot the boy in the abdomen, said the HRW report.
On July 4, 2020, BSF soldiers allegedly shot a 50-year-old Bangladeshi man in Chapainawabganj.
A local lawmaker said that after the man went to the area to cut grass for livestock and inadvertently crossed the border, BSF personnel allegedly killed him and moved his body back into Bangladesh territory.
Indian border guards, deployed to prevent cattle rustling, smuggling, and illegal crossings, said that they used force only when they came under attack, according to the HRW report.
Want stories like this in your inbox?
Sign up to exclusive daily email
More Stories from Foreign affairs