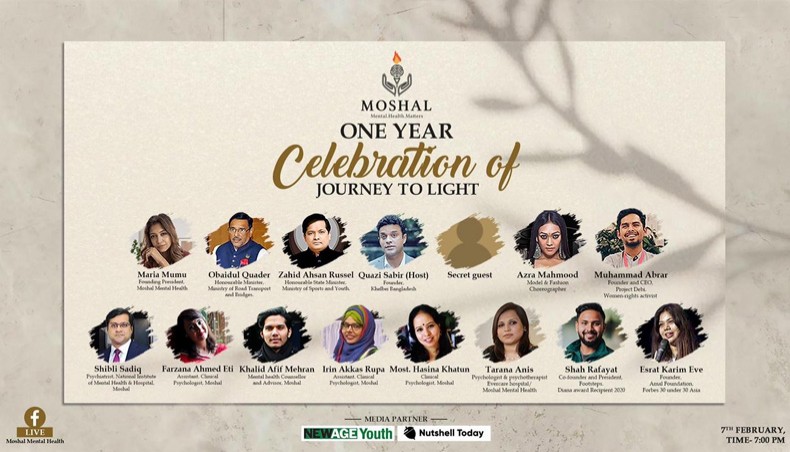 Moshal Mental Health organised a three-segment virtual event on Sunday to celebrate its first anniversary.
Moshal Mental Health is a one-stop mental health establishment with a youth-led team and a diverse panel of mental health experts, dedicated to spreading awareness and making mental healthcare accessible, affordable and effective, said a press release.
The programme's first segment was led by the road transport and bridges minister Obaidul Quader as chief guest and Moshal Mental Health founding president Maria Mumu which was hosted by Khelbei Bangladesh founder Quazi Sabir.
Members of the organisation, counsellor and advisor Khalid Afif Mehran, psychiatrist Dr Shibli Sadiq, psychologist and psychotherapist Tarana Anis, assistant clinical psychologist Farzana Ahmed Eti and assistant clinical psychologist Irin Akkas Rupa expressed their own thoughts on Moshal's work and significance.
The speakers of the third segment included several entrepreneurs and non-governmental organisation workers, including, Amal Foundation founder Esrat Karim Eve, Footsteps co-founder and president Shah Rafayat Choudhury and Project Debi founder and CEO Quazi Mohammad Abrar.
New Age Youth desk.
Want stories like this in your inbox?
Sign up to exclusive daily email