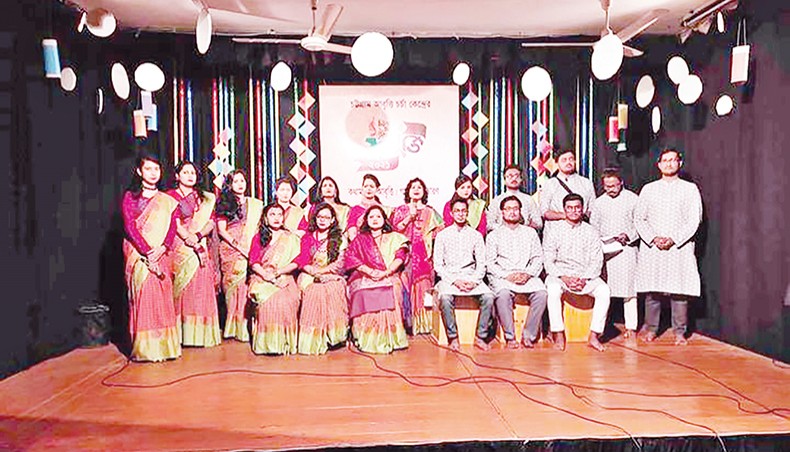 Chattogram Abritti Charcha Kendra celebrated its 12th founding anniversary organising a cultural programme at the auditorium of district Shilpakala Academy, Chattogram on Friday.
The programme titled Jugpurti featured recitation, songs and discussion.
Recitation artiste and founding member of Chattogram Abritti Charcha Kendra Rashed Hasan, Chattogram-based theatre activist Pradip Dawanji, poets Hussain Kabir and Mahbub Polas, recitation artiste Manik Bappy and others attended the programme as guests.
Chattogram Abritti Charcha Kendra president Ahtasamul Haq presided over the programme.
'We have organised this programme to celebrate our 12th founding anniversary. Our journey has not been entirely smooth sailing. We have had our ups and downs. We want to thank all who have supported us during our journey,' Ahtasamul Haq told New Age.
'The troupe has been gradually moving forward on its journey. It has been working to promote recitation in Chattogram. I have been involved with the troupe since its inception. The troupe is family to me,' said Rashed Hasan.
Recitation artiste Faruque Azam recited Nobel laureate Rabindranath Tagore's poem Ek Gaye and Nirmalendu Goon's Ami Aj Karo Rakta Chaite Ashini, Gautam Chowdhury recited Shakti Chattopadhyay's Jakhan Brishti Namlo, Dipa Shil recited National poet Kazi Nazrul Islam's Namo Namo Namo Bangladesh Momo and Syed Shamsul Haq's Poraner Gahin Bhitor.
Artistes also entertained the audience rendering Tagore songs Amar praner gobhir gopon, Mahabishwe mohakashe and Hetha je gaan gaite asha.
Besides, Chattogram-based recitation troupes namely Bodhan, Proma and others offered their congratulations to Chattogram Abritti Charcha Kendra at the event.
Want stories like this in your inbox?
Sign up to exclusive daily email
More Stories from Miscellany