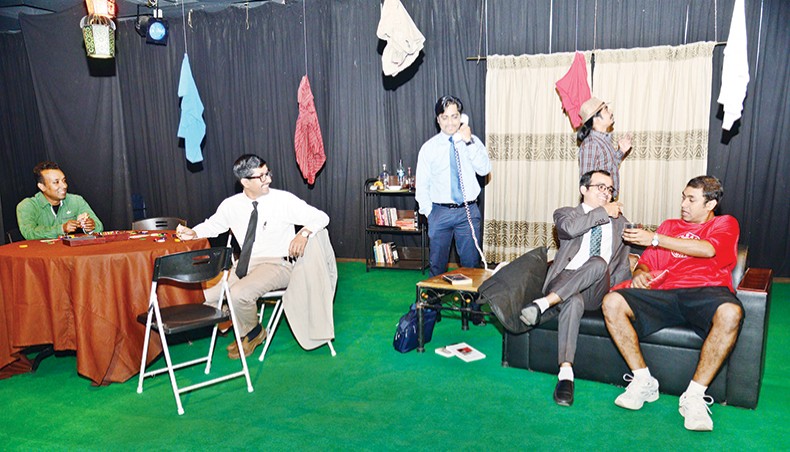 Theatre troupe StageOne Dhaka staged the sixth show of its play The Odd Couple at Studio Theatre Hall of Bangladesh Shilpakala Academy on Friday.
The play, an adaptation of American playwright Neil Saimon's work with the same title, has been translated and directed by Dominic Gomes. The Odd Couple is the 11th production of the troupe.
'We staged the sixth show of the play today. We staged the fifth show of the play on January 30. The play drew a large audience. We staged it following health guidelines,' Dominic Gomes told New Age.
The Odd Couple revolves around two best friends named Felix Ungar and Oscar Madison.
Felix Ungar is disciplined, organised and a cleanliness freak. He pinches people if they make mistake. He gets kicked out of his home by his wife for his behaviour.
Oscar Madison is a sports journalist. He likes to lead a carefree life. He has his share of bad habits which include never helping his wife with homely affairs, leading a disorganised life and being addicted to gambling. His wife also leaves him for his life style.
Felix Ungar starts living with Oscar Madison. As the play moves forward the relationship between the two best friends become bitter.
A disciplined Ungar tries to prevent Oscar from leading a reckless life. This annoys Oscar and the two friends get into an argument and the story moves forward.
Zubaer Zahid, Bindu Rozario, Bappaditya Chowdhury, Amitabh Rajib, Mahfuz Munna, Ni Tipu and others acted in the play.
Want stories like this in your inbox?
Sign up to exclusive daily email
More Stories from Theatre