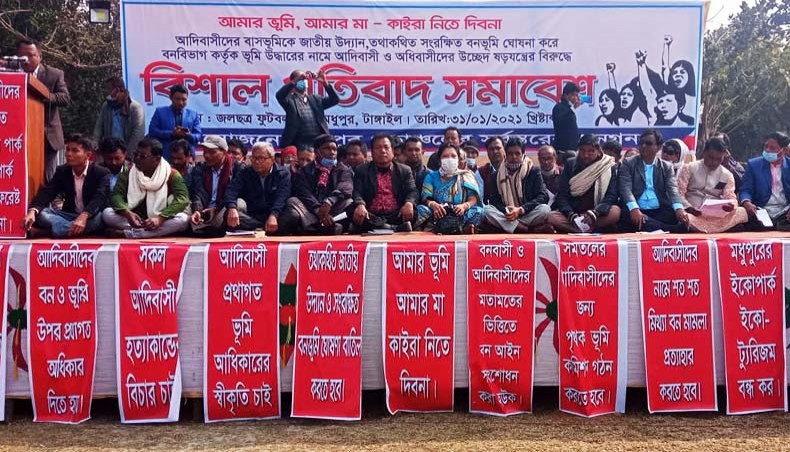 Protests erupted in different parts of the country on the last week of January were members of ethnic minority communities and rights activists demonstrated demanding land rights to ethnic minority communities. Protesters pressed a seven-point demand that includes bringing an end to the eviction of ethnic minority people from their land in the name of protecting reserve forest, eco-park or national project, writes Nahid Riyasad
ETHNIC minority rights organisation, cultural activists and human rights advocate demonstrated around the streets of Dhaka University of January 27 with seven-point demand that includes bringing an end to the eviction of ethnic minority people from their land in the name of protecting reserve forest, eco-park or national project.
To press home the demands, around 22 organisations, led by Bangladesh Adibashi Forum, formed a human chain with the slogan 'stop the eviction of ethnic minority people from ancestral land in Madhupur forest' in front of the National Museum, Shahbagh.
The protests cannot help but unearth the memory of Piren Snal and Cholesh Richil, two young men who sacrificed their lives to protect his ancestral lands at the Madhupur Forests.
Piren Snal became a symbol of ethnic minority communities' protests to protect their lands. In 2003, the Forest Department, without any consultation, began constructing a three-meter-high wall around the Madhupur Sal Forest, to create an eco-park to protect the forest, obstructing different ethnic community forest dwellers' main access routes to the forest.
As the communities' lives mainly depend on their relationship with the forests, protests broke out. Piren Snal was shot dead during one such protest on January 3, 2004. The resistance resulted in indiscriminate arrests, false cases, extrajudicial killings, including assaults on women and children.
Cholesh Richil, an activist was taken to law enforcement custody while he was returning from a wedding in Mymensingh in 2007. He was brutally tortured to death in law enforcement custody and his body was dumped at a local health station.
During a conversation with Jadil Mri, a student of Jatiya Kabi Kazi Nazrul Islam University, Bangladesh and a local of Shal forest, New Age Youth learned about the nature of fear in which children are being raised in the last couple of decades in the Shal forests.
'Our childhood passed under an atmosphere of fear. We were constantly afraid of being detained and police torture. Indiscriminate police cases are a weapon of the power that they use against ethnic minority communities. I know a few who were charged with false cases in their youth and their children have grown up but they are still fighting the cases,' he said.
Jadil also said that it is quite customary for a Forest Ranger, who is about to be transferred, to lodge a string of cases against those who took part in protests.
Falsely criminalising ethnic minority people became so bad that the government had to intervene and reduce cases from 7,252 to 150 in 2009.
Among the seven-point demands, withdrawing all the forest-related cases against ethnic minority people was crucial.
Protests erupted last week was over a decision of the standing committee for the environment, forest and climate change ministry that asks to evict ethnic minority people from their ancestral lands by January 30, 2021.
Richard Biplab Simsamg, senior vice president of Joyensahi Indigenous Development Council, elaborated on their claims on the lands that have been handed down through generations. 'Our ancestors survived by utilising the resources from this forest. I have taxation documents of our lands from 1860-1942. Our ancestors have been paying taxes to the zamindars for these lands and how can an official order evict us saying we are not native to these lands?'
Throughout the colonial rule, different ethnic minority communities of the Madhupur Shal Forest paid taxes to the zamindar, in return they enjoyed land and forest rights from the zamindar, and collected forest resources and managed the forest.
However, when the colonial rule ended, the government of Pakistan enacted The State Acquisition and Tenancy Act, 1950 (East Bengal Act) and abolished the zamindari system of land tilting, acquiring all the natural forestlands as the property of the state.
State's onslaught on the ethnic minority communities of the plain land started in 1984 when the government declared most of the Madhupur Forest as government property and published this through a gazette notification. The whole procedure was done without any consultation with the affected communities.
Once inhabited by mostly Mandi and Koch people, however, since then, the Forest Department settled land-less Bengali to implement the projects there which is a sign of demographic engineering. This method was also used in the Chittagong Hill Tracts too.
A research conducted by SHED in 2018 on 11,048 families of Madhupur. Among the 44 Mandi villages of the survey, 64.61 per cent were Bengali and 35.39 were Mandi. In another survey by Joyensahi Indigenous Development Council in 2017 conducted in three of Madhupur found 49 ethnic minority villages and 77 Bengali villages.
According to the locals, since they were unable to pay a bribe to the Forest Department officials, they couldn't get involved in the social forestry projects. On the one hand, ethnic minority communities were losing their forests in the name of social projects and on the other hand, they were unable to get any benefits from these projects.
Inhabitants of the forests, especially ethnic minority communities live an intricate life with nature and the surrounding. Forestation projects funded by international donor organisations are introducing alien species to the forest thus harming its natural process.
Jadil elaborated on this point, 'A lot of arable lands and fruit gardens of local variety have been taken from us by the FD and turned into a plantation. Such mono-cultural plantations have been destroying the natural species thus seriously hampering the local economy.'
While mentioning how these forced projects have been hindering the economic activities of ethnic minority communities, Jadil added, 'Rubber plantation during the 1980s have destroyed this forest and now the foreign-funded projects are crippling our traditional economy.'
In 1977-78, a bombing range for the Bangladesh Air Force was constructed inside a 'reserve forest' taken by the FD. In 1982, 55,476 acres of forest lands in Tangail's Mirzapur were declared as 'reserve forests'.
One of the demands from the protests were not to run a project or activities that affect the lives of ethnic minority people without consulting with them.
On January 31, a large crowd gathered at the Madhupur Jalchatra Football Field condemning the decision of the Forest Department to evict them from their ancestral lands. Later on that day, people took to the streets and blocked Tangail-Mymensingh highway for an hour.
At least 34 indigenous organisations and ordinary people took part in the demonstration.
Earlier, protests erupted when on September 14, the Forest Department cut down a small-scale banana plantation of Basanti Rema, a Mandi ethnic minority forest dweller.
Protesters formed human chains and claimed that the forest authorities have been nurturing the colonial mentality and using colonial legal tools to restrict ethnic minority communities' access to the forest and resources.
Meanwhile, human rights activists and people from Mro communities took to the streets in December 2020 protesting a hotel project in Bandarban. The construction of the five-star hotel and amusement park in Bandarban's Chimbuk hill area will displace residents of six Mro villages and put another 10,000 Mros at risk of losing their means of income.
This is a testament that rights to their lands for the ethnic minority communities are an elusive idea in an independent state.
John Jetra, president of Bangladesh Garo Student Organisation emphasised on the importance of land rights for every citizen of an independent nation. 'All the citizens have rights to lands. However, this is not the case with ethnic minority communities. Fifty years have passed since the independence but ethnic minority communities are yet to enjoy the rights to their lands. This is why every citizen should come forward and involve them in the demonstration asking for land rights to the ethnic minority communities.'
Both Jadil and Biplab echoed the same emotion towards the Shal forest, 'The forest is our mother. It gives us everything we need and protects us, in return we protect her. If we lose our access to the forest, our communities will perish. As this has become a question of our survival, youths in great numbers are demanding their rights to the land.'
Nahid Riyasad is a member of the New Age Youth team.
Want stories like this in your inbox?
Sign up to exclusive daily email