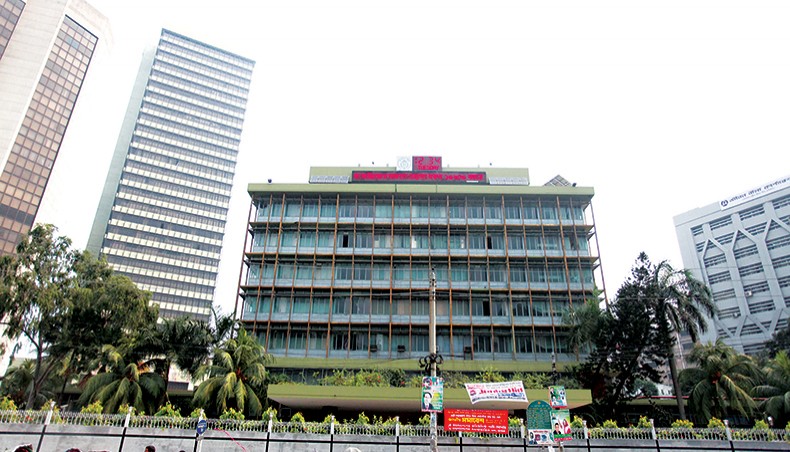 THE Bangladesh Bank on Thursday removed its executive director Md Shah Alam from the charge of two departments following allegations of taking bribes.
The central bank made the decision following a confessional statement given by former International Leasing and Financial Services Limited managing director Rashedul Haque before a Dhaka court on Wednesday.
Rashedul, considered as a key associate of former NRB Global Bank managing director Proshanto Kumar Halder, gave the confessional statement after a three-day AntiCorruption Commission interrogation in a case following his arrest on January 24.
An ACC official told New Age that during the interrogation, Rashedul had told them that at least two senior BB officials had helped PK Halder in most stages of the embezzlement process.
BB executive director Md Serajul Islam told New Age on Thursday that the central bank had removed Shah Alam from the responsibility of two departments — the Department of Financial Institutions and Markets, and the Department of Bank Inspection-2 — on the day and assigned him to lesser important responsibility.
The Department of Financial Institutions is designated to oversee non-bank financial institutions, including ILFSL.
Rashedul shared with the ACC names of some BB officials who had allegedly helped PK Halder to embezzle about Tk 3,000 crore from the leasing company.
The ACC official said that Rashedul had informed the investigator that PK Halder had regularly bribed a section of BB officials involved in audit and inspection of non-banking financial institutions.
Shah Alam was not available for comment despite repeated attempts.
In response to whether the BB would take any measures against other officials who had inspected ILFSL and other troubled NBFIs, Serajul said that the central bank was yet to take any such move.
Asked whether the central bank would launch any investigations following the developments and allegations raised against the BB officials involvement in patronizing financial irregularities, Serajul said that the BB would follow the developments in court and would make its decision accordingly.
'If it becomes necessary, the BB would make a decision later,' he said.
Mentioning that over 5,000 employees worked at the BB, Serajul also said that if anyone was engaged in irregularities, it was a deviation of integrity of that specific individual
He, however, said that such incidents impacted the BB's image as well.
On January 5, the High Court slapped an international travel ban on 25 people, including the family members of PK Halder and former BB deputy governor SK Sur, for their alleged connections with Halder.
Halder is facing charges of embezzling of over Tk 10,000 crore, which he took out as loans from different financial institutions in the name of companies owned by him and his family members.
Apart from International Leasing, Halder has also embezzled money from other financial institutions, including People's Leasing and Financial Services.
PLFS is now facing liquidation due to the entity's failure to repay depositors' money.
Halder fled the country after embezzlement investigations were opened against him in January 2020.
Want stories like this in your inbox?
Sign up to exclusive daily email
More Stories from Banking