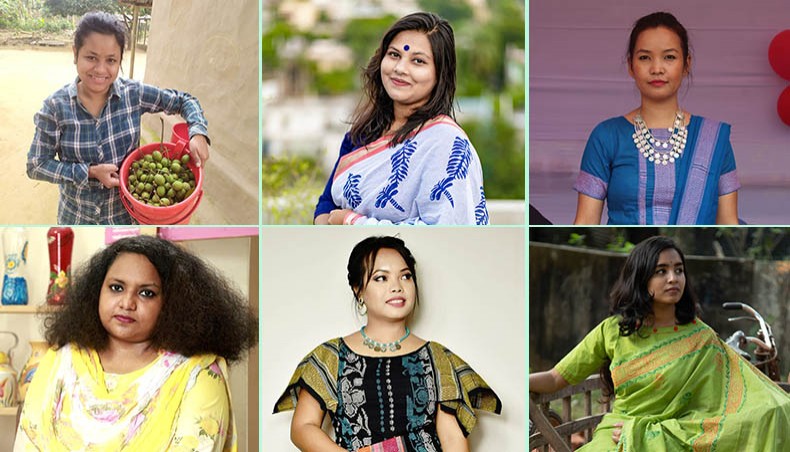 In recent years, some enterprising females have taken control of their future which created opportunities for themselves as well as others to become financially independent. Nasir Uz Zaman writes about some of the successful female entrepreneurs
In the male dominated social and economic structure, females are discouraged to become financially independent. However, breaking through the stereotype thinking, many educated females have taken the challenges of entrepreneurial activities which also involved lot of uncertainty. New Age Youth spoke with a few female entrepreneurs who started with very little investment and experience.
Mree Achar


Magdilina Mree was a full time employee in a non-governmental organisation but in the COVID-19 pandemic, she had to leave the job. As she had already started to make pickles and sell them on a very small scale before the pandemic, she thought to take it as a full time profession. And the result is the Mree Achar, an online e-commerce business of homemade pickles.
Magdilina has been involved in the safe agricultural movement for a long time. She believes that the Mree Achar and its small effort will at least contribute to the movement. Mree Achar's different kinds of pickle includes, garlic pickle, onion pickle, several kinds of chili pickle, plum pickle, tamarind pickle and many more.
While talking about Mree Achar, the owner Magdilina Mree said, 'First of all, Mree Achar promotes ethnic communities' family farming and chemical-free foods. We do not add any chemical substance or preservative to the products. Moreover, we source all the ingredients and spices directly from the family farming of the ethnic community people, mostly from the Garo communities of Madhupur and Mymensingh area. It is challenging to maintain the supply chain ensuring quality of the pickles and ensuring fair prices for the consumers and the farmers with a little profit when the market is dominated by giant industries. But, the demand of chemical-free quality pickles is giving us hope and one day we will overcome all our struggles.'
Haymanta


Haymanta, an e-commerce women's clothing store, is the dream of Zinnat Ara Sumu to live a life as a financially independent woman beside her academic life and political activities. In the beginning, Zinnat was involved in another e-commerce platform from where she learnt the lessons as well as the trade to maintain the supply chain of the products. Then, in October 2018, she created her own e-commerce platform Haymanta with a very small capital. According to Zinnat, she started her business with only Tk 1,500. She sources the required materials for the final product and then customises the product as market demand.
Haymanta's products include saree, shawl, jewellery, panjabi, bags and many more. Most of the products have regular hand paintings with a unique design. Zinnat also marks that buyers can get customised clothing at a cheap price from Haymanta.
Talking about Haymanta's journey, the owner Zinnat said, 'Though I have started Haymanta with a little capital but now it is making about Tk 30,000 per month on an average and it did not happen overnight. I think it is a big success of this entrepreneurship with such low capital. From the perspective of present day, it is struggling for a female entrepreneur to create her identity in the competitive market but the success will come if she takes the work seriously.'
Sarang's Kitchen


In city life, getting healthy cooked food is nothing but challenging. Keeping this in mind, Sarang's Kitchen, a homemade food delivery service, is working to supply cooked food to the city people, particularly Dhaka city. Before starting Sarang's Kitchen, the owner Santonu Smita Nokrek had no plan to take the start-up as a full time profession. One day, she attended a virtual session where female entrepreneurs were sharing about different start-up business ideas. From the session, she was inspired to do something that she could do, liked to do and also could represent her community — the Garo community.
In July 2020, Sarang's Kitchen raised the curtain with 13 orders. The homemade food delivery service is mainly based on traditional Garo food and local food. As an employee, Santonu had plans to continue it only on the weekend. But she left her job as the orders increased over the time. Now Sarang's Kitchen is delivering food every day on pre-order basis.
While talking about Sarang's Kitchen, the owner Santonu said, 'Initially, most of the orders came from the Garo community people living in Dhaka city but now people from different community are placing their orders. We always maintain hygiene while preparing the foods. Sarang's Kitchen is not only to do business but to supply homemade healthy food, to promote Garo cuisine and local food. One day, we will also setup a restaurant if the demand increases.'
Sarala


In February 2021, Sarala is going to celebrate its 6th anniversary. The journey of Sarala was started very randomly. On an occasion, the owner Mansura Yasmin Spriha's partner who was a student of fine arts, painted and gifted a saree. Dressed in the saree, she attended a programme where others appreciated the paint and they asked her whether she could manage such work for them. On that day she got five orders which made her think about starting the business. And this is how the journey of Sarala, an art and craft store and lifestyle products' e-commerce business, was begun with a small capital.
For Sarala, everything is a canvas for art. Realising the point that all people cannot afford to buy an expensive piece of art Mansura wanted to make art accessible to all and made the products pieces of art. Sarala's products include saree, shawl, shoe, sunglass, water bottle, jewellery, home decor and many more. The speciality of Sarala is in its unique design as all the products have hand paintings.
Mansura said, 'The long walk of Sarala was not linear but the love that we got from people, helps us to overcome all those struggles. We believe in happiness and that is why all our products are also colourful — the symbol of joy. With the love of people, we will continue our journey.'
Apsan


Moon Nokrek, the owner and founder of Apsan — a clothing business platform which works with unique designs, local culture and historical practices, completed her post-graduation from Jahangirnagar University's economics department. She never wanted a routine job earning money for someone else rather wanted to become an entrepreneur which can create economic opportunities for her community especially for the women. After completing a graphics design course, she started to design t-shirts focusing on the Garo culture. Though the journey of Apsan started with t-shirts in 2018 but immediately after the success, Moon established Amani Jumang Handloom which is a platform to showcase historically and culturally important Garo handloom techniques, locally known as Khunto-tan.
From the productions of the handloom, Moon diversified Apsan's products. Besides producing the required fabrics, it also addresses the current fashion trends. It is not only making male and female attire but also producing table mat, runner, cushion cover, curtains, shawls, bed-sheets, bags and many more.
Sharing about Apsan's journey Moon said, 'For an indigenous woman from a financially struggling background, the journey was not easy anyhow. When I started, e-commerce platforms were not available enough like present days. So I had to face a lot of difficulties in operation and planning. However, with time, I am learning the lessons as well as the trade. Relatives and also the family members used to demotivate me but now they come for suggestions.'
Bottola


With almost no capital and experience, two sisters, Mariam Rashid Sonda, a student of Jahangirnagar University, and Mahmuda Rashid Lata, a student of Jagannath University, started thinking to do something unique and exceptional to become financially independent during the COVID-19 pandemic. And the result is the Bottola, an online e-commerce business mainly based on clothing.
The Bottola offers regular and customised women's attire, including, saree, blouse and kurta; kids' clothing, including, panjabi; home decors like, bed-sheets, pillow covers; customised jewellery and many more. Mariam marks that the speciality of Bottola is in its unique design, quality and low price. Bottola thinks that in the urban life, people somehow miss the purity of rural life though all have the right to enjoy such purity. Bottola, with its unique design, is trying its best to fill the void. Sourcing the primary materials, the team members of Bottola make hand paint or hand block on the clothes and then prepare the final product.
Bottola has plans to extend its business by introducing quality food products which will be sourced directly from rural areas.
Nasir Uz Zaman is a member of the New Age Youth team.
Want stories like this in your inbox?
Sign up to exclusive daily email