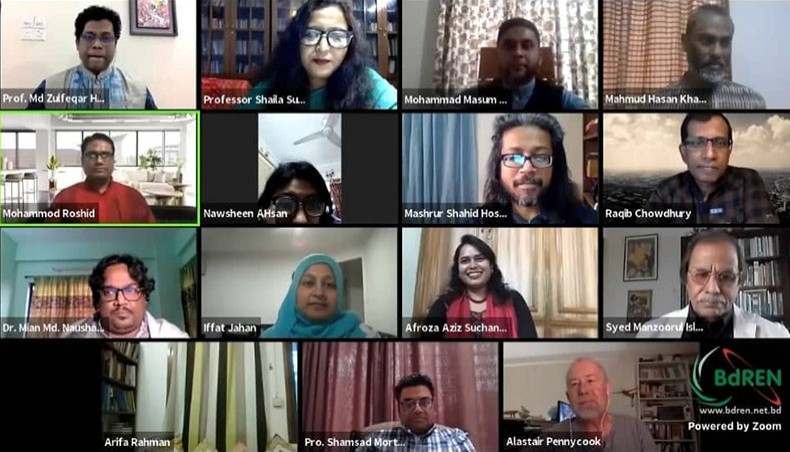 The book launching ceremony of Routledge Handbook of English Language Education in Bangladesh (2021) was held on Saturday virtually.
The first international publication on the historical development, shifting paradigms and practices, and present condition of English language teaching in Bangladesh is edited by Shaila Sultana, M Moninoor Roshid, Md Zulfeqar Haider, Mian Md Naushaad Kabir, and Mahmud Hasan Khan, said a press release.
The book has not only brought out critical perspectives on ELT and colonial and postcolonial history, ideologies, and values in terms of the English language policy and rapid development of the ELT industry in Bangladesh but come up with suggestions for possible decolonisation and deeliticisation of English in Bangladesh, it read.
The book includes 27 chapters written by 33 experienced and young English language educators and researchers from home and abroad including Bangladesh, Australia, Canada, England, Sweden, and Austria.
University of Technology Sydney professor emeritus Alastair Pennycook, University of Dhaka former professor Arifa Rahman, and University of Liberal Arts Bangladesh professor Syed Manzoorul Islam attended the programme and delivered valuable speeches as guest speakers while Daffodil International University professor A M M Hamidur Rahman, University of Liberal Arts Bangladesh pro-vice chancellor professor Shamsad Mortuza, Dr Raqib Chowdhury from Monash University, Australia, and Dr M Obaidul Hamid from The University of Queensland, Australia participated as the discussants.
The guest speakers and the discussants appreciated the courage and initiative of the editors to publish this book. They expressed that the book will contribute to future education and research. In the event, the authors and editors also shared their stories that happened throughout the journey.
New Age Youth desk.
Want stories like this in your inbox?
Sign up to exclusive daily email