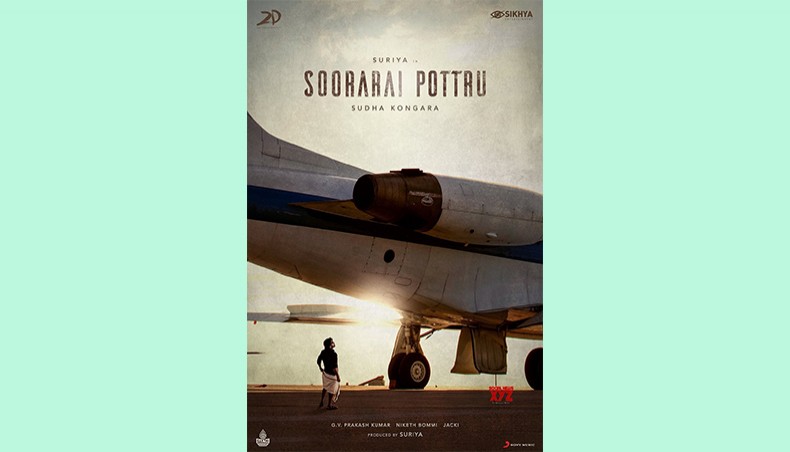 This is the story of a highly motivated intelligent man who wants to start a budget airline in India in the early 2000s. Released on Amazon Prime in 2020, Soorarai Pottru, directed by Sudha Kongara, tells Maara's tumultuous journey and overcoming obstacles on the way of introducing budget airline in India so that ordinary people can also fly, writes Nahid Riyasad
NEDUMAARAN Rajangam aka Maara played by Suria, is an enthusiastic son of a school teacher who dreamt big. His brave heart not only wanted to fly but also wanted to take the ordinary people of his village with his flight. That is why he did not stop after being an Indian air-force pilot rather took the hard path transforming Indian aviation industry by introducing cheap flights.
Based on Captain GR Gopinath's Simply Fly, written on real-life events of the writer, Sudha Kongara directed the movie released in 2020. Nedumaaran is a local of Madurai, who in his youth took part in protests to make the express train take a stop at the local rail station. This move transformed the economic condition of the entire village.
This is the 25th film-project of Suriya; critics and fans are already considering the movie as one of his finest performances. When he begs for money in the airport to board on a plane to see father on the death bed, which fuelled his ambition of opening a budget airline or when he asks for a loan to his wife with subtle hesitation on his face — indicates this is his one of the finest performancs yet if not the best.
Paresh Goswami, played by Paresh Rawal is a tycoon of Indian commercial aviation industry and runs the most profitable commercial airline with steep ticket prices. He is the antagonist of the movie and plays all the cards available to him to stop Maara from succeeding in opening a budget airline. He blatantly accepts the fact to Maara that he would not allow an ordinary person to travel by airline beside him exposing social and economic class hierarchy.
Will Maara be able to fulfil his dream and make an ordinary Indian fly beside a rich business person?
To fulfil the dream, Maara's wife Sundari aka Bommi, played by Aparna Balamurali, an independent and motivated woman, had a crucial role. They met for the first time when Bommi, with her family, came to see Maara for marriage. Even though they developed chemistry she rejected Maara. She wanted to start her bakery and inquired about Maara's dream of a budget airline.
A few years later Maara went on to see that Bommi had opened a bakery. They married and stayed together through the thick and thin. Failure after failure came to Maara's way but she stayed beside him. At one such low point, Maara rejected 16 crore rupee as a buy-off proposal for his idea.
When he returned home, Bommi was feeding him and he asked, as he has let the family down, will she poison his food? 'I would if you have agreed to the offer' her reply is the testament of how strong Bommi is and how important Maara's dream is to her.
When the airlines were about to start the operations, Bommi sealed a deal with Maara to handle the catering section of the airlines. The wife of the protagonist made a handsome turnover, in the real life, from her catering deal with the airline.
Story writer Sudha Kongara and screenplay writer Shalini Ushadevi, both female, also ensured that the cinema explored social expectations and the relationship of men and women and how responsibilities and roles should be equally shared in conjugal life.
At one point Maara hesitantly asked for 15,000 rupee loan from his Bommi, who already had two bakeries by then and was well off. Bommi was insulted by Maara's hesitance and said, 'I told you earlier. My bakery is as much yours as your airline is mine.'
Maara's continuous rounds at government aviation office to get his licence exposes the nexus between corporate entities and government officials. A clerk at that office told Maara that Ratan Tata waited twenty years at this office but could not get the licence. However, Maara managed to get the licence with special permission from the president.
Blow after blow to his dream and Maara somehow managed to cling onto his dream because he wanted to break the class barrier by making ordinary people fly. At the end of the day, it was the people of his village who crowdfunded the final operational costs of the airline.
Maara was deceived by his venture capitalist and lost all the money he collected by mortgaging his father's house. This sent him to the rock bottom but with people's love and hard-earned small amounts he went on to actualising his dream.
Social and economic class and division among classes is a major point of the movie. Paresh came from a humble background but tried everything in his power to stop Maara, another ordinary man, to raise the ladders because 'India should only know Paresh's success story'. With Maara's success, Paresh was forced to swallow the hard pill — both literally and figuratively.
G V Prakash Kumar background music complemented the ups and down's of Maara's life brilliantly. Every track of the movie played an important role by touching the hearts of the audience.
Niketh Bommireddy looked after the cinematography and was the director of photography. Brilliant portrayals of numerous aeroplane shots were essential to complement the storyline and show Maara's feelings on screen.
Originally released in Tamil, Kannada, Telugu and Malayalam, the movie can be enjoyed with English or Bangla subtitles. It was released on online streaming service Amazon Prime.
Nahid Riyasad is a member of the New Age Youth team.
Want stories like this in your inbox?
Sign up to exclusive daily email
More Stories from Art Culture