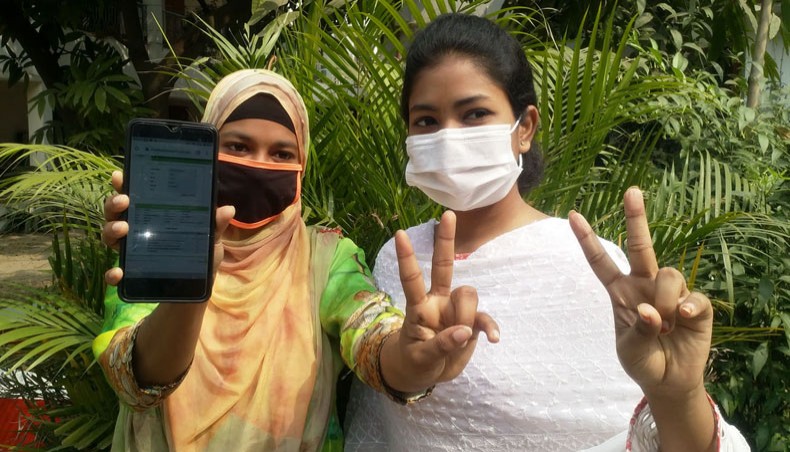 All the 13,67,377 candidates have passed the Higher Secondary Certificate and equivalent exams of 2020 while a record number of 1,61,807 candidates scored GPA 5 on the basis of their Junior School Certificate and Secondary School Certificate and equivalent examinations' results.
The results under 11 education boards came out on Saturday.
Both the average pass rate of 100 per cent and the number of GPA-5 winning students, about 11.83 per cent, set new records.
In the HSC and equivalent exams of 2019, the average pass rate was 73.93 per cent and about 3.74 per cent of the total examinees or 47,286 students got GAP 5.
Average pass rate in 2018 was 66.64 per cent when it was 66.84 per cent in 2017 and 72.47 per cent in 2016. The number of GPA 5 achievers in 2018 was 29,262, in 2017 was 37,969 and in 2016 was 58, 276.
Prime minister Sheikh Hasina announced the results through videoconferencing from Gano Bhaban in Dhaka.
Results were sent to students through mobile SMS within a short time.
Results are also available on www.educationboardresults.gov.bd website.
Education minister Dipu Moni on behalf of the prime minister received the results from Nehal Ahmed, chairman of Bangladesh Inter-Board Coordination Sub-Committee, at International Mother Language Institute.
Prime minister in her speech requested everybody not to criticise the results as the government had no other option but to cancel the HSC and equivalent examinations amid COVID-19 outbreak as done by many other countries.
'Criticism of the results may put negative impact on students,' she said.
Prime minister also thanked the education ministry and boards for developing a mechanism for preparing results on the basis of the students' previous JSC and SSC results.
The HSC and equivalent examinations were scheduled to be held from April 1 to May 13, but were postponed later due to COVID-19 situation.
However, the examinations were cancelled on October 7, she added.
Dipu Moni added that the government had to amend three acts — Secondary Education (Amendment) Act 2021, Bangladesh Vocational Education Board (Amendment) Act 2021 and Bangladesh Madrasah Education Board (Amendment) Act 2021 — for publishing the results without holding examinations.
Of 13,67,377 candidates, 7,06,885 were male and 6,60,492 were female. Among the GPA 5 achievers, 83,338 were female (12.62 per cent) and 78,469 were male (11.10 per cent). The highest number of GPA 5 achievers, 57,926, is from Dhaka Education Board.
Because of the new grading method, which was developed by an eight-member technical committee, 17,033 candidates got GPA 5 in the HSC examinations though they did not achieve GPA 5 in the SSC examinations, while 396 candidates who got GPA 5 in both the SSC and the JSC examinations were not awarded GPA 5 in the HSC.
In 2019, 8,570 examinees got GPA 5 in the HSC without achieving the average grade in their previous SSC results while the number of similar candidates in 2018 was 4,157 and in 2017 it was 6,976.
But in 2019, 45,865 HSC examinees did not achieve GPA 5 even though they got the grade in their SSC exams and the number of such examinees was 52,634 in 2018 and it was 17, 371 in 2017.
'Students were awarded GPA 5 if they had obtained Grade Points of 5 in each of the selected subjects of the JSC and the SSC exams that we considered for converting their marks for publishing the HSC results,' Dhaka Education board senior system analyst Manzurul Kabir told New Age on Saturday.
'If a student had obtained GPA 5 in the SSC but did not get grade point of 5 in each of the subjects we chose for converting marks might not get GPA 5 while a student not obtaining GPA 5 in the SSC might have been awarded GPA 5 in the HSC if they had achieved grade point of 5 in all the selected subjects for conversion,' he explained.
Because of the grace grades, which they got from the fourth subjects marks, 396 students secured GPA 5 in their SSC results but were not considered for GPA 5 in the HSC for not securing grade point of 5 in all the selected three subjects.
The ministry's technical committee calculated compulsory Bangla, English and ICT subjects of the HSC on the basis of 25 per cent marks of these compulsory subjects from JSC results and 75 per cent marks of SSC results.
For calculating marks for the science group candidates, the committee considered 25 per cent marks of mathematics and science subjects of JSC results and three main science subjects of the SSC results, Manzurul said.
For the humanitarian and business groups, Manzururl said, 25 per cent marks of mathematics and Bangladesh O Bishwa Parichay of the JSC results and 75 per cent marks of three core subjects of the SSC results were considered.
In case of change of groups, he said, the results of the main three subjects in order of registration of the SSC were converted to the main three subjects of the HSC results respectively.
For irregular students, Manzurul said, marks of the subjects a student failed to pass in the previous HSC exams were calculated following the above said method while only SSC results were considered for private candidates.
Of 13,65,789 candidates, 2,66,501 were irregular, of whom 1,60,929 failed in one subject last year, 54,224 failed in two subjects last year and 51,348 failed in more than two subjects.
The number of private candidates was 3,390 and 16,727 candidates registered for improvements.
The aggrieved students will have the chance to appeal review, education minister Dipu Moni said.
Education minister Dipu Moni together with education board officers poses for a photo at the HSC result hand-over and publication programme at the International Mother Language Institute in Dhaka on Saturday. — New Age photo
Want stories like this in your inbox?
Sign up to exclusive daily email
More Stories from Country