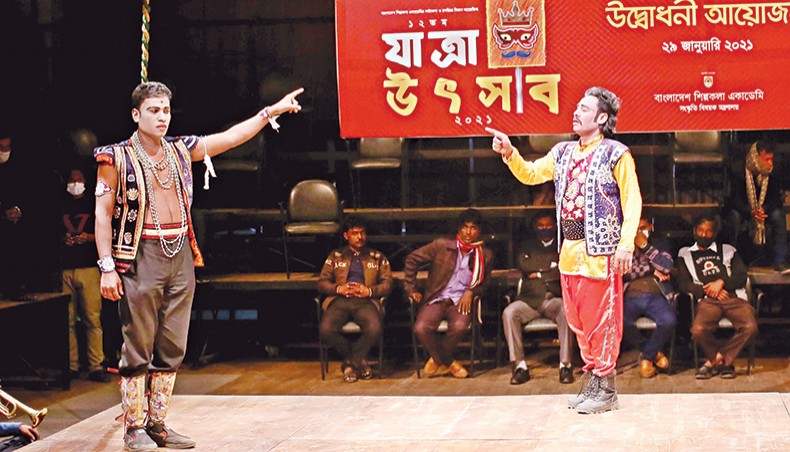 The 12th jatra festival began at Experimental Theatre Hall of Bangladesh Shilpakala Academy on Friday.
The four-day festival has been organised by Bangladesh Shilpakala Academy with the aim to promote Jatra, a popular traditional performing art form.
The jatra performances are being reviewed by a committee named Jatrashilpi Unnayan Committee.
The best troupes will be able to register themselves with the BSA, which has been organising the festival since 2012 to streamline the registration process for jatra troupes under the Jatra Development Regulation 2012.
In the previous editions of the festival, a total of 117 Jatra troupes from across the country have registered with the academy.
'Jatra is a traditional performing art form of our country. Bangladesh Shilpakala Academy has been arranging this festival regularly for promoting the traditional performing art form across the country. Jatra troupes from across the country are participating in this year's festival. The best troupes can register themselves with BSA. The enlisted troupes will be able to stage jatra across the country without facing any problems,' Purnalaaka Chakma, assistant director of Drama and Cinematography, told New Age.
'Besides, the academy is monitoring jatra troupes across the country and providing financial assistances to both jatra artistes and troupes,' Purnalaaka Chakma added.
The festival is featuring 22 jatra productions by 22 jatra troupes from across the country.
Abdul Ali, A senior jatra artiste of The New Aleya Opera, said, 'It has become extremely difficult for us nowadays to make a living as a jatra artiste. Earlier, we staged between 65 and 70 jatra performances across the country. But, the number of shows has been gradually decreasing. As a result, we have been facing financial hardship. I, along with my troupe members, came here to get enlisted with Bangladesh Shilpakala Academy.'
'We are really happy to participate in the festival. I hope that we will be able to get our troupe registered,' Abdur Razak, team leader of Bhashan Jatra Opera, told New Age
Jerin Akter, a young Jatra artiste, said, 'I am very happy for getting the opportunity to perform the role of Behula at the festival. I began my journey as a jatra artiste in 2018. Earlier, I have depicted Behula in several jatra events across the country. I thank Bangladesh Shilpakala Academy for arranging this festival.'
On the opening day, The New Aleya Opera from Mymensingh staged Behula directed by Fazlul Haq Fazlu, Ishita Opera from Mymensingh staged Behula Lakshmindar directed by Jafar Ali, Hiramon Opera from Jamalpur staged Nijam Khuni directed by M Ali Akbar, The New Rupa Opera from Mymensingh staged Behula Sundari directed by Nizam Uddin, Kalihati Behula Lakshindar Opera from Tangail staged Behula Lakshindar directed by Abdur Rahim and Bhashan Jatra Opera from Tangail staged Behula Lakshindar directed by Chan Mia to the delight of the audience.
Today, five troupes will stage jatra at the festival, which is open for all from 3:00pm to 10:15pm till February 1.
Want stories like this in your inbox?
Sign up to exclusive daily email
More Stories from Theatre