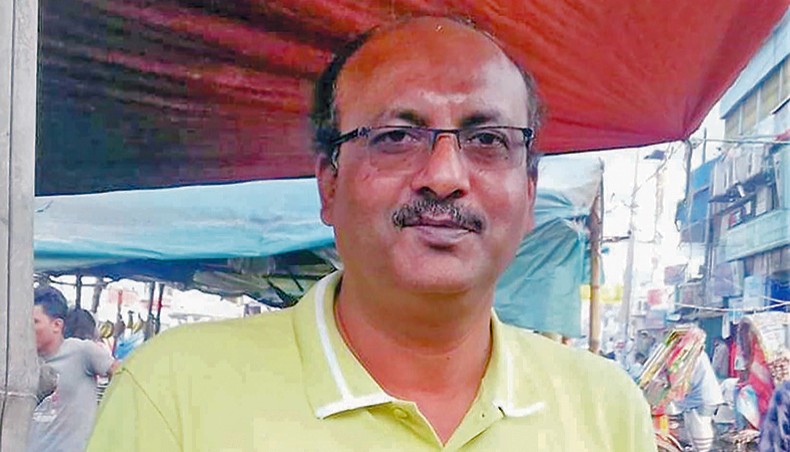 Novelist Zakir Talukder is looking forward to publishing his collection of short stories titled Behular Dwitiya Basar in the first week of the Amar Ekushey Book Fair.
The book will be published under the banner of Pendulam. Razib Dutta has designed the cover of the book.
Behular Dwitiya Basar contains 11 short stories, which are reconstructions of ever-familiar Behula myth, different contemporary events and others.
'Behular Dwitiya Basar contains 11 short stories in which I reinvent the patriarchal egoism. In one of the stories named Sutanag, I have portrayed how corporate capitalism turns even the most economically marginalised people into consumers. The things that they have been living without for so long suddenly seem essential for them. Soap, shampoo, paste, creams — these mini-packs are used as 'sutanags' in their hands. There is also a short story based on rape and murder of Tonu with impunity,' Zakir Talukder Told New Age.
'Other stories in Behular Dwitiya Basar are written based on the aftermaths of several contemporary events,' added Zakir Talukder, who earlier published books namely Pitreegan, Kabi o Kamini, Musalmanmangal, Kursinama,
Kalpana Chakma o Rajar Sepai, Karl Marx Manushti Kemon Chhilen, Kanya o Jalkanya, Dur Digante
Unki Diye Dekhi, Raktamakha Chander Alo and others.
Readers will be able to buy copies of Behular Dwitiya Basar at book shops namely Pendulam, Prokriti, Batighar, Nirbachita and others. Besides, it will also be available on different online platforms including rokomari.com.
Zakir Talukder also shared his thoughts on the upcoming Amar Ekushey book fair.
'I am against any gathering of people in this time of COVID-19. The authorities concerned pay little attention to people and their plights. That is why we had to endure all this. But, I never supported such apathy. So I personally don't want the book fair to be held during the second wave of COVID-19, which has already claimed the lives of a number of renowned litterateurs of the country,' mentioned Zakir Talukder.
Want stories like this in your inbox?
Sign up to exclusive daily email
More Stories from Literature