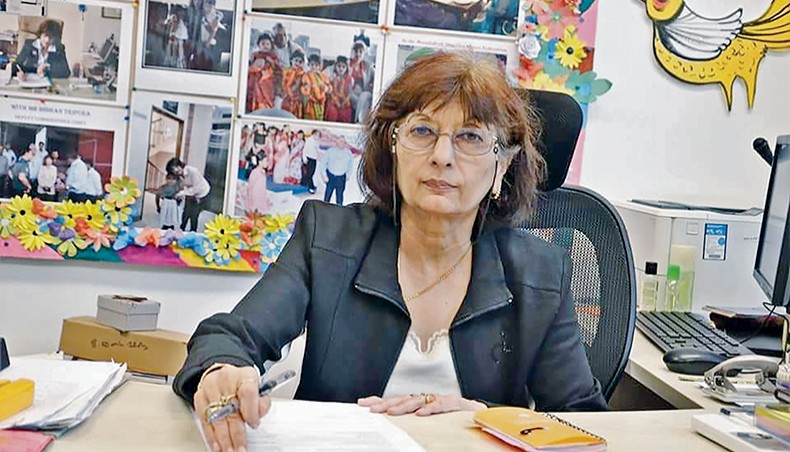 Madhu Wal, principal of the Dhaka franchise of Delhi Public School, thinks that the schools should teach the students values amid growing sexual harassment in society.
But unfortunately, he added, few schools in Dhaka give importance to such teaching.
Madhu claims that DPS STS School in the Uttara is among those few schools that give special emphasis on teaching values considering that teaching values, ethics and morality and gender sensitivity will help get rid of undesirable acts like sexual harassment rampant in society.
'It's a common problem in a patriarchal society where women are treated as an object of sex but the fact is that women are equal to men and in some fields far ahead of men,' said Madhu in an interview with New Age.
'It's happening as parents don't teach values to children. Moreover, unattended children of the working parents are exposed to tons of violence and graphic contents available with a click on the Internet and TV channels. In the greater interest of society, the parents, schools and society actors should work together to overcome the problem,' she went on.
Madhu Wal became the principal of Uttara DPS STS School in 2020 after her husband Harsh Wal retired from the position. Between 2009 and 2020 she was the school's vice principal.
The couple has led the school since its inception in 2009 to become a top-ranking English-medium school in the country.
They have recruited the teachers and developed the curriculums in light of the Cambridge curriculums and set up an education system that gives equal importance to the academic learning as well as co-curricular and extra-curricular activities.
'Within a short time we have created a profound impact in the educational arena of Bangladesh for our educational philosophy of developing a "holistic child" who will obtain not only good marks in the exams but will become socially responsible citizens of Bangladesh and members of the world community,' Madhu said.
'We want that our students will have the virtues of an ideal human being who will not only serve the nation but also contribute to humanity at large, who will have respect for all human beings, all religious beliefs and be sympathetic to the underprivileged,' she added.
Despite being a franchise of Delhi Public School, she said, DPS STS School from the beginning put a lot emphasis on teaching Bangla and Bangladesh studies to its students so that they could be acquainted with the history, culture and geography of the country.
Bangladeshi students studying at the English-medium schools are second to none in the region and can be compared with the best students of the developed countries, she observed.
Bangladeshi students have all the required virtues to compete with students of any country of the world, Madhu also observed based on her vast experiences of working with various schools across the globe.
'I want to emphatically say from my experiences with students from different countries that our students in the Bangladeshi English-medium schools are excellently well-informed, smart, confident well- articulate, and hard working to compete with the best students of the developed countries let alone the students of the region,' Madhu said.
Madhu said that the COVID-19 outbreak had initially an impact on the activities of the DPS STS School but they quickly recovered by redesigning their teaching method, developing facilities, and training teachers, students and parents to quickly adapt well to the virtual classes and thereby resumed all activities accordingly.
'Though our virtual classes were very interactive and could engage all students still we believe that virtual sessions cannot be substitute for the face-to-face academic activities,' Madhu said.
She said that the school was planning to continue regular classes and take extra classes simultaneously when educational institutions would reopen after the COVID-19 crisis was over.
She thinks that the students who have stayed at home for months should also be provided counselling to adapt well to the normalcy.
Want stories like this in your inbox?
Sign up to exclusive daily email
More Stories from Interview