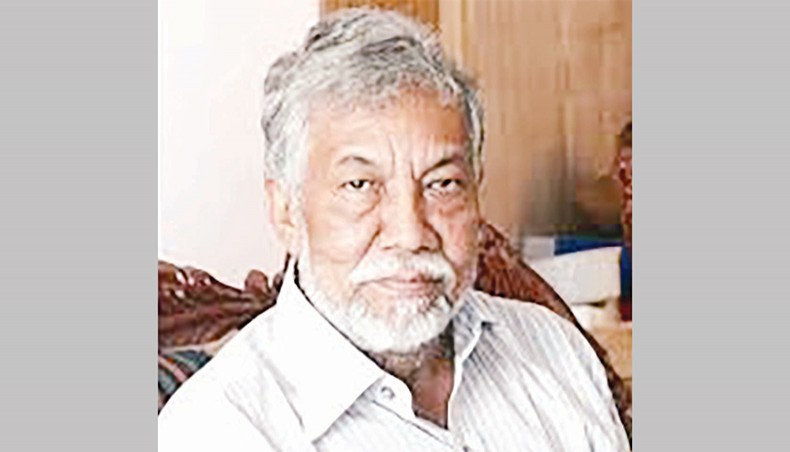 Painter, designer and journalist Syed Lutful Haque passed away at a city hospital on Wednesday at the age of 72.
He is survived by his two sons. He also left behind friends, well-wishers and relatives to mourn his death.
'My father breathed his last at around 5:30am at Dhaka Medical College Hospital. He was admitted to the hospital on January 7 with breathing complications. He tested negative for COVID-19,' Syed Ariful Haque, eldest son of Syed Lutful Haque, told New Age.
Artist Moniruzzaman, who had the opportunity to witness the Syed Ariful Haque at close quarters, expressed shock at the death of Haque.
'I knew Lutful bhai since 1977. It is hard to believe that he is no more. He was one of my favourite persons. He was a painter first and then a journalist. He could come up with outstanding illustrations for newspapers. He excelled in creating new typographies by manipulating Bangla alphabets. One could easily recognise the typefaces he created as they bore the Lutful bhai's signature. His book covers were amazing. May his departed soul rest in peace.'
Besides, in a condolence message, National Press Club president Farida Yasmin and general secretary Ilias Khan expressed shock at the death of Syed Lutful Haque and conveyed condolences to his bereaved family.
Syed Lutful Haque was born on March 16, 1949 in Ishwarganj upazila of Mymensingh. He completed his master's in fine arts from the then institute if fine art, Dhaka University.
According to Bangladesh Sangbad Sangstha, he started his journalism career in the daily Ittefaq in 1986. He worked for the Bangla daily as well as the weekly Bichitra for a long time. His last workplace was The Independent and he was a member of the National Press Club.
He was also a renowned painter and cover artist of the country. He had written several books, including 'Dash Diganter Dash Bashinda', which is considered the most notable.
He received Shilpacharya Zainul Gold Medal, Atish Dipankar Gold Medal, Neepa Medal and National Press Club Writer's honourable mention award.
His first namaz-e-janaza was held on the premises of the National Press Club after Zuhr prayers. He was buried following his second namaz-e-janaza at Banani Graveyard.
Want stories like this in your inbox?
Sign up to exclusive daily email
More Stories from Miscellany