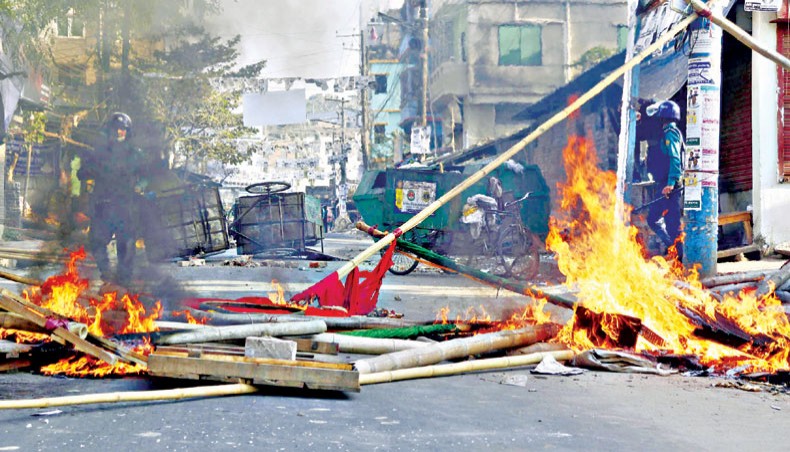 The Chattogram City Corporation election was marred by allegations of irregularities, ousting of opposition Bangladesh Nationalist Party-backed candidates' polling agents, capturing of polling centres by the ruling Awami League activists, election boycotting and violence that killed two people and injured scores.
Ruling Awami League mayoral candidate M Rezaul Karim Chowdhury was leading the mayoral polls.
Until 10:00pm, AL mayoral candidate bagged 77,232 votes in 200 polling centres out of 735 while his nearest competitor and Bangladesh Nationalist Party candidate Shahadat Hossain bagged 10,598 votes.
BNP mayoral candidate Shahadat Hossain alleged that his polling agents were ousted from the polling stations and ruling Awami League activists had been engaged in snatching votes and capturing polling centres during the election while AL candidate Rezaul Karim Chowdhury claimed that BNP's allegations were baseless and it was conspiring to make the election controversial.
Islami Andolan Bangladesh mayoral candidate Jannatul Islam in a press release at about 3:00pm boycotted the election alleging attack on election centres and barring his agents and voters from entering the polling centres.
Election Commission secretariat senior secretary Md Alamgir, talking to reporters at Nirbachan Bhaban in the capital, however, claimed the election was a 'good' one and that the violence was negligible compared with that in elections in other third world countries.
He said that the presence of voters in the election was less than their expectation and that they suspended polling in two election centres due to violence while the attackers vandalised electronic voting machines.
While visiting several polling centres, New Age correspondent witnessed that the presence of voters were very thin though there was a huge presence of leaders and activists of the AL and its front organisation outside the polling centres.
A number of voters alleged that they could not cast their vote for the candidates of their choice as AL activists compelled them to press the voting button in favour of the AL candidates while many others alleged that they were barred from entering the polling centres.
At Ambagan in the city's Khulshi area, Alam Mia, 28, son of Sultan Mia of Cumilla district, was shot dead and five others sustained bullet injuries in a clash between the supporters of Awami League-backed councillor candidate of Ambagan ward Mohammad Wasim and Awami League rebel candidate in the morning, said Zahirul Islam, in-charge of Chattogram Medical College and Hospital police outpost.
In Pahartali, Nizam Uddin Munna, 35, a resident of the area was killed in an attack allegedly by his brother over a dispute centring the election.
Quoting local people, Rashedul Haque, officer-in-charge of Pahartali police station, said Munna was an activist of Pahartali ward unit Chhatra League and a supporter of Awami League rebel candidate Saber Ahmed while his brother Salauddin Quamrul was the supporter of Awami League backed councillor candidate Nurul Amin.
Alauddin Talukdar, a sub-inspector of CMCH police outpost, told New Age at about 12:15pm that at least 30 people were injured in election-related violence in different areas of the city and took treatment at the hospital starting from morning.
After casting his vote at the Teachers' Training College polling centre at Pashchim Bakalia in the city at about 10:00 am, BNP-backed mayoral candidate Shahadat Hossain alleged that his polling agents were ousted from almost all the centres while AL activists had been engaged in robbing people's votes. The administration resorted to trickery so that the ruling Awami League candidate could win, complained some voters.
AL mayoral candidate Rezaul Karim Chowdhury, after casting his vote at about 8:45am at Ekhlasur Rahman Government Primary School in the port city, said that he was 100 per cent hopeful about his win and said that the election was peaceful and voters came to the polling stations spontaneously.
He termed BNP's allegations baseless and said that BNP was not in a position to appoint agents due to its organisational weakness.
After the election hours, BNP standing committee member and CCC election conducting committee chief Amir Khasru Mahmud Chowdhury, in a press briefing at the party's Chattogram city office, alleged that the 'Awami law enforcement agencies', not the AL, had conducted the election and the main task of ousting BNP's polling agents were accomplished by the law enforcement agencies.
'It was not an election. So the question of rejecting the results does not even arise,' he said.
He alleged that the AL had employed miscreants and captured about 500 polling centres and over 200 BNP leaders and activists were injured in their attacks.
After lodging a complaint to the Election Commission secretariat senior secretary in Dhaka, AL executive council member ABM Riyazul Kabir Kawsar told reporters that the BNP had terrified the voters in 40 polling centres by conducting criminal activities and the BNP-backed candidate had vandalised EVM and captured a number of polling centres.
He alleged that AL's polling agents were ousted from a centre of Panchlaish.
At the Teachers' Training College polling centre at Pashchim Bakalia where the BNP mayoral candidate cast his vote in the morning, at about 11:00am that a man was seen giving instructions to voters during vote casting in the absence of any polling agent of the BNP candidate.
Polling officials at the centre claimed that the man was helping voters to cast their votes as many were not able to use the EVM.
Jasim Uddin, a voter standing outside the centre, alleged that he could not cast his vote as the election officials told him that his vote had already been cast.
At a booth of the college's administrative building-1, AL mayoral candidate's polling agent Proshenjit was seen casting votes.
The presiding officer of the polling centre, Habibur Rahman, said that he would look into the allegation.
A woman named Nazma Akhter said that she was a polling agent of the BNP candidate and she had not been allowed inside the polling centre since morning.
Polling officials said that a total of 30 votes, out of 3,166, were cast in the first two hours at Kapasgola City Corporation Mahila College until 10:00am.
There was not a single voter nor any BNP backed mayoral candidate's polling agent in any booth of the Hazi Muhammad Mohsin College polling centre at about 10:30 am. A total of 1,723 female voters are scheduled to cast their vote in the centre, said the centre's presiding officer Azmal Huda.
At the CDA Public School and College polling centre at ward No 4 in the city, a total of 152 votes out of 3,082 were cast until 10:15am in all its eight polling booths, the polling centre's presiding officer said.
Police detained Ismail Bali, BNP-backed ward councillor candidate for ward No 34 of Patharghata, at about 12:15pm following clashes between AL and BNP supporters at different centres of the ward, Chattogram Metropolitan Police's additional deputy commissioner (south) Palash Kanti Nath told New Age.
Witnesses said that AL and BNP activists locked in clashes and the clashing groups vandalised EVMs of two centres at about 11:00am following which the authorities suspended voting at both the centres.
Dozens of supporters of both the AL and the BNP were injured during the clashes.
At least 20 people were injured in a series of clashes between supporters of the AL-backed ward councillor candidate Hasnat Belal and AL's rebel candidate FA Kabir Manik of Lalkhan Bazar No 14 ward in High Level Road and Tulapukur Lane areas, witnesses and police officials said.
Several cocktails were exploded at Tularpukurpar and Matijharna points of the ward, they said.
Besides, supporters of the two candidates locked in chase and counterchase outside the Lalkhan Bazar Primary School, UCEP School and Shahidnagar City Corporation Girls' High School polling centres of the ward.
Two groups of the AL locked in chase and counterchase near the Dr Khastgir Girls High School polling centre of Jamal Khan ward at about 11:00am and police brought the situation under control by firing gunshots in the air, witnesses and police officials said.
Besides Rezaul, Shahadat and Jannatul, four other candidates — Bangladesh Islamic Front's MA Matin, National People's Party's Abul Manzur, Islamic Front Bangladesh's Wahed Murad and independent candidate Khokon Chowdhury — contested in the mayoral elections.
There were 172 councillor candidates for 41 general wards and 57 reserve seats for women candidates.
A total of 25 platoons of Border Guard Bangladesh troopers were deployed in Chattogram city along with 9,000 police personnel ahead of the mayoral polls.
Want stories like this in your inbox?
Sign up to exclusive daily email
More Stories from Country