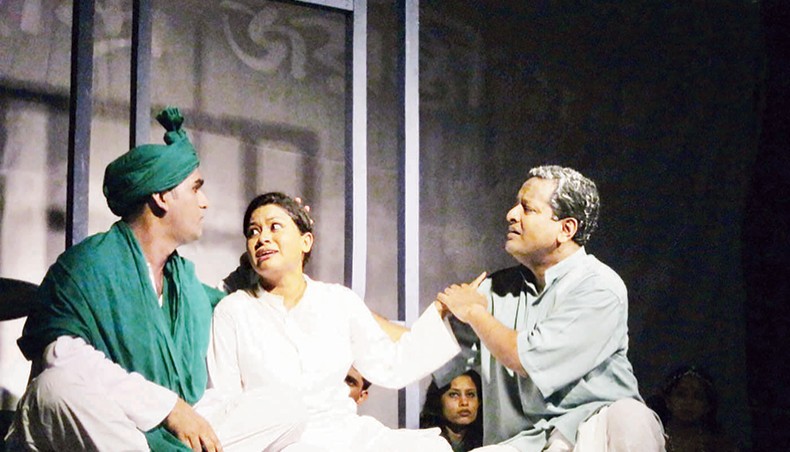 Theatre troupe Swapnadal is participating in a ten-day international online theatre festival arranged by Indian theatre organisation Baksha Bratya Natyajan.
The organisation is streaming the festival on its official YouTube channel. The festival titled Antaranga Natyamela 2021 began on January 17. It will end today.
Swapnadal's production Dakghar will be streamed at the festival at 7:30 pm.
Dakghar, an adaptation of Rabindranath Tagore's well-known play with the same title, is the 6th production of the troupe. It has been directed by Zahid Repon.
The story of the play revolves around a little boy named Amal, who is suffering from an incurable disease and remains confined to a room in his adopted uncle's house on doctor's orders. He stands in the yard and talks to passers-by and asks them about the places they go to. Seated beside his window, he longs to join the world outside where children play in the street.
When a new post office is constructed nearby, Amal fantasises about receiving a letter from the king. The village headman mocks Amal and pretends that the child has received a letter from the king promising that his royal physician will come to treat him. The physician comes, with a herald to announce the imminent arrival of the king. But Amal falls asleep forever before he arrives.
'The recorded video of our play Dakghar will be streamed at the international online theatre festival. We are looking forward to representing our country in this international event. We recorded the video in February, 2020,' Zahid Repon, chief secretary of Swapnadal, told New Age.
Besides Swapnadal, theatre troupes from France, Nepal and India are participating in the festival.
Want stories like this in your inbox?
Sign up to exclusive daily email
More Stories from Theatre