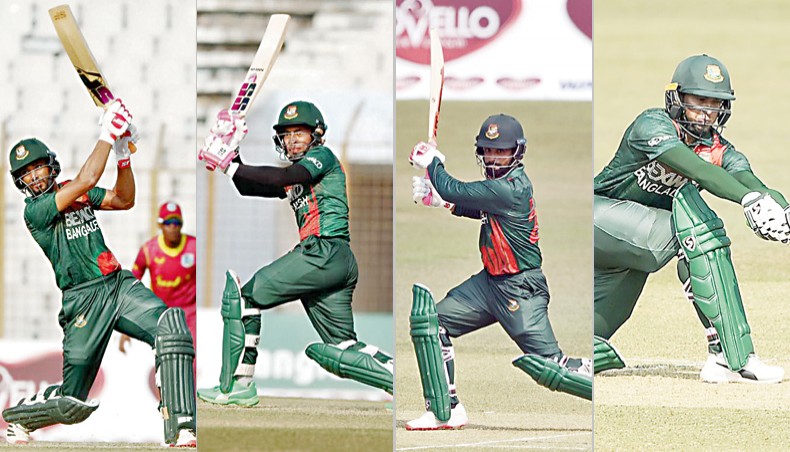 The four stalwarts of Bangladesh cricket, Tamim Iqbal, Shakib Al Hasan, Mushfiqur Rahim and Mahmudullah, carried the team's batting on their shoulders while the younger batters disappointed once again in the final one-day international of the three-match series against West Indies on Monday.
Bangladesh completed their second clean sweep in ODIs against West Indies, the first one at home, with a comfortable 120-run win over the Caribbean side in the final ODI in Chattogram.
The foundation of the dominant win was laid by the four core players of Bangladesh's ODI side, as Tamim, Mushfiq and Mahmudullah scored identical 64 runs while Shakib made 51 runs to help the Tigers post 297-6 in their maiden first innings outing in the series.
While all of the veteran batters notched up fifty-plus scores, Liton Das, Nazmul Hossain and Soumya Sarkar failed to live up to their hype once again.
Liton departed for a duck in the very first over of the match while Nazmul got dismissed after an edgy 20 off 30 balls.
Soumya got an opportunity to bat for the first time in the series but couldn't do anything to justify his inclusion in the team as a finisher, scoring only seven in eight balls after coming into bat at number seven.
But the senior players made up for the trio's shortcomings, with Tamim and Shakib adding 93 runs for the third wicket after Liton and Nazmul's early departures and Mahmudullah hitting a quick-fire fifty to take Bangladesh to a big total despite Soumya's no-show with the bat.
In the first two ODIs as well, Liton and Nazmul's early dismissals put the team in some discomfort while chasing small totals and on both occasions the senior pros had to come to the team's rescue.
Liton, who had smashed 311 runs in Bangladesh's last three-match ODI series at home against Zimbabwe last year, only managed to score 36 runs in three innings against an inexperienced bowling attack.
Nazmul replaced Shakib at number three in the batting order in the West Indies series due to team management's insistence on preparing young players for the 2023 ICC World Cup.
But the 22-year-old failed to grab onto the opportunity in the first two matches, getting dismissed for one and 17, and in the series finale managed to get into the 20s for only the second time in his seven-match long ODI career.
Bangladesh team management has been looking for an all-rounder at number seven for some time and decided to try opener Soumya at the position in the series.
Soumya contributed nothing with the bat and ball in the first two games and on Monday looked out of his element at number eight, failing to hit a single boundary in his brief stay at the crease.
The series' run-getter list is also dominated by the four experienced campaigners as they are occupying four out of the top five positions with Tamim leading the chart with 158 runs.
Scorecard
Bangladesh v West Indies
Third ODI
Bangladesh innings
Tamim c Hosein b Joseph 64
Liton lbw b Joseph 0
Najmul lbw b Mayers 20
Shakib b Reifer 51
Mushfiq c Joseph b Reifer 64
Mahmudullah not out 64
Soumya run out 7
Saifuddin not out 5
Extras (lb 4, w 15, nb 3) 22
Total (six wickets, 50 overs) 297
Did not bat: Mehidy Hasan, Taskin Ahmed, Mustafizur Rahman
Fall of wickets: 1-1 (Liton), 2-38 (Najmul), 3-131 (Tamim), 4-179 (Shakib, 5-251 (Mushfiq), 6-283 (Soumya)
Bowling
Joseph 10 0 48 2
Harding 10 0 88 0
Mayers 7 0 34 1
Reifer 10 0 61 2
Hosein 10 0 46 0
Jason 3 0 16 0
West Indies innings
K Ottley c Mushfiq b Mustafiz 1
S Ambris lbw b Mustafiz 13
N Bonner b Saifuddin 31
K Mayers lbw b Mehidy 11
J Mohammed c Mushfiq b
Saifuddin 17
R Powell lbw b Soumya 47
J Hamilton c Mushfiq b Mehidy 5
R Reifer c and b Taskin 27
A Joseph run out 11
A Hosein c Mushfiq b Saifuddin 0
Keon Harding not out 1
Extras (b 1, lb 2, w 8, n 2) 13
Total (all out; 44.2 overs) 177
Fall of wickets: 1-7 (Ottley), 2-30 (Ambris), 3-47 (Mayers), 4-79 (Mohammed), 5-93 (Bonner), 6-117 (Hamilton), 7-155 (Powell), 8-174 (Joseph), 9-175 (Hosein), 10-177 (Reifer)
Bowling
Saifuddin 9 0 51 3
Mustafiz 6 0 24 2
Taskin 8.2 1 32 1
Mehidy 10 2 18 2
Shakib 4.5 0 12 0
Mahmudullah 2 0 11 0
Soumya 3.1 0 22 1
Najmul 1 0 4 0
Result: Bangladesh won by 120 runs
Series Result: Bangladesh win three-match series 3-0
Man-of-the-match: Mushfiqur Rahim
Man-of-the-series: Shakib Al Hasan
Toss: West Indies
Want stories like this in your inbox?
Sign up to exclusive daily email
More Stories from Cricket