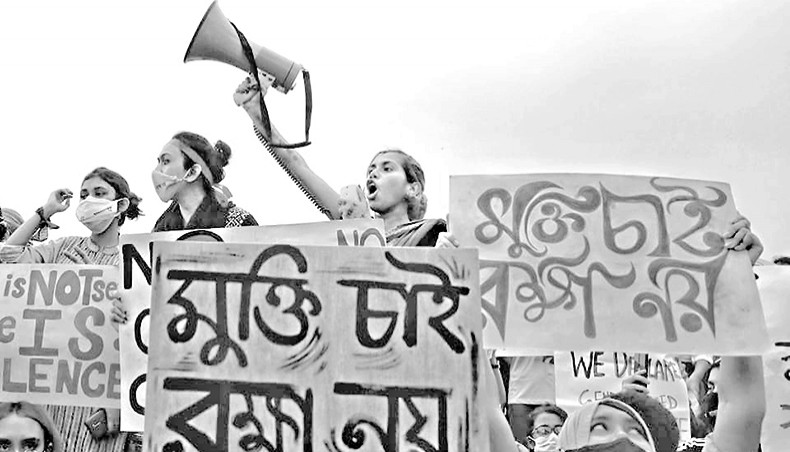 IN OCTOBER 2020, despite the risk of contracting COVID-19, protests erupted in Dhaka and some other parts of Bangladesh. Spearheaded by students, but also supported by young and older adults, the protesters rallied against rape and the culture of impunity both on the streets and social media. Demonstrators directed their anger towards the government inaction and the failure of the law enforcement agencies in containing sexual violence. This protest is not adventitious, rather it is the result of years of public anger and frustrauon over an ineffective justice system. The spark for this protests flickered to life on October 5, 2020 when a video was uploaded to social media showing a group of young men assaulting a 37-year-old woman in Noakhali. They stripped her naked, and then began to beat her, grabbed her by her hair and dragged from one corner of the room to the other. A few days before the Noakhali video went viral, public anger had already been brewing after several members of the Bangladesh Chatra League, the student wing of the ruling party, had been arrested over the gang-rape of a woman in Sylhet.
While news of rape is not uncommon, according to the Human Rights Watch, the conviction rate for rape is below 1 per cent in Bangladesh. Meanwhile, Ain O Salish Kendra recently reported that four women are raped every day in Bangladesh, and many more cases go unreported. The brutality of the publicised cases and a culture of impunity which increasingly characterises Bangladesh's political culture resulted in a collective rage particularly amongst young people leading them to claim the streets in the middle of a pandemic. Contemporary social activism against sexual violence differentiates itself from previous forms of mobilisation.
In fact, Bangladesh has a long history of women's movement, a tradition which can be traced back to the anti-colonial movements in the former British-Indian territories. Historically, protests have addressed such topics as family law reforms, sex workers' rights, transgender rights, and violence against women and contributed significantly to changing women's social, political, and economic situation in society. Over time, ideological divisions or those over political party lines, and the 'NGOisation' have resulted in an increasing institutionalisation and de-politicisation of the women's movements and weakened the ability of women's groups to develop effective alliances. The protests which took place in October 2020, however, offer new opportunities for renewed alliances and public activism. The week-long, largely uncoordinated, and geographically scattered protests are significant not only for the women's rights movement in Bangladesh but also for challenging the country's culture of political impunity. Therefore, this protest movement can be seen as vital for three significant reasons: its timing and spontaneity, its inclusivity, as well as the specific strategies and demands of the protesters.
These protests found their spark at a time when participating in protest is virtually non-existence. The fear of contracting the novel coronavirus and frequent government actions under the Digital Security Act of 2018 have created an atmosphere not conducive to social protest. Under such suffocative conditions, thousands of college and university students spontaneously protesting in the streets, chanting slogans and demands are a significant break to the prevailing silence. Bangladesh has never before witnessed such large-scale protests against sexual violence over such a prolonged period. Although the pandemic has often been considered an impediment to social movements, Bangladesh still experienced a spontaneous street mobilisation, with the participants braving the fear of COVID-19 infection. The protective face mask, in fact, has become a new textual political space, with protest slogans written on it.
This protest movement shows inclusivity at various levels, manifesting potential for changes in the movement's demands. The Bengalis, ethno-lingustic majority, are forming coalitions with women from the country's minority indigenous populations, exhibiting solidarity amongst differently situated women in society. Constituting a small minority, indigenous women and girls are the most marginalised and more likely to be victims of sexual violence. The organisation of marches and occupying of city spaces together with non-indigenous women's groups, as they chant the slogan, 'In hills and plains, the battle will persist uniformly', is an essential step towards a unifying voice against gender-based violence. In an extremely patriarchal society in which the belief that 'clothing invites sexual harassment' still endures, women wearing various attires (religious, traditional, and western) and chanting slogan that 'only the rapist is responsible for rape' send a clear message. And more and more men are participating in the protests. This inclusivity raises new hopes for the success of political and societal changes in Bangladesh, if continues.
Although the occupying of streets or squares in different parts of the capital by various groups and organisations could be seen as somewhat uncoordinated, it has still been an extraordinarily powerful demonstration of disapproval of state inaction against rape. Fragile alliances were formed in recent social movements among many different groups in Bangladesh. However, these alliances were unsustainable because of contesting political agendas, perhaps for forgetting their commonalities and forgoing the chance to continue alliances. 'Co-presence' exhibited in various locations in the capital and other parts of the country is a new strategy enabling protests to be held peacefully. Although they took place separately, they delivered strong messages: 'Justice has to be ensured in any case of rape', 'Break the culture that breeds the violence against women', 'Stop victim-blaming', and many more.
The performative dimension of the protests and their slogans clearly communicated to society enabling the ordinary citizen to form a deeper understanding of the matter. This resulted in increased participation with each passing day, despite some incidents of attacks. There existed some divisions amongst the protesters, for example, the debate over the death penalty, whether it is an appropriate punishment for rapists or not. And beyond the dominant chants of 'we want justice', some protest camps were calling for the prime minister to resign, accompanied by social media campaigns to overthrow the government for their political support of the culture of impunity. In this phase of mobilisation, therefore, we see how the protesters were deploying different strategies of occupying public spaces and how their messages are slowly working in transforming some deep-seated perceptions related to rape and women in general. Coming from diverse social and political backgrounds, the activists and participants have a similar focus on the causes of rape, while they differ on the solutions, particularly concerning the death penalty.
The continued protest prompted the government to amend the rape law creating provision of death penalty for all of the four types of rape defined under Bangladeshi law. This amendment still fails to address the root causes which make securing justice or obtaining a conviction for rape so challenging. Protest slogans and art performances by the movement in Bangladesh drawing attention to the culture of impunity as a root cause for the widespread instances of rape not only address patriarchal public discourses and corrupt political cultures but also unite women from various socio-political backgrounds. Alongside the possibilities of a new collectivity in the form of co-presence, the movement contests typical stereotypes that connects women's choice of clothing with rape. The political significance of the anti-rape movement and its transgressive practices, expressive nature, and transformative potential is potentially enormous for the prospects of future movements in Bangladesh, if continues in the grass-roots level.
Hosna J Shewly is a senior researcher at Fulda University of Applied Sciences, Germany. This write-up is part of a German Research Foundation (DFG, Project Number 395804440) funded research on 'Youth movements and political change'.
Want stories like this in your inbox?
Sign up to exclusive daily email
More Stories from Opinion