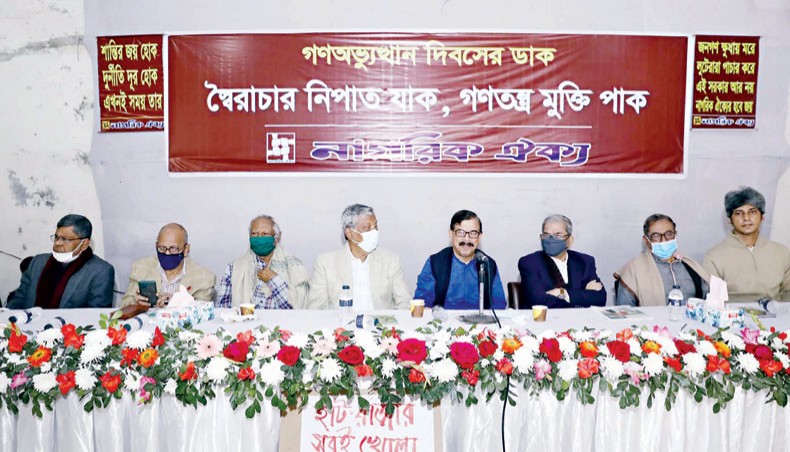 Opposition political parties in a discussion marking Mass Uprising Day on Sunday called for forging greater unity to topple the government.
They complained that 'the unelected government' had snatched away people's basic and voting rights.
Addressing the discussion organised by Nagarik Oikya at the National Press Club in Dhaka, they alleged that the people are confused about the safety of COVID-19 vaccine and called on prime minister Sheikh Hasina to have the COVID-19 vaccine first to clear up the people's confusion and to boost confidence in public mind.
They also alleged that Awami League leaders and the government are involved in corruption and money laundering.
Bangladesh Nationalist Party secretary general Mirza Fakhrul Islam Alamgir, addressing the discussion as the chief guest, said that the people were confused about the COVID-19 vaccine.
Fakhrul urged the PM to take the vaccine first to bolster confidence in public mind about the vaccine.
He demanded free vaccine for all and criticised the government for not announcing any plan for mass vaccination.
He said the problem lied in the issue that an unelected government was ruling the country and made the administration, police and judiciary partisan to frighten the people.
'Awami League leaders robbed votes at night before the December 30, 2018 national election day and grabbed the state power illegally. They are even using the administration and police to snatch people's vote to elect their people illegally in local government elections,' he said.
The BNP leader said that they had unity and wanted to make a greater unity to wage movement for a real mass uprising to compel the government to resign to establish people's government through national elections under a non-party neutral government and neutral election commission.
Nagarik Oikya convener Mahmudur Rahman Manna who presided over the discussion said that their programme aimed at another mass uprising like that of 1969 to oust the government for which all the political parties would have to forge unity.
'I will appeal to all; let us unite [to wage movement]. If that is not possible, let us wage parallel movements. People's rights cannot be achieved, if the government is not ousted,' he said referring to simultaneous movement by different political parties and alliances with same agenda to oust army dictator HM Ershad in 1990s.
Gonosamhati Andolan chief coordinator Zonayed Saki said that greater unity would be forged through street movements.
Gonoshasthaya Kendra trustee Zafrullah Chowdhury alleged that the government was plunged into corruptions in all sectors and that each of the country's people had the right to get COVID-19 vaccine free of cost.
Revolutionary Workers' Party of Bangladesh general secretary Saiful Huq, Bangladesh Kalyan Party chairman Syed Muhammad Ibrahim and Sammilita Peshajibi Samanway Parishad acting convener Shaukat Mahmood also spoke.
Bangladesh Chhatra League paid tribute to the martyrs of the mass movement by placing a wreath at the monument of 1969 mass movement martyr Motiur Rahman Mallik at Nabakumar Institute School in Dhaka.
Bangladesh National Awami Party-Bangladesh NAP also held a discussion at Jadu Mia auditorium at Naya Paltan where the party's secretary general M Golam Mostafa Bhuiyan chaired.
Rashtrachinta, Ganosamhati Andolan, Bhasani Onusari Parishad and Chhatra-Juba-Sramik Odhikar Parishad also organised a discussion jointly at the National Press Club in the afternoon to mark the day.
Want stories like this in your inbox?
Sign up to exclusive daily email
More Stories from Politics