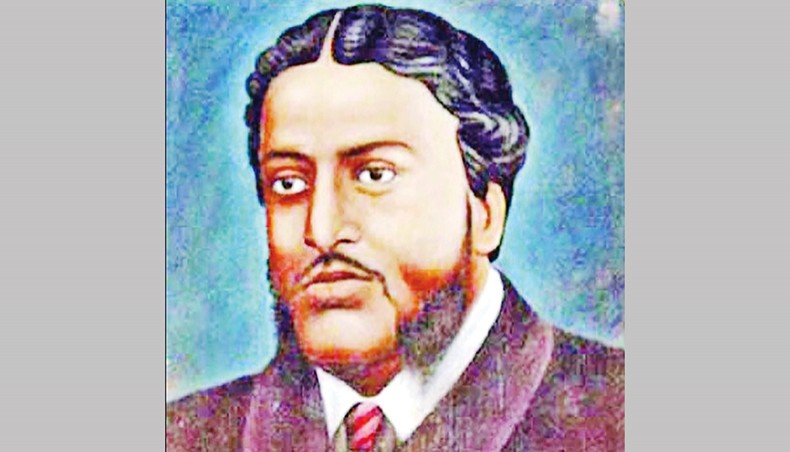 The 197th anniversary of birth of the poet Michael Madhusudan Dutt will be observed today on the bank of the river Kapataksha at Sagardari, the birth place of the poet.
The poet's birth anniversary will be celebrated on a small scale due to the COVID-19 crisis. The Madhu fair, which is organised annually marking Madhusudan's birth anniversary at Sagardari, will not be held this year.
'We will arrange a cultural programme marking the birth anniversary of Michael Madhusudan Dutt. The traditional Madhu fair will not be held this year,' Jashore deputy commissioner Tamijul Islam Khan told New Age.
Michael Madhusudan Dutt was born at Sagardari under Keshabpur upazila, Jashore on January 25, 1824 to Rajnarayan Dutt and Janhabi Devi.
Michael is the poet of the epic poem Meghnadbadh. Besides, he enriched Bangla literature with his creations comprising poems, dramas, farces, translated books and others.
His literary works are namely The Captive Ladie, Brajangana Kabya, Birangana Kabya, Krishnakumari, Hectar-badh, Tilottama-sambhab Kabya, Sharmishtha, Ekei Ki Bale Sabhyata, Buro Shaliker Ghare Roan, Padmabati, Maya kanan and others.
He died at Kolkata General Hospital at around 2:00 pm on June 29, 1873. He was buried at Park Street, Kolkata, India.
Want stories like this in your inbox?
Sign up to exclusive daily email