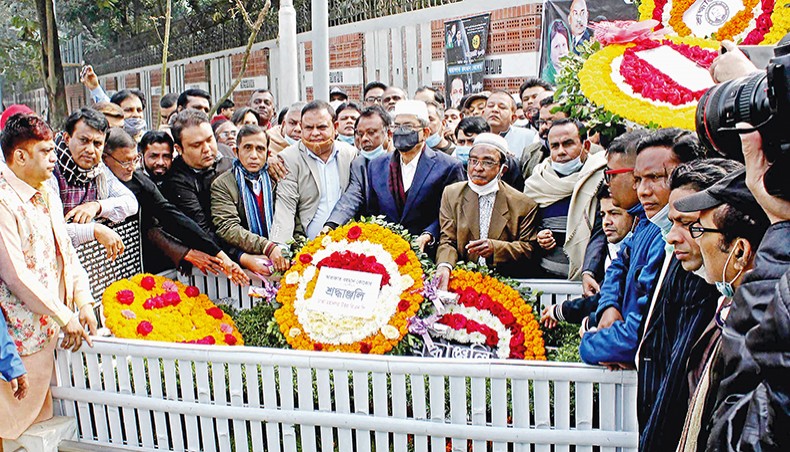 Opposition Bangladesh Nationalist Party and its front organisations on Sunday observed the sixth anniversary of death of Arafat Rahman Koko, youngest son of the late president Ziaur Rahman and BNP chairperson Khaleda Zia, through different programmes.
In the morning, BNP and its front organisation leaders and activists led by the party secretary general Mirza Fakhrul Islam Alamgir placed wreaths at the grave of Arafat Rahman at Banani graveyard in the capital and offered prayer for his eternal peace.
After placing wreaths, Fakhrul told reporters that Arafat was not a political but a sports organiser and made himself as memorable one through his works in sports sector.
He alleged that Arafat Rahman fell sick as he was tortured inhumanly and unjustly by the then army-backed caretaker government and he died from that sickness.
'We think that he was killed,' he said.
Several hundred leaders and activists of BNP and its front organisations gathered at the graveyard to join the programme.
BNP also organised a prayer session at the party central office at Naya Paltan in the capital at about 12:30pm.
Another prayer session was also held at the party chairperson's Gulshan office after Asr prayers.
Different associate and professional wings of BNP also observed the day through various programmes, including discussions and prayer sessions, across the country, BNP central leaders said.
The party will arrange a discussion commemorating Arafat Rahman at Dhaka Reporters' Unity at 3:00pm on Tuesday, said a release of the party.
Besides, Jatiyatabadi Swechchhasebak Dal will arrange a discussion commemorating Arafat Rahman at BNP Naya Paltan central office at 2:00pm today.
Arafat Rahman died from cardiac complication in Malaysia on January 24, 2015.
Want stories like this in your inbox?
Sign up to exclusive daily email
More Stories from Politics