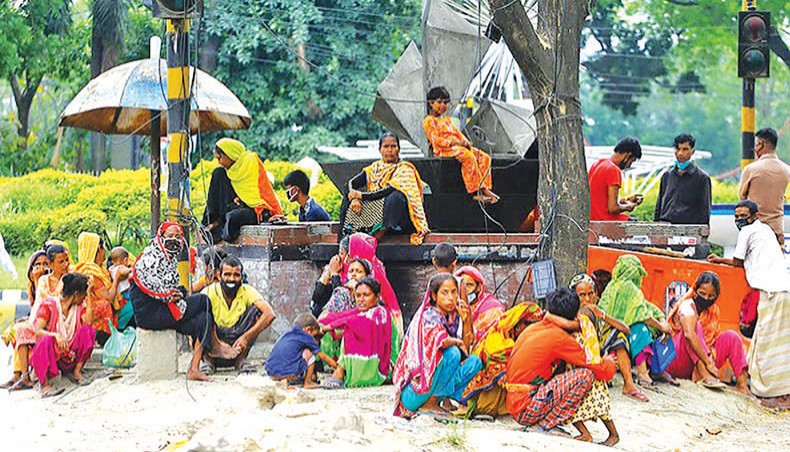 The rate of poverty in Bangladesh has surged due to the COVID-19 outbreak, according to a survey conducted by the South Asian Network on Economic Modeling.
The survey found that inequality also increased significantly amid the crisis.
The survey found that the upper poverty rate increased from 21.6 per cent in 2018 to 42 per cent in 2020 while the lower poverty rate went up from 9.4 per cent in 2018 to 28.5 per cent in 2020.
SANEM on Saturday released the finding at a webinar on 'COVID-19 fallout on poverty and livelihoods in Bangladesh: findings from SANEM's nationwide survey (November-December 2020)'.
The survey covered 5,577 households from 500 primary sampling units distributed across eight divisions, 64 districts. The data was collected over phone between November and December 2020.
In a presentation, Dhaka University economics department professor and SANEM executive director Selim Raihan said that the upper poverty rate in the rural and urban areas advanced to 45.3 per cent and 35.4 per cent respectively.
The lower poverty rate soared to 33.2 per cent and 19 per cent in the rural and urban regions respectively.
The average per capita household expenditure in 2020 decreased by 45 per cent, 29 per cent and 17 per cent in extreme poor, moderate poor and vulnerably poor households respectively compared with that in 2018.
But, it increased by 6 per cent in non-poor and non-vulnerable households in the period.
The ratio of income share between the richest 5 per cent and the poorest 20 per cent households increased from 2.05 in February 2020 to 2.45 in November 2020.
The ratio of expenditure share in the richest 5 per cent households to that in the poorest 20 per cent households increased from 1.34 in 2018 to 2.15 in 2020 as the expenditure share of the richest 5 per cent households increased by 1.02 per cent whereas that of the poorest 20 per cent declined by 3.13 per cent.
However, since most ultra-rich households were not included in the survey, the real impact on inequality might be much larger.
Average per capita education expenditure fell for all households while average per capita health expenditure increased for all households in 2020.
As a result of the COVID-19 outbreak, households had to confront various employment issues, including losing work, not receiving due wages and workplace closures.
Between February and October 2020, the main income earners across all employment categories experienced a fall in average income.
In reaction to the crisis, households adopted a variety of coping strategies, including borrowing and savings, reducing expenditure on non-food items and changing their dietary patterns.
Dhaka University economics department chairman Mahbubul Mokaddem Akash said that there was a possibility of a K-shaped recovery in Bangladesh in which different income groups of the population recover at different rates and magnitudes.
Since non-food expenditure has been primarily affected in poor households, it is necessary to identify non-food consumption areas, including spending on education and health, that have been most commonly sacrificed amid the COVID-19 outbreak and include them in policy formulation.
The micro-macro mismatch in remittance inflow data is either due to the collapse in hundi market, the festival effect or repatriation of workers who have lost their jobs and returned home with long-term savings, he said.
Centre for Policy Dialogue executive director Fahmida Khatun said that much of the milestones in socioeconomic development and poverty alleviation that had been accomplished over the past years were at risk of reversal due to the COVID-19 crisis.
Even before the crisis, there was an indication that the economic growth in Bangladesh has not been inclusive. Since the survival mechanisms available to poor households are extremely limited, the crisis will undoubtedly exacerbate inequality within the population.
Moreover, a surge in technological use that has been accelerated by the COVID-19 outbreak might pose a risk to a considerable number of low-skilled jobs.
Economist Zahid Hussain said that poverty had nearly doubled in both rural and urban regions of the country as reconfirmed by the analysis.
An important finding of the survey is that poverty has worsened across all regions, irrespective of geographical location, he said.
He said that high path dependency in lower-income households implied that households that were already poor in 2018 might have experienced a poverty trap and thus remained poor in 2020.
Zahid said that the conversion of remittance transfer from informal to formal channels had increased the liquidity of dollars on the country's foreign currency market.
Want stories like this in your inbox?
Sign up to exclusive daily email
More Stories from Miscellany