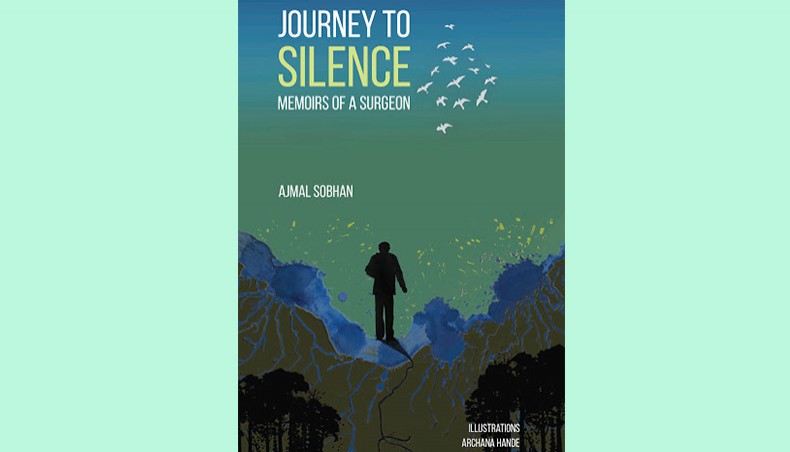 The book Journey to Silence is an autobiography of a retired trauma surgeon Ajmal Sobhan, published from the University Press Limited in 2020. Md Shamshul Arafin reviews the book
Ajmal Sobhan, a retired trauma surgeon, in his second book Journey to Silence narrates a journey which begins from his early childhood and then becoming a surgeon, choosing bride, and settling in the United States of America forever, and suddenly coming into a consciousness of not being able to serve his own country. It strikes him, pains him, which brings him here, in Bangladesh.
The writer is exposed to the intolerable, local transportation, stray dog conditions, and poor health institutions of Bangladesh that leaves him with remorse. Ajmal Sobhan is a realistic and practical man, and has not given up till the end. The most powerful incident of this book that will have a long-lasting impact on the reader is that even in his 70s, he had the courage to go to the summit at the highest peak in Bangladesh known as Keokaradong including all other treks like - Manaslu Trek.
Furthermore, he even completed the task of walking from Dhaka to Cumilla (86 km) on foot when he was more than 50 years of age. It is much a learning point for those Bangladeshi's including me, who in their 20s or 30s and who are lazy not to walk in the streets for the purpose of leading a healthy life. Throughout the book, the readers can feel a quest for Ajmal Sobhan's life's purpose which he was able to achieve in the end.
The book, Journey to Silence also includes life advice, philosophical and experiences sharing. Illustrations of the book were created by Mumbai based illustrator Archana Hande. Her abstract illustrations have added a new flavour of reading and readers' imagination. Besides, Journey to Silence can be read as an autobiographical book but it is more about the writer's perspective on other people rather than it has focused on his own life manners or personal criteria.
The narration of the stories does not maintain the time frame. It follows the surgeon's journey and continues from one story to another. Journey to Silence is divided into five sections and each section contains short but profound stories. The writer has successfully able to sketch the characters keenly though the reader will always feel the presence of Sobhan at each and every chapter, and it is more invisible or curtained than vividly spotted.
The characters or I should say, people in the book are lively and each has its own and distinctive personality. Stories of the fellow people alike Mokles, Rokon, Purovi, Sukhiron may create a long-lasting impact upon the readers. Being a surgeon himself, Dr Sobhan digs deep into other surgeons' life such as Dr Joseph Karigo, Dr X's lifestyles, their struggle in family life and narrates their work ethics, problems they face and how they died in a tragic manner.
Even after settling in the USA, he felt that he had a responsibility to serve fellow countrymen. He writes, 'I'd have to square it off — a debt to the land of my birth and its people.' For this reason, he had an urge to return back to Bangladesh and assist the deprived mass people. Project Bangladesh, a non-profit non-governmental organisation, was created by Dr Sobhan keeping the motto of serving the people.
According to the book, for more than 25 years, the NGO is helping the poor. Dr Sobhan is also engaged in various philanthropic works in the USA and Bangladesh collaborating with other local and international organisations to improve the healthcare sectors of our nation. Journey to Silence also portrays the true friends of the country in the eyes of the author. People like Brother Donald, Brother Ronald's contribution and lifelong sacrifice for Bangladesh and its people can hardly be ignored or be forgotten. The writer does not shy away to narrate his debts to this fellow Christians, how they have, time to time, shaped his views, taught some of the important life's aspects.
Moreover, the writer in the book has tried to establish some of his own beliefs. For instance, he inadvertently supports accepting death by self-proclamation in the case of some incurable diseases. After becoming vegetarian later in his life, he shares his cause for choosing this food habitat and impliedly tried to influence the reader.
Ajmal Sobhan also tried to make peace with his past and accept his future by embracing his present. He projects some of the positive energy that is still shaping his life and also shares how trekking, marathon and meditation changed his life and gave new hope and spirit. The humane qualities of Sobhan make him a praiseworthy person in my eyes. The book includes some heart touching stories like the story of John H, the Nurse and his plan for donating kidneys may surely touch the soft corner of the readers.
As a result, readers will feel profound respect for the author as he has also not forgotten to mention his inner thoughts honestly which reveals the courageous part of his character. Whoever will read the book, would be reminded about his obligations to his own land.
Md Shamshul Arafin graduated from University of Liberal Arts Bangladesh.
Want stories like this in your inbox?
Sign up to exclusive daily email
More Stories from Art Culture