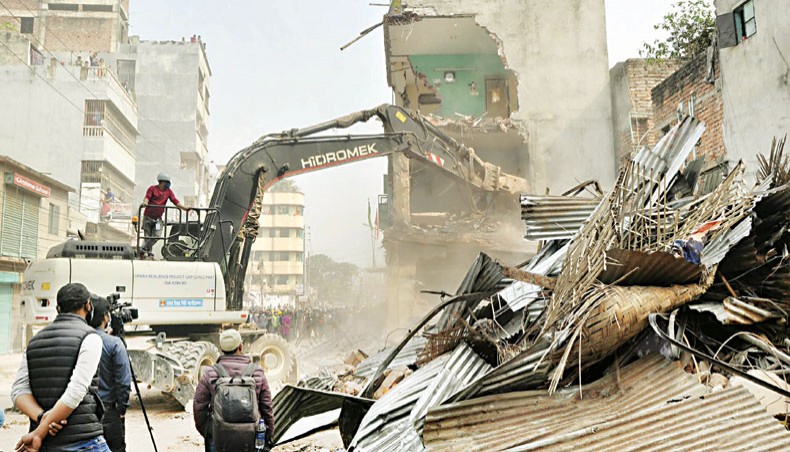 The Dhaka North City Corporation on Friday continued its eviction drive for the second consecutive day against the grabbers occupying Road 4 of Avenue 3 at Mirpur Section 11 in Dhaka.
The city corporation mobile court operated its drive from 10:00am to 5:00pm and demolished over 100 illegal structures which were built grabbing roads and footpaths mostly by Urdu-speaking people.
Mayor Md Atiqul Islam visited the spot and repeated that the city corporation would not give any notice to the grabbers before its eviction drive.
'The eviction drive will continue tomorrow,' he said.
The mayor said that the roads were being grabbed for the past 49 years but none dared to evict them.
The mayor thanked the local ruling party leaders and activists for supporting the eviction drive and promised again to free Dhaka from all types of illegal grabbing of public property.
He said, 'People allege that the ruling party people grab government lands but in Mirpur reality was otherwise and they helped mobile court to oust grabbers.'
The city corporation's executive magistrates Tajwar Akram Sakapi Ibne Sazzad and ASM Shofiul Azam led the drive to free the road linking Kalsi with Mirpur.
Officials said that the road was from 55 to 75 feet wide but the grabbers choked the road by grabbing most of the road side, causing traffic jam every day. On Thursday, the city corporation mobile court evicted 400 structures on roads, footpaths and illegally-grabbed lands amid sporadic clashes with the grabbers that injured over 50 people.
Urdu Speaking People Youth and Student Movement president Imran Khan said that the city corporation conducted the drive without serving them any prior notice and violated the Appellate Division's stay order that asked to halt all drives till May 2, 2021 over the eviction of the landless poor.
The protesters argued that they had been conducting businesses there for the last 50 years but the north city corporation now began the drive to evict them to widen the existing road.
Want stories like this in your inbox?
Sign up to exclusive daily email
More Stories from Country