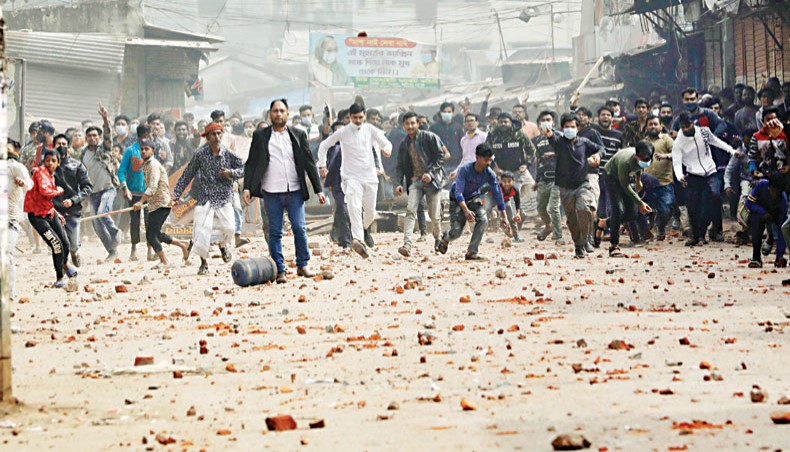 A Dhaka North City Corporation mobile court evicted several hundred illegal structures on roads, footpaths and illegally-grabbed lands amid sporadic clashes with the grabbers.
Witnesses said that over 50 people received minor injuries in the clashes that ensued when grabbers, mostly Urdu-speaking people, protested against the mobile court.
They said that the DNCC mobile court started eviction drive around 10:00am at Avenue III of road no IV in the capital's Mirpur-11.
When the mobile court demolished houses and shops at the New Super Market area, hundreds of thousands of men and women protested against the drive.
The protesters pelted brickbats at the members of the law-enforcement agencies, city corporation staff and ruling party activists who attacked the protesters.
While police fired rubber bullets, local ward No 5 councillor Abdur Rauf Nannu and his supporters swooped on the protesters with sharp weapons.
The attacks and counterattacks between the groups left 20 people injured.
The DNCC zone No 2 executive officer and also executive magistrate, ASM Safiul Azam, said that seven to eight staff members of the DNCC were injured in the clashes while the Urdu speaking people claimed that over 50 people received minor injuries during the hour-long confrontation.
Urdu Speaking People Youth and Student Movement president Imran Khan said that the councillor and the ruling party activists attacked the protesters with firearms and sharp weapons.
He said that the DNCC did not serve them any eviction notice before the drive.
'The city corporation conducted the drive violating the Appellate Division's stay order that asked to halt all drives till May 2, 2021 over the eviction of the landless poor.
Protesters argued that they had been conducting businesses there for the last 50 years but the DNCC was conducting the drive to evict them to widen the existing road.
Dhaka north city mayor Md Atiqul Islam visited the spot at 11:00am and declared that eviction drive would continue without showing any mercy.
Mayor also said that the DNCC would conduct eviction drives against grabbers without serving any prior notice.
He said that grabbers choked the 65- to 75-foot link road which has connected Mirpur-11 with Kalshi.
Officials said that the drive demolished over 400 illegal structures including permanent and temporary ones and declared that the DNCC would continue the drive on Friday.
Councillor Abdur Rauf said that his supporters showed firearms only when the grabbers when the mobile court came under attack.
Want stories like this in your inbox?
Sign up to exclusive daily email
More Stories from Country