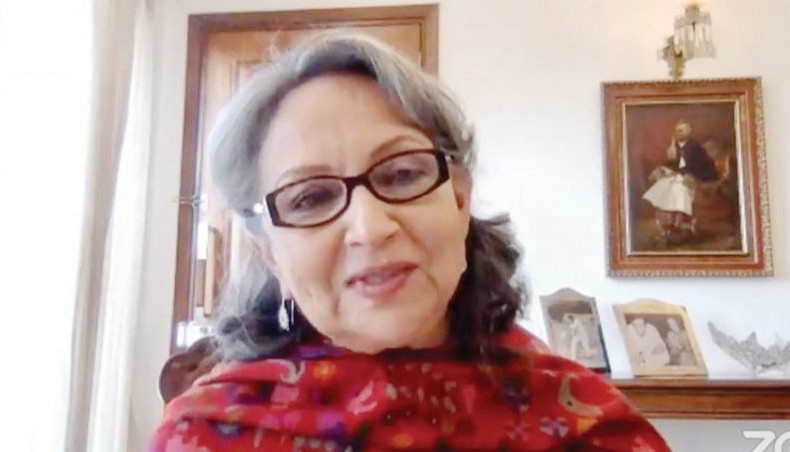 Veteran Bollywood actress Sharmila Tagore virtually attended a seminar titled 'Satyajit Ray: National vs Global', which was organised in a hybrid format, during the on-going 19th Dhaka International Film Festival on Wednesday afternoon.
The event was held at the National Art Gallery Auditorium of Bangladesh Shilpakala Academy as part of the newly added segment titled 'Tribute', marking the birth centenary of the late legendary Indian filmmaker Satyajit Ray. The seminar whetted the interest of the film buffs.
Liberation War Museum trustee Mofidul Hoque presented the keynote speech at the seminar. Former cultural affairs minister Asaduzzaman Noor, noted art and film critic Moinuddin Khaled and DIFF festival director Ahmed Muztaba Zamal were present at the event.
Veteran Indian actor Dhritiman Chatterjee also attended the seminar online.
'His films are not only meant for the inhabitants of Bengal, they are for people who speak Bangla. He could easily make films in a foreign language, but he did not do so. He put Bangla films on the global map. Ray was not financially solvent and he could not take any shot more than twice. His hard work and merit helped him reach the global standard,' said Sharmila Tagore.
'Satyajit Ray did not belong to a single nation as he is an exponent who set examples for the global film scene. He was the only filmmaker who could address political issues in the context of life,' said Dhritiman Chatterjee.
'I came from Nilphamari to Dhaka to watch Mahanagar as I was greatly inspired by Pather Pachali earlier. When he came at Paltan Maidan in 1972, thousands of people gathered to see the legend. Bangabandhu Sheikh Mujibur Rahman gave him respect too,' said Asaduzzaman Noor.
'Satyajit Ray's films taught us that life is not a bed of roses,' said Mofidul Hoque.
Dhaka International Film Festival 2021 is featuring 225 films from 73 countries.
Films are being screened at venues namely the Main Auditorium and Sufia Kamal Auditorium of the Bangladesh National Museum, Shawkat Osman Memorial Auditorium of the Sufia Kamal National Public Library, National Art Gallery Auditorium, Music and Dance Centre Auditorium and Nandan Mancha of the Bangladesh Shilpakala Academy and branches of Star Cineplex. Besides, films are being screened on streaming platform Lagvelki.
The event will fold off on January 24.
Want stories like this in your inbox?
Sign up to exclusive daily email