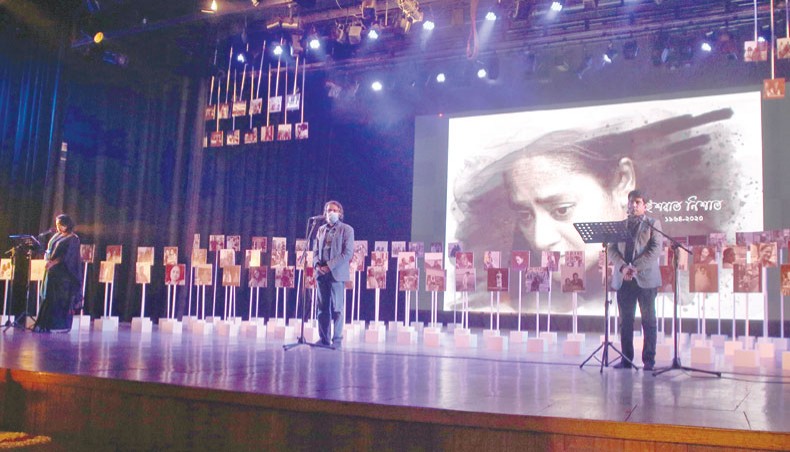 Theatre activists recalled the late theatre activist, director, light designer, playwright and recitation artiste Ishrat Nishat at a programme held at the National Theatre Hall of Bangladesh Shilpakala Academy on Wednesday.
Theatre troupe Desh Natok arranged the event marking Nishat's 1st anniversary of death.
Renowned thespians namely Mamunur Rashid, Ataur Rahman, Nasiruddin Yousuff, Asaduzzaman Noor and Lucky Enam along with Sammalita Sangskritik Jote president Ghulam Quddus, Bangladesh Group Theatre Federation secretary general Kamal Bayezid, Bangladesh Path Natak Parishad general secretary Ahmed Gias, Ishrat Nishat's sister Natasha and others spoke at the event.
The programme began with guests placing flowers at a portrait of Ishrat Nishat at the lobby of the National Theatre Hall. Following which, the guests and organisers observed one minute silence in memory of Nishat.
A video on the life and works of Ishrat Nishat was also screened at the venue.
Desh Natok chief Kamal Ahmed delivered the welcome speech at the programme.
'Ishrat Nishat was a founder of Desh Natok and was leader of the troupe till her death. She arranged many events to promote theatre among the people. We introduced an award named after her,' said Kamal Ahmed.
'It is not easy for a woman to pursue theatre activities in our country. Nishat always thought about the theatre arena and the welfare of theatre artistes. Many girls were inspired by Nishat to pursue theatre. Her death has left a huge void in the country's theatre scene,' said Lucky Enam.
'Nishat made huge contribution to local theatre scene. She was well-versed in the nitty-gritty of theatre productions. She also participated in movements protesting at social anomalies,' said Nasiruddin Yousuff.
'Nishat had participated in different major cultural movements. I knew her since childhood. She will live on through her works. It's our responsibility to promote her works,' said Ataur Rahman.
'I had spent a lot of time with Nishat at Aryanak Natyadal. Nishat always raised her voice against injustice. She was a straightforward and fearless person. She always evaluated our works and provided constructive criticism,' said Mamunur Rashid.
'Nishat was like a daughter to me. Her father was a close friend of mine. She led a simple life and always thought about promoting theatre. She will be remembered through her works. I urge the younger generation to follow in her footsteps,' said Asaduzzaman Noor.
Besides, recitation artistes Hasan Arif, Shimul Mostapha, singers Rahul Ananda, Farhin Khan Joyita and others performed at the event.
Afsana Mimi staged selected parts from Nishat-starred play Darpane Sharatshashi at the venue.
Want stories like this in your inbox?
Sign up to exclusive daily email
More Stories from Theatre