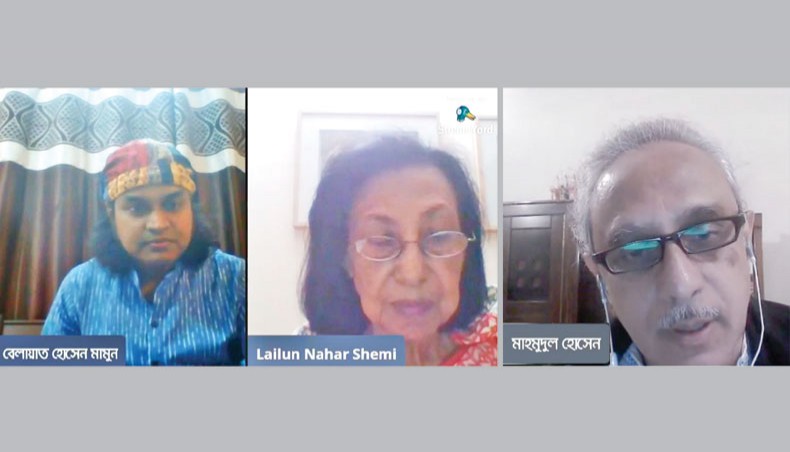 The late eminent filmmaker and film activist Alamgir Kabir was remembered at an online programme held on Wednesday night.
The programme, titled Alamgir Kabir: Acharya Prasangikata, Samakale, was organised by Federation of Film Societies of Bangladesh marking his 32nd anniversary of death. It was streamed live on the Facebook page of FFSB at 8:30pm.
Noted film critic and activist Mahmudul Hossain gave a lecture commemorating the life and works of Alamgir Kabir at the event, which was presided over by FFSB president Lailun Nahar Shemi.
FFSB general secretary Belayet Hossain Mamun anchored the online programme.
Mahmudul Hossain said, 'I have been writing on Alamgir Kabir for the last three decades. He always tried to portray the life of people, social anomalies and others through his works. His books Cinema in Pakistan and Film in Bangladesh are must read.'
'He offered much needed guidance for the film critics. He included documentary footage in his film Dhire Bahe Meghna. It was a new concept in the '70s. He was a politically conscious filmmaker. His works are still relevant to today's society,' mentioned Mahmudul Hossain.
'Alamgir Kabir's films will continue to stay relevant for years to come. He was a man ahead of his time and made films that we can relate to our contemporary society. He will live on through his creations,' said Lailun Nahar Shemi.
'Alamgir Kabir was one of the pioneers of film movement in Bangladesh. He was not only a film activist but also a filmmaker, writer, freedom fighter and more. His legacy continues to inspire film activists across the country. We remember him every day in many ways. His passing away left a huge void in the country's film scene,' said Belayet Hossain Mamun.
Born on December 26, 1938 in Rangamati, Alamgir Kabir studied at Dhaka University and Oxford University.
While in England, he got involved with the Communist Party of England and became a reporter of the Communist Party newspaper, the Daily Worker. As a reporter of the communist daily, he took interview of the Cuban president Fidel Castro.
Alamgir came back to Dhaka in 1966. After the liberation war, he started making feature films. He made acclaimed films including Dhire Bahe Meghna in 1973, Surya Kanya in 1975, Simana Periye in 1977, Rupali Saikate in 1979 and Mohana in 1982.
Three of his films are featured in the 'Top 10 Bangladeshi Films' list by the British Film Institute.
Alamgir Kabir passed away on January 20, 1989.
Want stories like this in your inbox?
Sign up to exclusive daily email