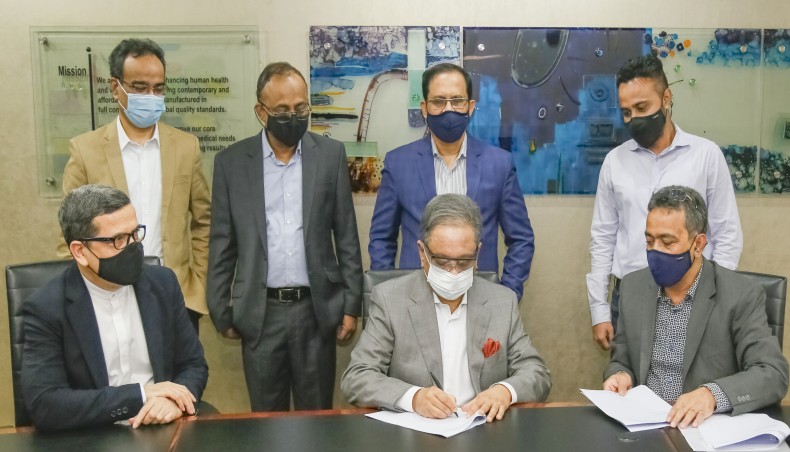 Beximco Pharmaceuticals Limited, one of the largest manufacturers of generic pharmaceutical products in Bangladesh, announced on Thursday that it would acquire 54.6 per cent stake of Sanofi Bangladesh Limited for about Tk 412.86 crore within nine months.
Beximco Pharma in a statement on Thursday said that company had entered into a binding commitment with Sanofi Group regarding the acquisition of a majority stake in Sanofi Bangladesh Limited for about £35.5 million or Tk 412.8 (£1= Tk 116.3).
The proposed transaction is for a total of 19,63,241 shares of Sanofi Bangladesh.
The base-price consideration of £35.5 million is subject to deduction for the net financial debt and adjustments for short/excess over an agreed normative working capital at the closing date, it said.
Beximco Pharma expects that the proposed transaction would be completed within the next three to nine months.
Beximco Pharma managing director Nazmul Hassan said, 'If approved, it will be the second strategic acquisition in the company's history, following that of Nuvista Pharma Limited in 2018, and is testament to our continued commitment to delivering affordable treatments and breakthrough therapies to the growing market in Bangladesh.'
The proposed transaction is subject to approval by the foreign exchange investment department of Bangladesh Bank and completing the share purchase agreement, the statement said.
The remaining 45.4 per cent shares of Sanofi Bangladesh, a global biopharmaceutical company, is owned by the government of Bangladesh through the Bangladesh Chemical Industries Corporation (about 20.0 per cent) and the industries ministry (about 25.4 per cent).
In the year ended on December 31, 2019, Sanofi Bangladesh, a French-based international
pharmaceutical manufacturer and marketer, generated revenue of Tk 3.87 billion (about £33.6 million), profit before tax of Tk 497.9 million (about £4.3 million) and had gross assets of Tk 6.09 billion (about £56.1m).
Sanofi Bangladesh has a wide range of brands, including insulins, oncology, dermatology and vaccines, which Beximco Pharma has identified as key growth areas.
The Sanofi Bangladesh Limited Workers-Employees Association on January 16 this year demanded payment of compensations and dues along with protection of their interests at the company.
The association was formed to protect the interests of the workers and employees after Sanofi Global Management decided to sell 55 per cent of its shares in Sanofi Bangladesh on October 14, 2019.
The association leaders also expressed concern over the security of jobs of over 1,000 employees of Sanofi Bangladesh.
Want stories like this in your inbox?
Sign up to exclusive daily email