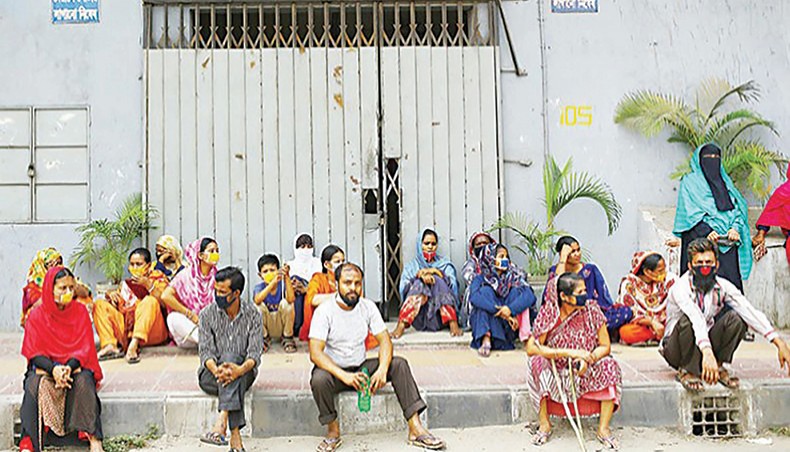 Experts and labour leaders on Wednesday stressed the need for proper implementation of labour laws and rights along with continued reforms in the sector to become eligible for the GSP+ scheme in the European market in the post-graduation period from the least developed country status.
Only changing the provisions of the law is not enough for ensuring human and labour rights at workplace, they said at a virtual dialogue.
The country also needs to address a number of labour and human rights challenges to ensure smooth graduation from the least developed country status, they added.
Centre for Policy Dialogue organised the webinar titled 'EU's EBA and prospect of GSP+ for Bangladesh: addressing challenges related to labour laws and rights' on the day.
Although the graduation may bring many opportunities for Bangladesh, there are also many new challenges, including loss of preferential market access in a lot of export destinations such as the European Union, the CPD said in a study.
Bangladesh's will lose EU's GSP facility under everything but arms GSP scheme after three years of graduation.
Gaining market access in the EU market under its GSP+ scheme requires Bangladesh to comply with twenty-seven international conventions, fifteen of which are related to human rights and the ILO labour standards, and implement those without reservations.
The EU has already suggested nine areas of actions, including amendment to labour related laws, elimination of child labour, increasing the success rate of trade union registration and combatting violence against workers, harassment, unfair labour practices and anti-trade union discrimination.
While presenting the study report, CPD research director Khondaker Golam Moazzem said Bangladesh has to overcome numerous legislative, structural and administrative challenges related to labour standards.
Bangladesh has made a lot of progress in areas, including amendments to laws and rules in terms of ensuring decent work in factories and elimination of child labour, especially in the garment sector.
'There is still a lot to be done in terms of implementation of the laws, inclusion of workplace harassment issues in the legal framework, addressing the forced labour issue properly and overall monitoring and implementation of the framework of decent work to become eligible for the GSP+ scheme,' he said.
Socialist Labour Front general secretary Razequzzaman Ratan said that the scope for formation of trade union was not wide that would create more crisis in productivity.
Freedom of trade union should be enhanced without conflicting with workers' duties, he said.
Bangladesh Knitwear Manufacturers and Exporters Association first vice-president Mohammad Hatem said that entrepreneurs had been implementing the international standards without getting standard prices of products.
Buyers need to ensure global prices that would help the factories improve the workers' livelihood and comply with global labour laws, he said.
European Union Delegation to Bangladesh ambassador Rensje Teerink said that Bangladesh needed to re-brand itself as a safe and labour-respectful country.
This will not only ensure GSP+ benefits for the country but also help in the overall development of the workers, she said.
Bangladesh Trade Union Sangha secretary general Chowdhury Ashiqul Alam said that labour laws needed to be developed in tandem with domestic and international stakeholders due to the global connectivity while Bangladesh Garment Manufacturers and Exporters Association vice-president Arshad Jamal Dipu argued that the drafting of labour laws should be based on the domestic context.
CPD distinguished fellow Mustafizur Rahman, CPD executive director Fahmida Khatun, International Labour Organisation country director Tuomo Poutiainen and Department of Labour director Md Bellal Hossain Sheikh, among others, spoke at the dialogue.
Want stories like this in your inbox?
Sign up to exclusive daily email
More Stories from Miscellany