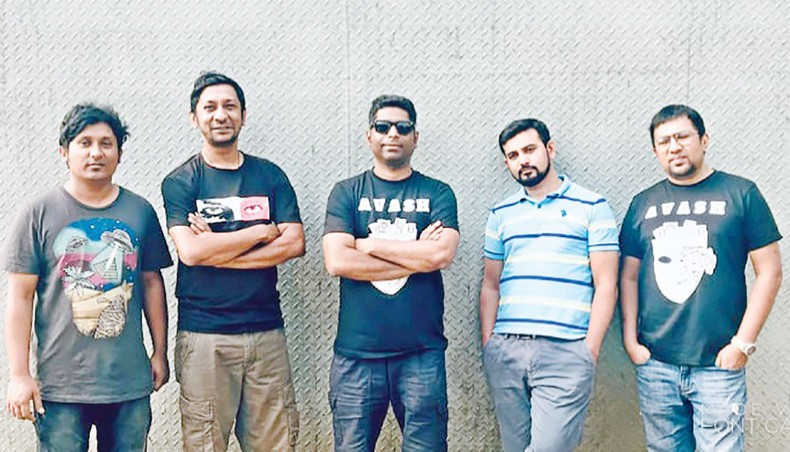 Popular rock band Avash has made a name for itself rendering songs about life in Dhaka.
The band's founding leader and vocalist Tanzir Tuhin aims at spreading awareness regarding social anomalies, struggles of the unprivileged people, widening class gap and others through music.
'We aspire to portray life in Dhaka along with different prevalent problems and challenges that exist in our urban society. We want to create songs which can inspire people to reflect on the stream of life around them,' Tanzir Tuhin told New Age.
Avash was formed on December 16, 2017 by musicians Tanzir Tuhin, Sumon Monjurul, Rinku Imam, Shawon Kaium and Raajue Sheikh, who have been active in the local music scene for a long time.
The band has released four songs namely Manush-1, Avash, Bastab and Anath till date.
'We have been releasing one song annually. Before releasing a song we take our time to understand the demand of music lovers. We also spend a lot of time developing the lyrics and music for the song,' mentioned Tuhin.
The music video of the band's title song Avash, which was released on the band's YouTube channel on January 27, 2019, has garnered 6,251,587 views on YouTube till date.
'We thank our fans for their support. They have been helping us with their invaluable feedback on social media,' said Tanzir Tuhin.
The band released the music video of its fourth song Anath on January 16, 2021. The video has garnered 1,50,134 views. It was released in collaboration with content production company Team Platform. The song has been jointly penned by Mehedi Hasan Nihon and Shawon Kaium. It has been tuned and composed by Shawon Kaium and Avash.
'The song Anath narrates the story of the orphans who live on the streets of Dhaka. It gives music lovers a glimpse into the sufferings of these children. The song was launched at a programme held at the lounge of Yamaha Music Bangladesh at Jamuna Future Park,' said Tuhin.
Avash, in association with Team Platform, is looking forward to releasing its first album. The band has invited lyricists to submit lyrics for its album under a project titled Tomar Lekhay Avasher Gaan Likhbe Tumi Gaibe Avash.
'In association with Team Platform, we have amassed many lyrics for our first album. We launched a competition titled LyricHunt to develop a collection of lyrics for our album. We have already received 3,085 songs from across the country. A jury board has shortlisted 50 songs. Finally, 10 songs will be selected for the album,' said Tanzir Tuhin, who also spoke about the impact of COVID-19 on local music scene.
'The COVID-19 outbreak has delivered a huge blow to the local music scene. The virus wreaked havoc on the livelihoods of bands and Avash is no exception. Avash performs at nearly 40 concerts every year but we could only stage three to four concerts due to the COVID-19 crisis in 2020. I hope the situation will improve soon,' Tuhin ended.
Want stories like this in your inbox?
Sign up to exclusive daily email