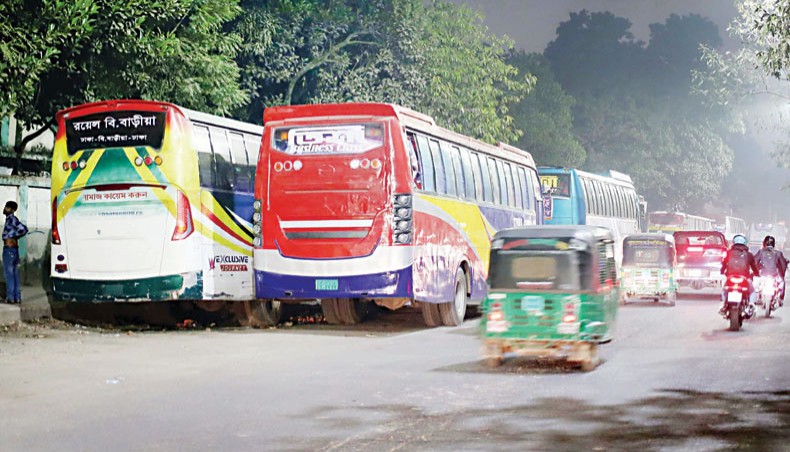 The Bangladesh Road Transport Corporation has been asked not to park its buses on Dhaka city roads after midnight after February 28.
The directive came from the 15th meeting of the Bus Route Rationalisation committee held at the DSCC Nagar Bhaban on Tuesday and attended by two Dhaka city mayors, among others.
'Primarily, we asked the BRTC not to park its buses on city roads after 12:00am after February 28,' said Dhaka South City Corporation mayor Sheikh Fazle Noor Taposh while replying to a question of reporters.
'Bus owners under the Bus Route Rationalisation project will be asked gradually to do the same,' he added.
At the meeting, decisions were also taken to extend the route from Motijheel to Kanchpur of a pilot project on bus route rationalisation, update the database of Bangladesh Road Transport Authority and to construct four inter-district bus terminals around the capital.
Taposh said that although at the 14th meeting, the BRTC had been asked not to park its buses on Dhaka city roads after midnight, some of the corporation buses were being parked on the roads due to lack of spaces in corporation depots.
Replying to a question, the mayor said that as the authorities were not able to provide private bus owners fixed places they parked buses on city roads.
'When we will give them fixed places they will not be allowed to park buses on roads,' he added.
According to BRTA officials, owners must have their own facilities to keep vehicles, including buses or trucks, to get registration as per the rules.
In the capital, many city service buses are being parked on roads at Tejgaon industrial area, Pallabi, Mirpur No 14, Gulistan, Phulbaria, Motijheel, Agargaon, Azimpur and Mohammadpur at night.
BRTC chairman Md Ehsan-E-Elahi told New Age that currently 53 of its buses – 34 at Motijheel and 19 at Joarshahara – and 10 trucks at Tejgaon were being parked on roads near the BRTC depots at night due to lack of spaces.
They would soon get tow trucks from the city corporation authorities to take some old buses from a depot at Dhaka to Gazipur and then no corporation buses would be parked on Dhaka roads, he added.
Dhaka North City Corporation mayor Md Atiqul Islam said that primarily 34 spots inside the capital were selected for the construction of bus bays and stoppages under the route rationalisation project.
He also said that the route for bringing all buses running on Ghatarchar (Mohammadpur)-Motijheel route in the capital under a single company through a pilot project was extended till Kanchpur Bridge from Motijheel for a better result.
They would send a proposal to the road transport ministry to construct four inter-district bus terminals at Hemayetpur, Baghair at Keraniganj, Batulia at Uttara and at north Kanchpur, he added.
'We will send a letter to the Bangladesh Bank for an initial fund of Tk 100 crore with a low interest rate for modernisation of the buses running under the pilot,' Taposh said.
'The BRTA will update its data for the pilot route within 15 days and its overall data within 90 days as it hasn't updated any data for a long time,' he said, adding that within next two weeks, a draft policy would be prepared for the project.
The meeting was also attended by the committee members.
Want stories like this in your inbox?
Sign up to exclusive daily email
More Stories from Country