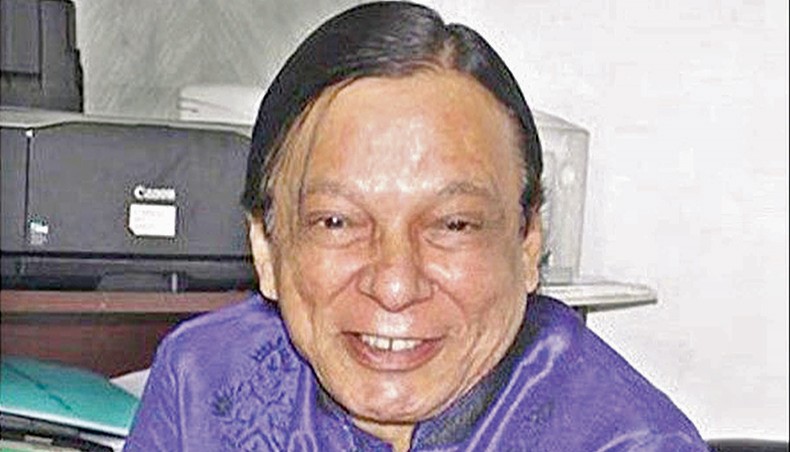 Freedom fighter and actor Mujibur Rahman Dilu died on Tuesday morning while undergoing treatment at a hospital in the capital. He was 69.
Mujibur Rahman Dilu is survived by his widow, two sons and a daughter.
'My father breathed his last at about 6:46am at the United Hospital in Gulshan on Tuesday. He died from pneumonia. He tested negative for COVID-19,' Ayon Rahman, son of Mujibur Rahman Dilu, told New Age.
His body was taken to Shanto-Mariam University of Creative Technology in Uttara. His first namaz-e-janaza was held at the Central Mosque of Dhaka University at noon. Following which, his body was taken to Bangladesh Shilpakala Academy and kept there from 2:30pm till 3:50pm. Bangladesh Group Theatre Federation arranged a public mourning programme at the academy where people from all walks of life paid their last tributes to Mujibur Rahman Dilu.
Cultural organisations namely Sammilita Sangskritk Jote, Bangladesh Group Theatre Federation, Bangladesh Path Natak Parishad, International Theatre Institute Bangladesh Chapter, Bangladesh Abritti Sammanay Parishad, Actors' Equity Bangladesh, Bangladesh Mime Association along with theatre troupes Dhaka Drama, Desh Natak, Theatre and others paid tribute to Dilu laying floral wreaths upon his body.
Freedom fighter and cultural activist Nasiruddin Yousuff, Dilu's elder brother thespian Ataur Rahman, Bangladesh Shilpakala Academy director general Liaquat Ali Lucky, Sammilita Sangskritik Jote president Jhuna Chowdhury, theatre activist M Abu Harun Tito and others spoke at the public mourning programme.
'Mujibur Rahman Dilu joined the War of Independence when he was 18. We received combat training together in India. After we returned from India, we saw that many schools, colleges and Dhaka University were conducting classes. Our sector commander Khaled Mosharraf ordered us to shut down all educational institutions. We carried out operations and managed to shut down 13 institutions,' said Nasiruddin Yousuff.
'He was a student of Dhaka College. He conducted bombing attack and succeeded in shutting down the college. He was a brave freedom fighter who never feared for his life.
After the war, he became a cultural activist and won acclaim performing in plays, recitation productions, small screen productions and others. May his departed soul rest in peace,' Nasiruddin Yousuff added.
'We are six brothers and two sisters, among which I am the eldest. He was diagnosed with Guillain-Barre syndrome 15 years ago and he defeated the disease. He took care of his family. He established the first theatre troupe after the war named Dhaka Drama. The first play after the war named Kingshuk Je Marute was staged under the banner of Dhaka Drama. His plays Janatar Rangashala and Ami Gadha Balchi received huge response from theatre lovers. He will live on through his outstanding creations,' said Ataur Rahman.
'He led an eventful life. He always tried to bring forth new ideas. He directed and acted in short films, small screen productions and plays. He also created puppet productions. May his departed soul rest in peace,' said Liaquat Ali Lucky.
'He made huge contribution to country's cultural area. Steps should be taken to preserve his works. The country's younger generation theatre artistes should make an effort to watch his works and follow in his footsteps,' said Jhuna Chowdhury.
Dilu's body was later taken to the Banani graveyard where he was buried with state honour after his namaz-e-janaza.
Mujibur Rahman Dilu was born on November 6, 1952. He was an enlisted artiste of Bangladesh Television since 1972. He regularly acted in small screen productions since 1976.
He received huge response playing Malu in the iconic TV drama series Sangsaptak.
Mujibur Rahman Dilu was diagnosed with Guillain-Barre syndrome and fell into a coma in 2005. However, he gradually made a recovery.
He had adapted, directed and acted in several theatre productions namely Ami Gadha Bolchhi, Janatar Rangoshala, Nana Ranger Dinguli, Nil Phalgun, Oma Ki tamasha and others during his career.
Want stories like this in your inbox?
Sign up to exclusive daily email