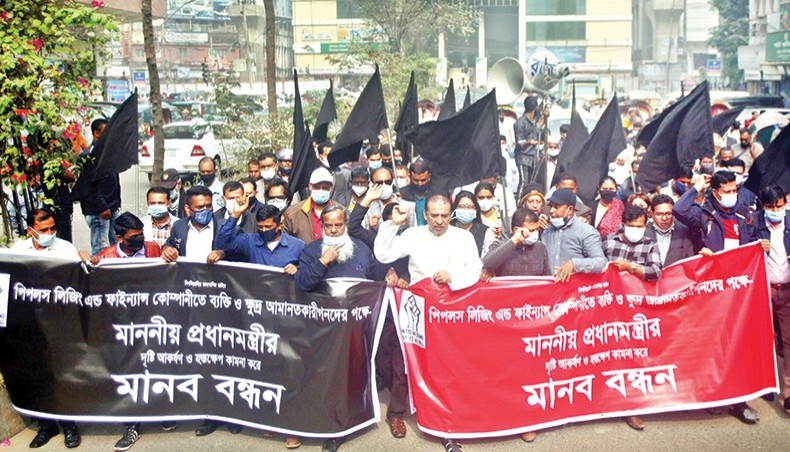 Depositors of People's Leasing and Financial Services Limited, which is under the liquidation process, on Monday demanded repayment of their deposits kept in PLFS within 15 days as many of them were going through unbearable hardships.
The depositors made the demand at a human chain formed in front of the PLFS head office at Motijheel in the capital.
They also sought prime minister Sheikh Hasina's intervention in getting back their deposits kept in PLFS.
PLFS individual and small depositors' council convenor and chief coordinator Mohammad Atiqur Rahman Atiq said that individual depositors who had kept funds in PLFS were undergoing immense sufferings as none of them had yet received their money since the liquidation move was taken.
Around 6,000 individuals were leading miserable lives due to the failure of the central bank to prevent laundering of funds by PK Halder, he said, adding that the coronavirus outbreak has made the situation even worse for them.
Since the liquidation move was initiated, one depositor has died of a heart attack over the uncertainty about getting his money back from PLFS, said Atiq.
When marginal people seek loan from banks, it becomes quite impossible for them to fulfil the conditions set by the central bank, he said, questioning how has PK Halder managed to launder money worth over Tk 10,000 from the country's financing sector from under the nose of the BB officials concerned.
In July 2019, the government allowed the liquidation of the PLFS following the entity's failure to repay depositors' money on time.
PK Halder is wanted in a corruption case filed by the AntiCorruption Commission in January on charges of money laundering and amassing wealth worth Tk 274.91 crore beyond known sources of income.
At the programme, Atiq also demanded that PK Halder should be brought to trial.
Alleging that the Bangladesh Bank was slow in returning back the depositors' money, Atiq said that the central bank had been favouring the plunderers.
'If our money is not returned in 15 days, we would lay siege to the central bank,' he said.
Investor Rayhan Kobir alleged that the BB officials concerned should be brought to book as the laundering of money from the financial system would not have been possible without their involvement.
'We now urge the central bank to pay back only the principle, we do not want the interest,' he said.
Many of the people, who had kept their life savings in PLFS for their old age, have lost everything they had due to the iquidation.
Ekushey Padak awardees Mustafa Zaman Abbasi and Ferdausi Rahman are going through much hardship for keeping their money in PLFS, said Samia Binte Mahbub, the association's joint-convener.
After the programme, the depositors marched towards the central bank headquarters to submit a memorandum to BB governor Fazle Kabir.
Want stories like this in your inbox?
Sign up to exclusive daily email